Joining societies as a Postgraduate student
19 July 2019
Student bloggers from our range of Masters courses give their top tips on finding out more about the huge variety of societies and clubs available on campus. Continue an existing hobby, try something completely new, or just meet like-minded people – there is something for everyone.
Rahoul Hore, MSc International Business
Starting university can be a daunting experience, whether you are going to university for the first time as an undergraduate or continuing your educational journey as a postgraduate student. Naturally you will be fearful of not fitting in, and building new friendships can be a scary experience. That is why I believe being part of a student union (SU) club or society is so important for any student, as it means that you will be able to engage with new people and have a well-rounded university experience.
At the University of Warwick there are over 250 different societies, along with over 60 different clubs, meaning that there is something for everyone. Whether it be taking up an activity that you are passionate about and have previously done before, or trying something new for the first time, there is a huge variety of societies and clubs for you to get involved with. During Freshers' Week I would highly recommend that you attend the Sport and Societies Fair, where you will have the perfect opportunity to find out information about all the sports and societies you are interested in, and how you can join.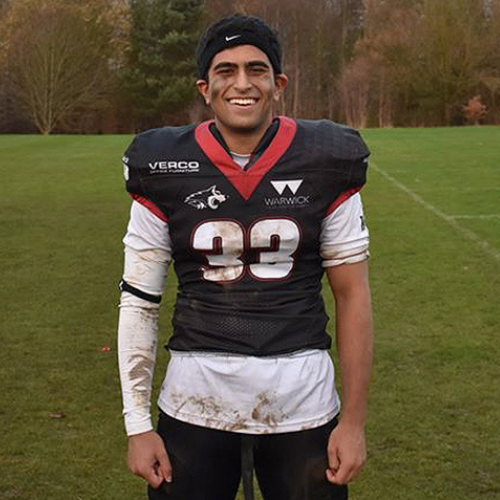 Throughout my time at the University of Warwick as both an undergraduate and postgraduate student, I have been part of the American Football team. Even though I had never played American football before starting university, it was always something that I had wanted to try. I joined the team as soon as I arrived on campus, and have been part of the team ever since which has been so beneficial to me for a multitude of reasons.
Joining the American Football team has allowed me to play a sport that I am passionate about, and I hope to continue playing or coaching an American Football team after I leave WBS. In addition to this I have met so many great friends outside of my course, from all different backgrounds who I have learnt so much from. It has also allowed me to be involved in something outside of my studies as well as creating the perfect environment for me to release any stress, and enabled me to do something that isn't connected to my undergraduate or postgraduate degree. With regards to your future career it can help you stand out from the crowd when applying for jobs, as employers are keen for you to demonstrate everything from team work to dedication, which is what being part of a society or club is all about. Finally, being part of the team has enabled me to 'transition back' to university life really easily throughout every year of my studies, knowing that there would always be some familiar faces for me to return to.
If you are concerned about not fitting in when you first join university, I would highly recommend thinking about what you have an interest in before you arrive on campus. This could be a sport, an activity, an interest or even a political cause you are passionate about. Make sure you attend the Sports and Societies Fair during Freshers' Week to find out more information and meet some of the society members. The best advice I can give is to give it a try, because by giving something a try you may end up stumbling across a society that will really enhance your university experience.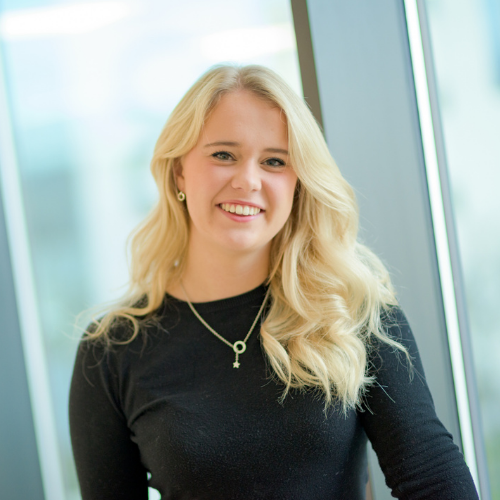 Emilia Persson, MSc International Business
During Warwick Welcome Week the Sports and Societies Fairs are the biggest scheduled events that you need to make sure you attend. Regardless of how busy you may be during your year at WBS, I think you should aim to join at least one or two societies or sports teams and here are my reasons why.
It is very easy to fall into the trap of thinking that the academic side of university life is everything, but it is important that you have a break from your studies from time to time. On top of that, there is the added pressure of job applications, interviews and assessment centres that will be taking up the majority of your free time. However, it is also important to remember that a year isn't very long, and you should aim to make the most of your time at Warwick. By joining a society or club on campus you have the perfect opportunity to make new friends, and explore both old and new hobbies.
The range of student societies available at Warwick is incredibly diverse; from volunteering, arts, nationality-based, dance classes, cooking, debating, politics, or business-related societies the list is endless. I joined the Warwick Nordic Society to be able to celebrate traditions from back home and to meet people from outside of my course, and I'm so happy that I did. I have made some great friends, and attended various events throughout the year organised by the Nordic Society, ranging from the Christmas Ball to watching the Eurovision song contest on the Piazza which was really enjoyable.
Apart from a welcomed distraction from your studies, joining a club or society on campus can also be an important enhancement to your course. The Warwick Business School Society (WBSS) or the Warwick Consulting Society are great for networking with other students and these societies host a range of career-related events giving you the opportunity to interact with business professionals. I would recommend that all future students definitely consider joining a society or club as they provide a fantastic way for you to improve your skillset, meet new people, and see a different side of university life.
Discover the range of societies available to our Postgraduate students.