Preparing for life at WBS
27 August 2021
Masters alumna Anamya shares what life is like as a postgraduate student, and includes her top tips on what to expect and how to prepare.
Change is overwhelming: if you're preparing to start your MSc soon, and you're feeling overwhelmed, read ahead. I'll just say this first: there is a LOT to do, but it's a transition that will encourage growth and a renewed sense of ownership. Wherever you are right now, I was a year ago, so here are some of my tips on getting prepared for your MSc degree:
Familiarise
Familiarise yourself with as many things as you can before arriving on campus. When I was preparing to join WBS, I went on YouTube, and watched loads of videos of people talking about their experience, showing the campus, things to do around the campus. I also made google maps my best friend: I was able to look at where the shops are, possible areas I can finalise my accommodation, libraries, parks, and even bus routes. Being an international student this was the best alternative to actually visiting but, if you can, I would definitely recommend visiting the campus! Feeling familiarised with the campus before arriving really relieved my anxiety and homesickness.
I also joined several 'Offer Holder' groups on Facebook and WhatsApp which connected me with my peers. Forming connections and friendships before even arriving on campus made me feel much more confident!
Organise
Masters students get quite busy, even right from the first week, with meeting new people, applying for grad schemes, learning new modules and living on your own which comes with its own set of responsibilities. So, getting an early start on organising is extremely helpful! Make sure you have your documents ready, apply for your education loan as soon as you can, plan the deadlines to apply for your CAS and apply for the visa well in advance if you need it. Organisation is the key to making sure you don't fall behind before and during the course of your degree.
Plan
If you're planning what to and what not to bring to university, remember to keep in mind the luggage allowance you may be bound by and how much storage you will have. You can buy laundry bags, steamers, duvet covers, hangers, and the like when you arrive on campus! This really saves money as you can buy exactly what you have a need for when you're actually there. Bring with you only things that you can't find in local shops: for me, that was Indian spices, a pressure cooker, and nostalgic items. If you're an international student from a warmer climate, buy your jackets and coats in the UK as they are made to sustain the very peculiar weather in the UK! Planning also includes looking at when the pre-arrival pages open, narrowing down possible flights and staying updated on pre-arrival deadlines.
Masters is a much more independent experience than undergrad. Invest in a really good planner (A lot of people use online planners like Notion) to keep yourself on track. To keep everything manageable, I plan meals, budgets and schedules weekly.
Finalise
Closer to the start of the term try to finalise your accommodation and your flights (the earlier you book, the more affordable they are). This brings about a sense of certainty that might help you prepare mentally for this transition. Given that MSc is a one-year course, it gets quite hectic and intensive at times but having realistic expectations makes it much easier to cope!
To summarise, here is a timeline to help you plan for your MSc: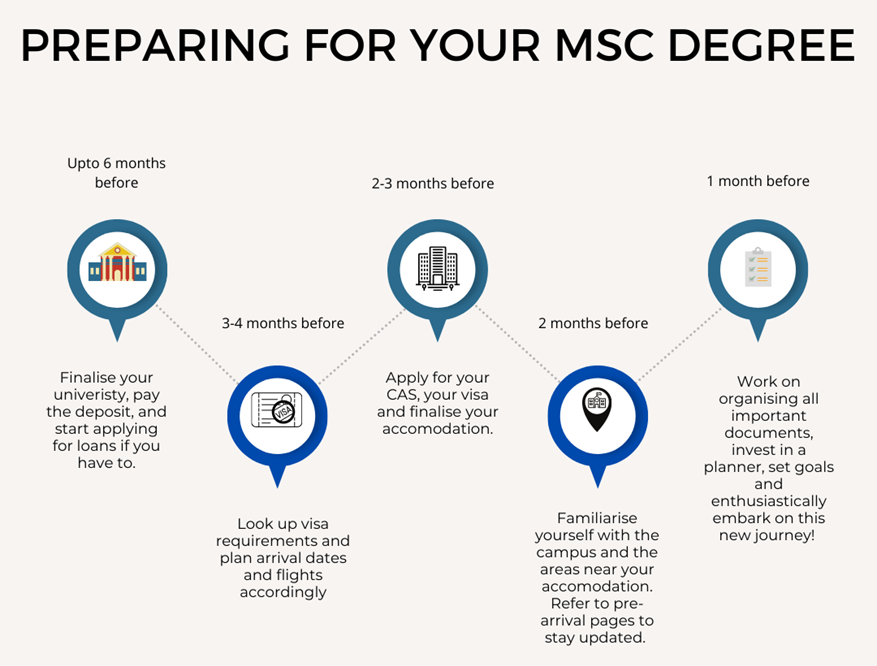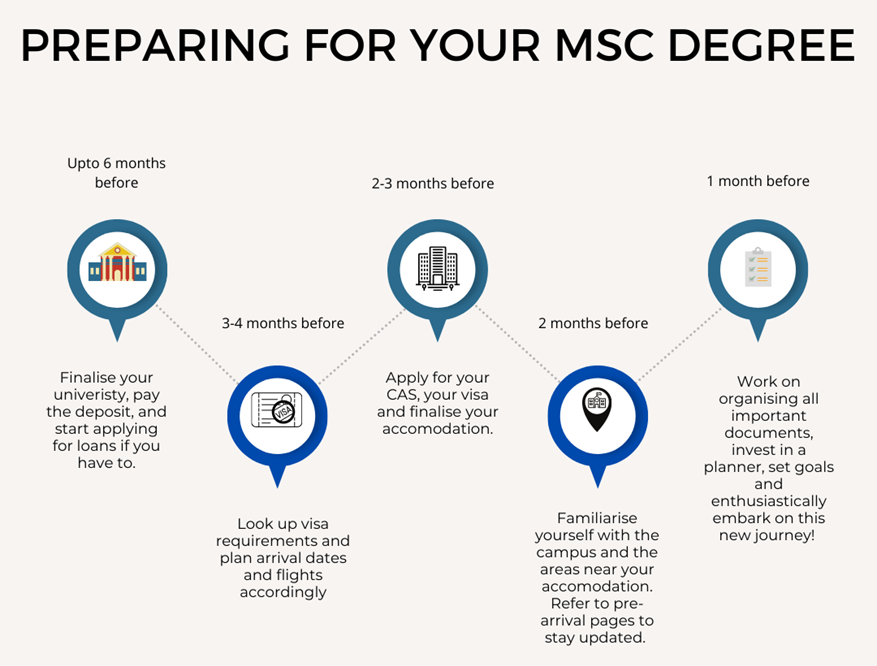 This may feel really stressful but an MSc degree is a great way to develop skills in a safe environment where you are encouraged to excel! Even if it is a big change, it is one you'll be grateful for and as George Bernard Shaw once said, ''Progress is impossible without change''.
Discover more about life as a Postgraduate student at Warwick Business School in our blog.