Starting my journey at WBS during a pandemic
27 January 2021
Our MSc student ambassadors share their experience of starting their course at WBS and reflect on the impact of COVID-19 during their first term.
Leila Shora, MSc Business with Marketing
In terms of my expectations for my first term at WBS, technically I already knew what to expect as my husband had studied at WBS not so long along. Despite the requirements of social distancing due to the COVID-19 pandemic, I was pretty sure that WBS would try to keep the teaching schedule, assessments, group work and examinations as close to 'normal' as possible. In order to prepare for my MSc course, I refreshed my knowledge by using various online resources such as Coursera and Google Digital Garage. I also looked at the profiles of each of the academics who would be teaching me throughout my course, focusing on their research papers. I also looked at the modules included in my course in greater detail to better understand the subject areas I would be learning more about.
The reality of my first term has been pleasantly surprising due to the readiness and ease of use of the University's online platforms. During term one all of my lectures were delivered online, in addition to the pre-recorded ones, and I was able to attend my seminars in person. I have also still been able to take part in workshops such as Critical Thinking and Developing Narrative Analysis in Academic Writing which have been run online, and even the Warwick Skills Portfolio Award, a workshop scheme awarding the successful completion certificate, is open for participation.
I knew that my social life would be somewhat different this year, and traditional events such as the Winter Ball would not take place. However, various activities organised by Warwick Presents and Global Connections Community have provided opportunities for students to enjoy their university experience during these difficult times. As one of the Warwick Presents activities I learned how to cook a shepherd's pie. The University provided all the required ingredients to bake our own versions of the pie at home, and the cooking process was thoroughly explained in a written recipe along with an online video guide. I felt this activity was an excellent opportunity to learn something new while taking a break from studying, and my pie tasted really good!
As cliché as it might sound, gaining knowledge has been the most enjoyable part of my experience at WBS so far. Even though the module content is very intense, all the modules I have studied have provided me with new knowledge and skills which I am able to apply in practice. In addition to this, I have enjoyed learning directly from my academics on a one-to-one basis as I am able to ask them questions to help me clarify my understanding, fully satisfying my hunger for new knowledge.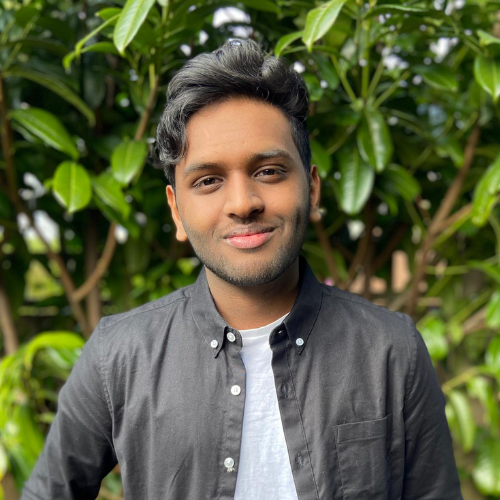 Pragash Thaninathan, MSc Management
Pursuing a postgraduate degree had always been in my mind and the MSc Management course at WBS seemed perfect as I could learn about strategy, finance, international business, innovation and more. The course is known for its international cohort, high global ranking and diverse module options.
I took on a few WBS modules in my final year of undergraduate study and my expectations were high, as the quality of teaching was great and I was looking forward to more of the same. The WBS team did a great job in blending virtual learning with the in-person activities; being able to meet my course mates and making new friends was a great way to start what was going to be a challenging term. The group projects have been interesting with one module requiring us to work across time zones as I had group members in England, Scotland, Hong Kong, Japan and China, and other group projects with everyone on campus but from different countries also such as India and Germany. Being able to meet like-minded people from different backgrounds has helped me build new friendships that will last beyond university. Although the tier system and national lockdown in November did disrupt socialising, I was still able to meet my friends in safe environments on campus and I love to play tennis which is luckily a socially distanced sport, so that has been a great way for me to stay active. The in-person seminars were great to help meet our seminar tutors, experience a degree of normality and meet my course mates.
It's been a difficult term for many but being around new people, making new friends and catching up with old friends has made my first term at WBS an enjoyable experience. To learn about WBS, I would make sure to reach out to alumni and current students. I spoke to lecturers at WBS to learn about the course and messaged and spoke to people on LinkedIn about their experience of the course I wanted to pursue. I'm excited for the term ahead and hopefully a return to normality.
Xinwei Su, MSc Finance
During my course induction at the start of term one, the Associate Dean for my course advised us that we would be very busy throughout the year and would have little time to commit to other things outside of our studies. So from the beginning, I was prepared to put all my energy into my studies. In spite of this, I still felt a little overwhelmed by the heavy workload. Especially because most of my lectures and seminars so far have been delivered online due to the COVID-19 pandemic, and I was concerned that there would be fewer opportunities to interact with my professors.
However, as I have become more familiar with my course, the academics and the WBS operations, I feel that my ability to manage my time has improved a lot. In terms of my study schedule, I have four core modules during this term, each of which has ten weeks of lectures and seminars. I always try to preview the lecture slides before each class, which I find greatly improves my learning when attending the live lectures. I also encourage other students not to be afraid to ask questions and give your opinion in the live lecture. In fact, I find that communicating with my professors is an important learning channel.
The MSc programme team have also been very supportive. Even though it is the first time MSc examinations have been conducted online the preparation has been very good. Apart from my studies, I like to go shopping and cook with my friends in my free time. I also set aside a fixed time every week for physical exercise. I believe this is a great way for me to relax and switch off from my studies. I am looking forward to progressing with my course in the coming months and making the most of every opportunity that comes my way.
Discover more about our portfolio of postgraduate courses available at WBS