Student Insight - Extracurricular Activities: The Polo Society
27 June 2017
Andreas Feller, MSc International Business student, discusses his chosen extracurricular activity.
During my year at WBS, I was looking for an extracurricular activity that could offer me both a healthy alternative to academia as well as flexible scheduling. I decided to join the University of Warwick Polo Club, which actively promotes polo as an inclusive sport for people of all backgrounds at a university level.
Looking back at my year of Polo is exciting and I am very grateful that I could be part of this unique family. As a beginner, I started playing polo from scratch with no prior riding experience. However, it was extremely exciting and enjoyable from the first minute. We played at Offchurch Bury Polo Club, near Leamington Spa, lessons could be booked online every week and therefore perfectly fitted into my busy schedule at WBS.
Within a year, I did not only start to ride a horse and hit a ball, but participated in regional and national tournaments such as the St. Andrews Charity Tournament or SUPA University Winter and Summer Nationals. By training several times a week, I started learning the rules and tactics behind this fascinating sport and improved my play step by step. Polo taught me skills that are very useful in the future such as stress management during chukkas (that is what a game of polo is called), communication within a team and how to turn a loss into motivation to improve.
I was very happy to be appointed Team Captain of Warwick's first beginner team for Summer Nationals. It was a great experience, not only on a competitive but also on an interpersonal level. My teammates became friends for life and we were lucky enough to win the UK National Title in our division without any conceded goals.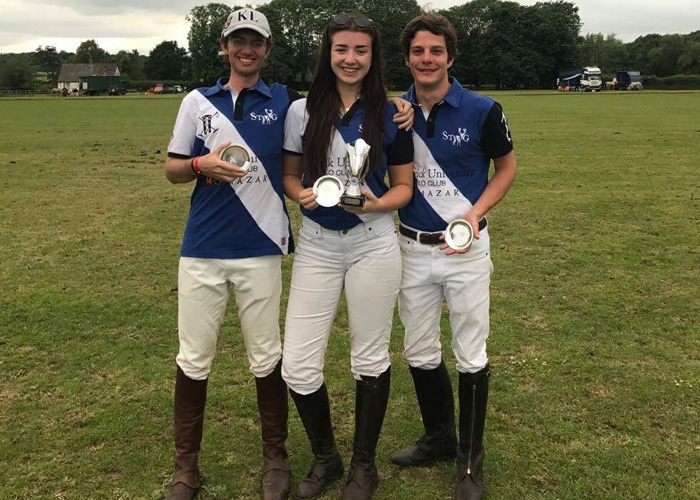 I recommend joining a sports club to any prospective student, as it opens the door to experiencing extracurricular life on and off campus. As part of a team, you will make great friends, participate in social actives and truly get involved in what Warwick has to offer. Do not miss this opportunity and visit the Sports Fair at the beginning of the year!
If you would like to find out more about the Polo Society have a look at their Facebook page.