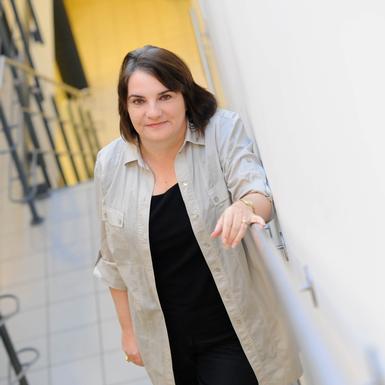 Research Interests
accounting profession; professional identity and socialisation; accounting education and training; critical, social and organisation theory.
Teaching in 2018-2019
Accounting and Finance
IB98Y0: Dissertation
IB9FQ0: Financial Accounting: Theory and Context
IB9CU0: Research Methods in Accounting
Undergraduate
IB0060: Academic Practice
IB2300: Accounting in Context
IB2560: UPP Accounting and Finance in Context
Biography
Fiona started her career as a Research Analyst for The Psychology Business Ltd, an entrpreneurial spin-off company of the University of Leeds. She then moved into research posts in 3 UK universities (funded by ESRC, ICAEW and EU funded), followed by Lectureship at WBS, Senior Lectureship at Leicester, Lectureship at Said Business School, Oxford. Current research funded by the ICAEW. Links with accountancy firms and professional body.
Publications
Journal Articles
Bento da Silva, J., Llewellyn, N. and Anderson-Gough, F. (2017) "Oral-aural accounting and the management of the Jesuit corpus", Accounting, Organizations and Society, 59, 44-57
Edgley, C., Sharma, N. and Anderson-Gough, F. (2016) "Diversity and professionalism in the Big Four firms : expectation, celebration and weapon in the battle for talent", Critical Perspectives on Accounting, 35, 13-34
Anderson-Gough, F. and Brown, R. (2008) "University management practices, accounting, gender and institutional denial", Pacific Accounting Review, Vol.20, No.2, 94-101
Anderson-Gough, F., Grey, C. and Robson, K. (2005) ""Helping them to forget..": the organizational embedding of gender relations in public audit firms", Accounting, Organizations and Society, 30, 5, 469-490
Anderson-Gough, F., Grey, C. and Robson, K. (2001) "Tests of time : organizational time-reckoning and the making of accountants in two multi-national accounting firms", Accounting, Organizations and Society, 26, 2, 99-122
Ogden, S. and Anderson-Gough, F. (1995) "Representing Customers Interests : the Case of the UK Privatised Water Industry ", Public Administration, 73, 4, 535-559
Book Items
Anderson-Gough, F., Edgley, C. and Sharma, N. (2017) "Computer-assisted qualitative analysis software", 411-437, Routledge, New York
Fiona Anderson-Gough (2011) "A Book Review: When Professionals have to Lead: A New Model for High Performance by DeLong, T.J., Gabarro, J.J. and Lees, R.J.", European Accounting Review, Vol.20, No.1, 198-202, Routledge, Oxfordshire, UK
Fiona Anderson-Gough (2009) "Education ", 297, Routledge, London ; New York
Fiona Anderson-Gough (2009) "Education", Chapter 13, 297-316, Routledge, Abingdon; New York