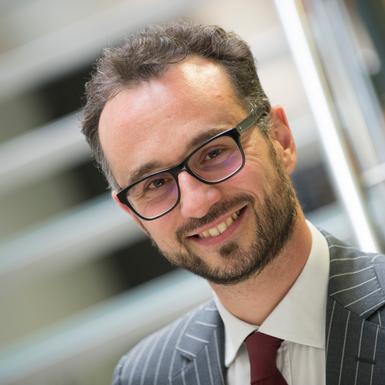 Research Interests
Pietro's research and consulting interests focus in two main areas:

Design and innovation management: Pietro has worked in the areas of design thinking, strategic design and new product development. His research has resulted in publications on Research Policy, the Journal of Product Innovation Management, the Journal of the Academy of Marketing Science, and Research Technology Management. He has been recently awarded the British Academy mid-career Fellowship: in 2017-2018 he will study the use of design thinking as a means to connect digital innovations to improving people's lives.

Strategy implementation and performance management: Pietro has undertaken research on the design, use and impact of performance measurement systems, and on the introduction of performance improvement initiatives in private and public sector organizations. His research papers have been published in leading academic journals such as the International Journal of Operations and Production Management, Public Administration Review, Long Range Planning, and Management Accounting Research. He is currently researching the impact of performance measurement on organisations' capacity to improve and innovate, and the development and review of measurement systems in dynamic environments.

Teaching in 2021-2022
Executive MBA
IB9BY0: Managing Organisational Performance
Executive MBA (London)
IB98KL: Managing Organisational Performance
MSc Business
IB98A0: Design in Business
Postgraduate Research Business and Management
IB9GF0: Recent Advances in Operational Research and Operations Management
Undergraduate
IB3A90: Design in Business
Biography
Prior to joining Warwick Business School in 2012, Pietro was Senior Lecturer at Cranfield School of Management and Research Fellow at the Advanced Institute of Management (AIM) Research in London. In 2009-2011 he was appointed by the Italian Parliament as one of five Directors of the Commission for Public Sector Evaluation in Rome. He was awarded a PhD and a Master by Research in Management from Cranfield School of Management, and a Master in Management and Production Engineering from the Politecnico di Milano.

Over the past 15 years, Pietro has worked with over 50 organisations as mentor, consultant and trainer. These include: Amec, BAT, BP, British Energy, Emirates Group, KLM, Morgan Carbon, Orange, Shell, Veolia Water, Wartsila, Council of Europe, UK Department of Health, House of Lords, National Audit Office, UAE Government and the United Nations.

Pietro has lectured in over a dozen European academic institutions and is currently Visiting Fellow at Cranfield's Centre for Business Performance and Visiting Professor at the University of Bologna. At Warwick he has been awarded nine teaching awards over the past four years.
He speaks fluent English, Italian, French and Spanish.
Publications
Journal Articles
Rettab, B., Micheli, P., Mura, M., Mellahi, K. and Pereira, V. (2021) "The perceived value of measuring the impact of CSR performance on CSR investment : evidence from the UAE", International Studies of Management & Organization, 51, 3, 201-217
Micheli, P., Johnson, M. and Godsell, J. (2021) "Editorial How the Covid-19 pandemic has affected, and will affect, operations and supply chain management research and practice", International Journal of Operations & Production Management, 41, 6, 773-780
Mura, M., Micheli, P. and Longo, M. (2021) "The effects of performance measurement system uses on organizational ambidexterity and firm performance", International Journal of Operations and Production Management
Micheli, P. and Muctor, G. (2021) "The roles of performance measurement and management in the development and implementation of business ecosystem strategies", International Journal of Operations & Production Management
Beer, H., Micheli, P. and Besharov, M. L. (2021) "Meaning, mission, and measurement : how organizational performance measurement shapes perceptions of work as worthy", Academy of Management Journal
Micheli, P. and Pavlov, A. (2020) "What is performance measurement for? Multiple uses of performance information within organizations", Public Administration, 98, 1, 29-45
Micheli, P., Wilner, S. J. S., Bhatti, S. H., Mura, M. and Beverland, M. B. (2019) "Doing design thinking : conceptual review, synthesis, and research agenda", Journal of Product Innovation Management, 36, 2, 124-148
Bourne, M., Franco-Santos, M., Micheli, P. and Pavlov, A. (2018) "Performance measurement and management : a system of systems perspective", International Journal of Production Research , 56, 8, 2788-2799
Pešalj, B., Pavlov, A. and Micheli, P. (2018) "The use of management control and performance measurement systems in SMEs", International Journal of Operations & Production Management, 38, 11, 2169-2191
Micheli, P., Perks, H. and Beverland, M. B. (2018) "Elevating design in the organization", Journal of Product Innovation Management, 35, 4, 629-651
Beer, H. and Micheli, P. (2018) "Advancing performance measurement theory by focusing on subjects : lessons from the measurement of social value", International Journal of Management Reviews, 20, 3, 755-771
Mura, M., Longo, M., Micheli, P. and Bolzani, D. (2018) "The evolution of sustainability measurement research", International Journal of Management Reviews, 20, 3, 661-695
Micheli, P. and Mura, M. (2017) "Executing strategy through comprehensive performance measurement systems", International Journal of Operations and Production Management, 37, 4, 423-443
Beer, H. and Micheli, P. (2017) "How performance measurement influences stakeholders in not-for-profit organizations", International Journal of Operations and Production Management, 37, 9, 1164-1184
Roper, S., Micheli, P., Love, J. H. and Vahter, P. (2016) "The roles and effectiveness of design in new product development : a study of Irish manufacturers", Research Policy, 45, 1, 319-329
Beverland, M. B., Micheli, P. and Farrelly, F. (2016) "Resourceful sensemaking : overcoming barriers between marketing and design in NPD", Journal of Product Innovation Management, 33, 5, 628-648
Beer, H. and Micheli, P. (2016) "How performance measurement influences stakeholders in not-for-profit organizations", International Journal of Operations and Production Management
Micheli, P. and Gemser, G. (2016) "Signaling strategies for innovative design : a study on design tradition and expert attention", Journal of Product Innovation Management, 33, 5, 613-627
Beverland, M. B., Wilner, S. J. S. and Micheli, P. (2015) "Reconciling the tension between consistency and relevance : design thinking as a mechanism for brand ambidexterity", Journal of the Academy of Marketing Science, 43, 5, 589-609
Micheli, P. and Mari, L. (2014) "The theory and practice of performance measurement", Management Accounting Research, 25, 2, 147-156
Micheli, P., Jaina, J., Goffin, K., Lemke, F. and Verganti, R. (2012) "Perceptions of industrial design : the "means" and the "ends"", Journal of Product Innovation Management, 29, 5, 687-704
Schoeman, M., Baxter, D., Goffin, K. and Micheli, P. (2012) "Commercialization partnerships as an enabler of UK public sector innovation : the perfect match?", Public Money & Management, Volume 32, Number 6, 425-432
Micheli, P., Schoeman, M., Baxter, D. and Goffin, K. (2012) "New business models for public-sector innovation : successful technological innovation for government", Research-Technology Management, Volume 55, Number 5, 51-57
Micheli, P., Schoeman, M., Baxter, D. and Goffin, K. (2012) "New business models for public-sector innovation : successful technological innovation for government", Research-Technology Management, Volume 55, Number 5, 51-57
Micheli, P., Mura, M. and Agliati, M. (2011) "Exploring the roles of performance measurement systems in strategy implementation : the case of a highly diversified group of firms", International Journal of Operations & Production Management, Volume 31, Number 10, 1115-1139
Micheli, P. and Neely, A. (2010) "Performance measurement in the public sector in England : searching for the golden thread", Public Administration Review, Volume 70, Number 4, 591-600
Micheli, P. and Manzoni, J. (2010) "Strategic performance measurement : benefits, limitations and paradoxes", Long Range Planning, Volume 43, Number 4, 465-476
Buytendijk, F., Hatch, T. and Micheli, P. (2010) "Scenario-based strategy maps", Business Horizons, Volume 53, Number 4, 335-347
Groffin, K. and Micheli, P. (2010) "Maximizing the value of industrial design in new product development", Research-Technology Management, Volume 53, Number 5, 29-37
Franco-Santos, M., Kennerley, M., Micheli, P., Martinez, V., Mason, S., Marr, B., Gray, D. and Neely, A. (2007) "Towards a definition of a business performance measurement system", International Journal of Operations & Production Management, Volume 27, Number 8, 784-801
Book Items
Book