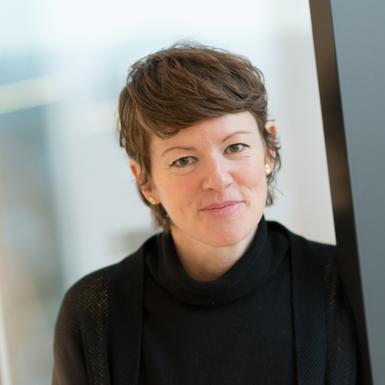 Research Interests
Arts-based methodologies in business education and research. The embodied learner. The shaping of personal, professional and social identities. Narrative discourse and women in leadership.
Teaching in 2018-2019
MSc Business
IB9FC0: Current Issues in Leadership
Management
IB92E0: Entrepreneurship and Business Venturing
Undergraduate
IB2640: Acting Responsibly
IB1390: CORE Practice: Shaping your future self
IB3H50: Images of Creativity
Biography
She is Principal Teaching Fellow and Assistant Dean for the Undergraduate programme, developing practice in partnership, placing importance on the situated and culturally unique learner and the role of the arts and humanities in business education.

She is module leader for CORE Practice, a required module for all 600+ first year students. The module is committed to supporting student transition between formal and higher education, positioning creative practice at the heart of management development. Beginning in January 2017 she will lead Acting Responsibly, a new elective module exploring what it means to act responsibly in 21st-century business practice.

She is National Teaching Fellow (NTF), Senior Fellow of the Higher Education Academy (SFHEA), Fellow of the Warwick International Higher Education Academy (WIHEA) and holds a Warwick Award for Teaching Excellence (WATE). 

In 2009, she was awarded a prestigious Creativity and Performance in Teaching and Learning (CAPITAL) Creative Fellowship, with the Lead Practitioner of the Royal Shakespeare Company (RSC) Education department. This fellowship was pivotal in informing and driving both the shape and content of the nationally successful RSC Learning Performance Network and accredited programmes and the PG Award in Teaching Shakespeare, prior to becoming the Academic Director for the international distance learning programme Teaching Shakespeare on-line (2011-2016).

Rachel's career in Higher Education began in the Drama and Theatre Education Department at the University of Warwick. During this time, she grew and led a nationally respected Initial Teacher Education programme for Drama and English teachers, prior to being appointed as a founder member of WBS Create.