Careers advice: Top ten interview tips
13 August 2018
What puts one good interviewee above another? Careers Coach, Donna Walker, shares her top ten tips to help you stand out in an interview and secure the job.
1. Research
Undertaking research prior to an interview is essential as employers want to know that candidates are genuinely interested in the role and company, if they have two candidates with similar qualifications the one who is most knowledgeable about the company is likely to be offered the job. It is also a good way of demonstrating passion for the role.
The role: decode the job description, what are the specific skills for the job and what are the core skills the company look for?
The company: have they been in the news recently? What are their challenges, strategic direction and who are their competitors? What are their values and culture?
The sector: what are the latest developments in that sector? What factors are having an impact?
The interviewer: look at the background of the interviewer so you can find some common ground
2. Prepare for different types of questions
To increase your confidence think about the types of questions you can expect and how to answer them. Think of examples that provide evidence for the skills listed in the job description:
Common questions include:
Tell me about yourself
Why do you want to work for us?
Give me three reasons why we should offer you the job
Competency questions; these test whether you have the skills needed for the job, examples include:
Tell me about a time you were part of an unsuccessful team. What went wrong and what would you do differently next time?
What methods do you use to gain commitment and the best from your team and your other stake-holders?
Keep your answers concise and clearly structured. Use the CAR Framework to answer competency questions:
Context – The background to your story – what were you trying to achieve and what were the circumstances?
Action – What did you do? How did you do it? Focus on your contribution (try to avoid saying "we").
Result –What was the outcome? How did you add value?
3. Killer questions
Think about your most feared interview questions and prepare answers before the interview.The question 'What is your biggest weakness?' is really testing how self-aware you are. Provide an example that isn't essential for the job e.g. speaking in front of large audiences and what you are doing to address that weakness.
4. Will you fit in?
Recruiters want to know that you will fit in with the culture of the organisation. Outside interests such as sport and voluntary work can serve as icebreakers and show that you have a work-life balance.
5. Arrive on time
Aim to arrive 10-15 minutes before the allocated time. Make sure you know where you are going and have timed your route.
6. First impressions
Remember that the interview starts at security or reception, so be polite at all times. Smile, maintain eye contact, shake hands confidently, and follow the lead you are given by the interviewer. Control your voice. Modulate your tone, vary your pace and pitch, and think about volume. Be clear, but not too loud.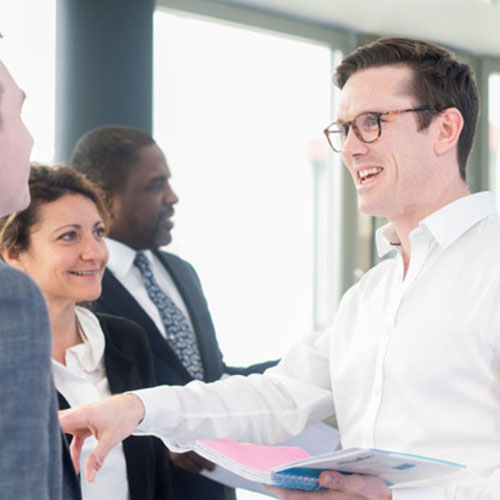 7. Be interesting and enthusiastic
Allow your personality to come through so that the interviewer can get to know you. Show enthusiasm, energy and remember to smile!
8. Questions for the interviewer
Ensure that you have some appropriate questions that demonstrate your genuine interest in the role, company and sector. Do not ask about salary or holidays. Focus on strategic priorities, current trends, issues and challenges. Reiterate your interest in the job.
9. Interview follow-up
Make a note of the questions you were asked to help you prepare for future interviews. Email the interviewer to say thank you.
10. Common mistakes
Lack of research - not knowing enough about the company.
Lack of structure – candidates who give rambling, unstructured answers appear unprepared. This makes it more difficult to for the recruiter to assess if you are giving them the information needed.