How to invest in your mental health and wellbeing at WBS
12 May 2021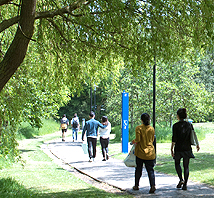 The coronavirus pandemic has brought change and uncertainty that might make it feel more difficult than usual to take care of your mental health and wellbeing. We offer advice on how to invest in your mental health and wellbeing during your studies and where to go if you feel you need support.
What is mental health?
Well it's something we all have...it's just as important to care for our mental health as it is our physical health.
Mental health problems affect people from all walks of life – all ages, all genders, all cultures and all ethnicities.
There are likely to be friends, members of your family, work colleagues, and staff and students at WBS who have experienced mental health issues. You may be experiencing or have experienced a mental health issue yourself.
Mental health problems are very common – 1 in 4 people will experience problems with their mental health every year. People are talking about mental health more which helps to reduce the stigma associated with it.
You may or may not know that the following people have experienced mental health problems:
Prince Harry, Stormzy and Lady Gaga have been open about their mental health issues and shared their experiences.
Experts agree that many historical figures, such as Isaac Newton and Florence Nightingale, had diagnoses of severe and enduring mental health problems. This did not stop them becoming successful and achieving many things in their lives.
Investing in your mental health – checks and balances:
Positive balance sheet
Eat well – avoid too much sugary food and caffeine
Rest – get plenty of sleep and have some time to chill
Have fun! Take part in activities that you enjoy
Spend time with friends and family – connect with others
Exercise regularly – go the gym, participate in sports, walk around campus
Avoid drinking too much alcohol (under 14 units a week)
Be kind to yourself

–

ask for support – we all need support at times; if you are struggling with academic work, events in your life and are feeling very stressed, speak to someone
Allow yourself to make mistakes – we are all human after all! We all make mistakes, it is important for our emotional and psychological development to build resilience to cope when things go wrong
Negative balance sheet
Not getting enough sleep/rest
Poor eating habits
Social isolation/cutting off from others
Lack of exercise
Too much caffeine
Drinking too much alcohol/using illicit drugs on a regular basis
Perfectionism
High levels of stress for prolonged periods of time
Not seeking support
Where do you go if you feel you need support?
Wellbeing Services can offer you support in a variety of ways: