Executive MBA (London): Flexibility and Teaching
05 June 2017
Liam and Pallavi describe the flexibility of the Executive MBA (London) and how taking time away from studies can be a good thing for personal commitments.
Liam Sloan
"One of the great advantages of studying at Warwick Business School is the flexibility you have in configuring your studies to fit around life and work.
In my own case, my wife managed to time going into labour with our second child for the final day of my first module, leaving me unable to complete part of the assignment. Fortunately, the course leader was very understanding and set a replacement assignment so I could complete the module.
In less dramatic circumstances, you can easily switch between module formats at The Shard, on the Warwick campus, or by distance learning. Each gives a different learning experience. At various points for me, spending a week in Warwick immersed in a module was a better option than sacrificing my weekends.
Many of us on the London Executive MBA course chose the format because it best fitted around our other life and work commitments. However, almost by definition we are very busy people. Many of us have young families; all of us have demanding jobs. Life events and work pressures can disrupt the best laid plans.
During my first year of the MBA, a change of jobs and best man duties at a friend's wedding left it impossible to fit in all of the eight modules I had originally hoped to complete. I ended up delaying two for several months. The Warwick team were very accommodating in sitting down with me to discuss other potential options, and jiggling about my modules to fit around my other priorities.
By contrast, some course mates have wanted to burn through the whole programme as fast as possible, scheduling distance learning electives over the summer break and or additional electives in Warwick during the first year.
In my own case, I expect I may take a few months longer to complete the MBA than I had planned, but it has let me fulfil my other commitments to my family, friends and work. I think this has been the right decision for me. At points, I found that the MBA risked becoming all consuming, and to maximise the experience I needed to ease up so my studies didn't harm family life or work relationships.
Everyone will have a different balance to find, but studying at a Business School offering multiple studying options and formats allows you to sequence your studies around your own priorities."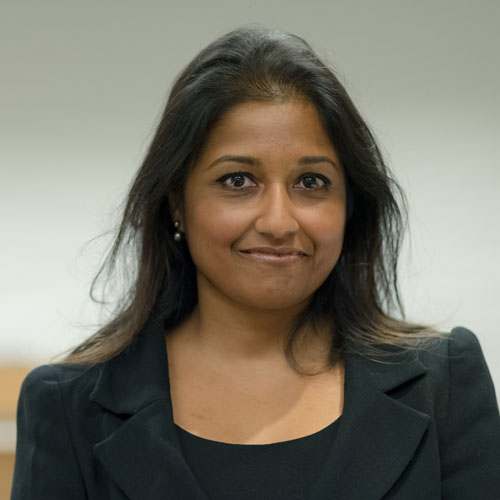 Pallavi Bradshaw
"After the excitement and fear of the induction weekend came the realisation that I was actually going to have to do more than just build balloon towers during the programme. I am not sure what I expected but I certainly hadn't fully prepared myself for giving up nearly every weekend in the foreseeable future. As our MBA is a two year programme the first couple of terms have been pretty intense with classes running nearly every other Friday and Saturday, pre-reading and assignments due on a monthly basis. While the Friday/Saturday format was convenient to both me and my employer, I cannot tell you the strength it took to get up on those dark Saturday mornings in the winter months and the longing, looking out of the immense Shard windows, to be sat by the river on a beautiful, sunny afternoon. Thankfully, it was comforting to know that 50 other people were sharing the pain and that deep down you knew 'it would all be worth it'.
At times it has felt like being on an MBA treadmill with one assignment handed in and another one due. I won't sugar-coat it, it has been both mentally and physically exhausting. I have found the group assignments particularly challenging as it requires coordination of busy schedules, late evenings after class and the odd 'disagreement' with fellow students. Having a supportive employer is undoubtedly very helpful with the occasional last minute panicked leave day taken to finish off an essay. The admin team at The Shard have been great with last minute changes and postponements when it all gets a little too much and the support of the cohort has kept most of us going when we have felt overwhelmed.
The teaching has been stimulating and has been supported by the insights from experienced module leaders during the small group work. They are always willing to answer questions and are very accessible by email. Some of the guest speakers have been outstanding, in particular John Vary, Innovation Manager from John Lewis and Jonathan Dee, Director at Swizzels Matlow, who unashamedly won us all over by bringing in mountains of his sweets, including my particular favourite 'Love Hearts' (apparently it is rather odd for a grown woman with no children to buy these…..who knew?)
All in all, the year has flown by and with one required module to go I am really not sure what on earth I am going to do with myself at the weekends. Hopefully my friends will forgive me for my recent absences from social occasions and be pleased to see me and be rather impressed at my commitment to my studies!"