Reflecting on my leadership style
18 March 2022
Executive MBA (London) participant, Netza Jack, highlights how the Leadership module has provided an opportunity to understand what makes a successful leader and reflect on his own leadership style.
I am currently the Technical Services Lead for a major Property Developer in London and I have worked within a similar role for various organisations over the past 26 years.
Throughout this time, I have engaged with a wide range of teams across different industries I have also worked within the full spectrum of facilities management and property services sector as 'the client', service provider, managing agent, and consultant.
I have had the opportunity to observe how various businesses operate through their cultures and aspirations. Since completing a Master's Degree in 2018, I have been thinking about my next challenge and where I see my career progressing in the next three to five years. I have always had an interest in the business environment; especially in London. Through this interest, I chose to pursue an Executive MBA (London) at Warwick Business School to develop my leadership and strategic skills, along with learning more about innovation in the business environment.
One of the challenges I faced was on two previous occasions between 2017 and 2019, I applied for Senior Management roles and was unsuccessful. The feedback provided was 'although I have a very strong technical background and qualified, I need to develop my leadership skills and gain more experience within that capacity'.
The Leadership module on the MBA programme has provided me with great insight into the approach of decision making, self-awareness, ethics in the business environment and defining a vision for my team within my own organisation. Having been in a management role for more than 15 years, the content studied during this module has allowed me to develop more self-awareness in a leading role and take the time to reflect on my leadership style and brand within the organisation.
A key approach and process I have adopted from the module is the 'how to grow your influence' diagram (Hanke, 2017). This has enabled me to shape my thinking as a leader, especially in my response to change management. It has also given me a process in raising my profile as a leader within the organisation.
The model illustrates a cyclic process where each of the five points must be considered in adapting to a leadership role. This involves asking for your team's opinions, being open to other alternatives, and listening to understand and expand my perspective to send the right leadership signals. It also allows others to feel valued and engaged, thereby increasing my influence and effectiveness as a leader.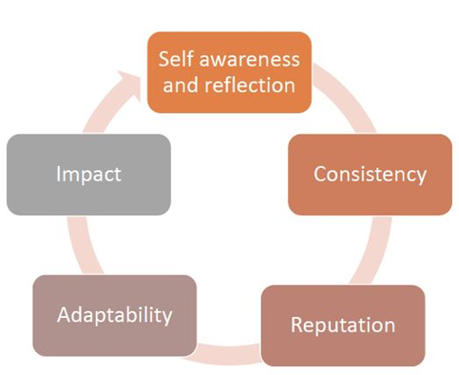 Image: Growing your Influence as a Leader
(Source: Adapted from Hanke, 2017 – Influence Redefined)
At this point, I believe I am in a state of readiness to go into a challenging role, such as a senior manager. This is mainly due to me not knowing what I will face, which brings with it a level of discomfort, but based on what I have learnt in the module and my past experiences, I have developed a mind set to embrace the discomfort and the unknown.
The module content has provided a range of examples that not only reflect some of my own leadership characteristics, but some new concepts such as leadership agility and adaptive leadership. Being able to be more observant, be more visible to my team and self-awareness. The focus on case studies has been one of the most valuable aspects of the module, as I have been able to compare my own experiences with those of the speakers. Mostly, reflecting on bad experiences and using them as a process for development and understanding the internal culture and politics of the organisation.
The lectures have also taught me that the challenges of a strategic leader will always be present as we live in a VUCA (Volatility, uncertainty, complexity and ambiguity) world. I have had these types of experiences more recently in my career, and by observing others in senior roles, alongside some level of leadership and management training, I have been able to adapt and become better at navigating uncertainty when it comes to making difficult decisions. This process has also taught me to acknowledge my own fallibility.
Through my various experiences as a leader, I now recognise that I am unable to control the degree of change, ambiguity, uncertainty, or complexity, but by adopting and constantly reviewing the following three strategies I can become a better leader:
Learning to embrace the discomfort of uncertainty
Avoid isolation and work as a team
Stepping back and zooming out.
From this, I can improve on my ability to continually develop, and more effectively navigate the increasing complexity within the workplace and in my daily life.
Find out more about our Executive MBA (London) programme here.
Download a copy of our Executive MBA (London) brochure here.