WBS MBA students at One Ocean MBA's Conference & Regatta 2019
07 October 2019
Distance Learning MBA participant, Sumit Malhotra, shares his experience on being part of the WBS team at One Ocean MBA's Conference & Regatta 2019.
Thanks to our cohort member, Giuseppe Roberto Marseglia, for initiating and finalising the WBS entry into One Ocean MBA's Conference & Regatta 2019 – arguably the main event of the MBA Sailing Season. Simply put, I would describe it as one of the quintessential MBA experiences.
The 16th edition of the One Ocean MBA's Conference & Regatta, organised by the SDA Bocconi School of Management and the Yacht Club Costa Smeralda in partnership with the One Ocean Foundation, hosted approximately 400 students from 26 top business schools globally. These included Harvard Business School, Chicago Booth School of Business, Columbia Business School, HEC, IE, INSEAD, London Business School, Wharton School, Yale School of Management to name a few.
The Conference was rightfully dedicated to ocean sustainability and explored the different models and frameworks to achieve it, with the support of future and current organisational leaders. It is a challenge that we cannot postpone any further - there is no Planet B. As one would expect, the spirit of sustainability was evident throughout every minute detail of the event across the 4 days. This exemplified how it is possible to have a great time without harming the environment.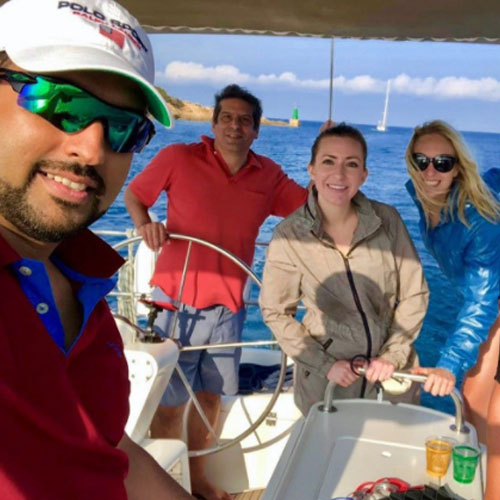 With two days of racing, the next layer of exploration involved leadership and teamwork. The added excitement came from the fact, that we were sharing the boat with students from Yale School of Management. All seven team members were new to each other, and it was comparable to a working group coming together in an organisation for a project to hit the ground (waves in this case) running and deliver results. One of the many great analogies I came across this trip, was how a sailing boat can represent a firm that has little control over the exogeneous factors, and the leadership team needs to navigate the firm through those, leveraging the wind to move forward. It was interesting to see how the leadership was democratic and distributed in most contexts, but how it switched seamlessly into "dictatorship" with universal acceptance during critical sailing manoeuvres. The skipper and team members did an amazing job in instilling confidence in each other and dynamically allotting responsibilities to one another and owning their areas.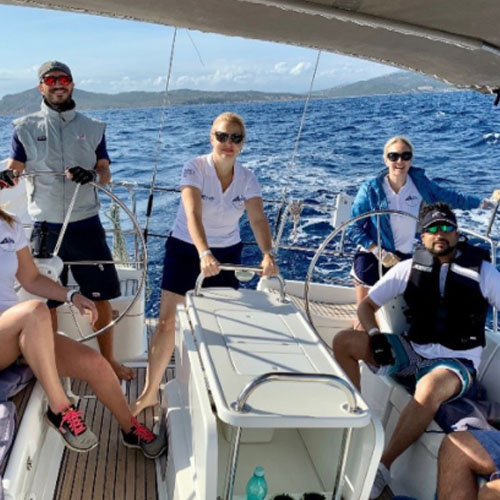 With a fair number of the 400 participants new to sailing, like myself, we were ready to push beyond our comfort zones. Strong wind and waves in opposite directions tested us to the limits, with one of the Regatta days having to be cancelled due to harsh weather conditions (and even a pro-sailing event the following Monday had to be called off). After a few hours of being on the boat on race day and giving it my best, came a moment of true vulnerability. I suffered a mix of motion sickness and dehydration and was on the verge of unconsciousness, so it was clear I could no longer stay on the boat. The rescue boat deemed the waters too rough, asking the skipper to take the boat to the shore, away from the starting line just minutes before the race. It was clear that the team would lose significant time, but the compassion was incredible - they knew it was the right thing to do and I salute their spirit. Despite starting with such a huge disadvantage and in last place (30th place), they were able to make up lost ground to finish in 18th place. This can be compared to a firm who knows morally what the right thing to do is, especially when it comes to matters such as sustainability of the environment!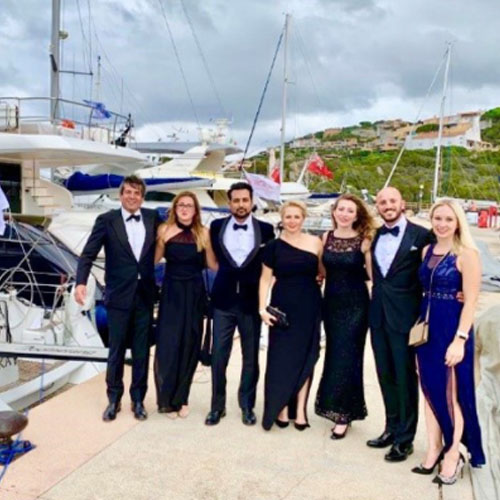 The networking dinners in the evening with other MBA students were brilliant and had the right mix of fun, food and dance. It is not often one gets to spend four days with 380 MBA students, experience such a wide variety of events, learning from moments of exemplification and vulnerability and experiencing personal growth in such a short span of time. It is truly a privilege to have shared the boat with brilliant minds from diverse backgrounds including an ex-CEO, a PhD, a Business Manager, a rising star in a top Hedge Fund and the one who made me feel safe in the moment of vulnerability – a mum of five and a professional nurse. To top it all, they asked me to collect the closing ceremony award on behalf of WBS, demonstrates their sheer class!
The quotes from my teammates probably do a better job of summarising the experience:
Diana Popescu: "An amazing networking experience with a fantastic blend of international students, all embracing the sailing challenges and bringing our skills together to face the open sea racing. It was the perfect opportunity to quickly learn how to work together, become a cohesive sailing team and build long lasting friendships."
Alberto Irace: "To sail is a heuristic task. Formulas do not merely apply to sail fast and instead working as a team is central to reach that unique equilibrium that makes the yacht go faster. I loved this experience for the truly magical moments I shared with my colleagues."
Kirra Moser: "Taking part in this event has been a unique (and great fun) way to combine the practical application of my MBA theory with the unpredictable elements of weather, a new team and an essentially a new skill. Sailing in this unbelievably beautiful part of the world has also really brought home how fundamentally important our oceans are, and that sustainability falls squarely on our shoulders as the next generation of leaders."
Finally, a big thank you to Giuseppe Roberto Marseglia, who organised the event for us, despite the fact that he would not be able to attend due to an overlap with his wedding. Congratulations to the beautiful couple!
Find out more about the Warwick MBA