Expectations vs. Reality: My first term at WBS
20 January 2021
Our MSc student ambassadors share their experiences from their first term at WBS.
Parker Wu, MSc Business Analytics
Since the outbreak of COVID-19, WBS has been in contact frequently with information on the latest measures that have been put in place both at the business school and across the wider university, which I found really reassuring. During these updates, I was also informed that for my first term (and possibly beyond) my modules would be taught online with the full support and resources of the academics, the CareersPlus Team, and the Wellbeing Support Services.
Once I physically arrived at WBS, I found that the business school's preventative measures regarding COVID-19 were way beyond my expectations. There was social distancing in place, restrictions on the number of students allowed inside lecture theatres and seminar rooms, regular hygiene stations and it was mandatory for all students to wear a mask while inside the building.
In preparation for beginning my studies at WBS, I undertook several programming courses and workshops through Coursera self-study which allowed me to refresh my knowledge and learn some new technical skills in preparation for my course. I would definitely recommend future MSc Business Analytics students do the same as this has really helped me during my first term of study. During my first term at WBS, I had three face-to-face seminars, three online lectures and several online tutorials per week. I have been amazed by the prompt online support I have received from my lecturers during my experience so far and the high-quality live streams available at WBS have been outstanding. I have also really enjoyed the abundance of resources that are available to me including the CareersPlus service where I have been able to attend online career workshops and access online services such as V-Mock, Marketline and Datacamp.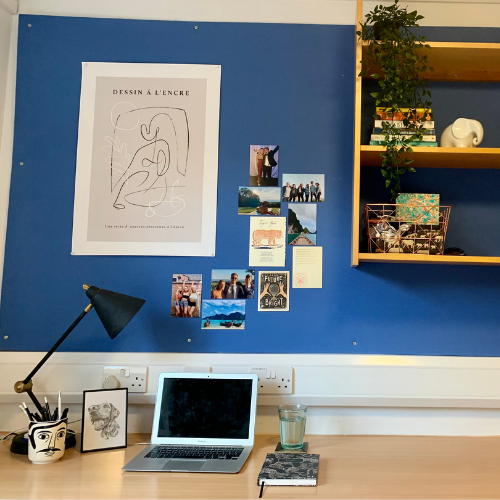 Maddie Jones, MSc Business with Marketing
Before starting my first term at WBS, I felt a mixture of excitement and nerves. I had never studied business before, so beginning a masters in a completely different discipline was a daunting prospect. Before my course started, I was anxious to do what I could to prepare; especially because I had studied a humanities subject for my undergraduate degree and hadn't done maths in a few years!
Despite initially feeling this way, I was instantly put at ease by the support that was given to me by WBS. Not only did the school provide course material so students could get ahead on reading before the start of term, but they also have a series of 'maths booster' videos to help improve the confidence of those who needed some refreshing. This support has continued throughout my time at WBS and it wasn't long until I felt more confident in my ability. Although the course is often challenging and requires you to juggle multiple projects and assignments at once, professors are always happy to help with any questions.
I wasn't sure what to expect when I was informed of WBS's blended learning approach of online lectures and face-to-face seminars, due to the restrictions in place because of the COVID-19 pandemic. Although this was very different from the university experience most people expect, I was nevertheless very impressed with how WBS dealt with the ever-changing circumstances. The quality of teaching has exceeded my expectations and I have also been able to make friends on my course both in person and virtually. Not only do the professors make every effort to create a collaborative learning experience in the online lectures, but they also provide virtual office hours and thorough updates whenever there are changes to the intended plan.
I am now looking forward to starting my second term at WBS!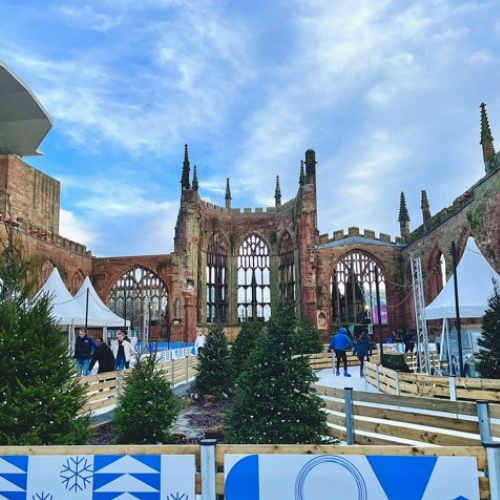 Xiao Bai, MSc Business & Finance
After receiving my offer to study at WBS I spent a lot of time imagining what my new adventure at WBS would be like. I also started to prepare for my course by taking some maths refresher courses and completing lots of reading based on the reading list provided on my.wbs. However, due to the impact of COVID-19, I was anxious about the quality of online learning compared to face-to-face teaching and I was also quite considered about my wellbeing. In addition to this, I was worried about whether I would physically be able to get to the UK due to the international travel restrictions that came into place. So to be completely honest, my expectations for my first term at WBS weren't particularly high. Nevertheless, I still decided that I wanted to come here because it has always been my dream business school. As I begin term two of my studies I can safely say that everything worked out for me and I don't regret coming here at all.
Looking back at my first term at WBS, all my lectures have been online and three of my seminars have been in person, and I have absolutely loved this blended learning approach. During my online lectures, I am able to ask questions at any time using the chatbox function, I am able to watch the presentation slides and notes clearly, and I am able to review everything afterwards by having access to the recordings. Moreover, face-to-face seminars have been a great learning experience where I am able to discuss cases and problems with my lecturers and classmates directly. I have also had the opportunity to make some lovely friends.
Apart from my learning experience, I have really enjoyed spending time on improving myself during my first term at WBS. I have spent quality time relaxing and doing lots of things I enjoy such as skating and spending time decorating our Christmas with my friends, which has been extremely precious during the pandemic and has made me appreciate the 'little things' even more. All in all, my first term has been far from 'normal' for sure, but it has been an amazing experience, which I feel will make me a better, stronger, and more confident individual going forward.
Discover more about our portfolio of postgraduate courses available at WBS