A day in the life of a BSc International Management student
04 July 2022
BSc International Management student, Chloe shares her typical day from start to finish.
If you are scrolling down this blog, you might be curious about what a day in the life of a WBS student is really like. Before sharing my typical day at university, I would like to introduce the usual workload of a student studying BSc International Management. Each week, we engage in 1-hour pre-lecture videos, weekly tasks, and seminar preparations for each module. We usually have more free time in the first few weeks of term when you can still navigate around and switch to different modules. We start our group project discussions in week 4, which is when you need to dedicate more time to research and meetings with teammates aside from your day-to-day academic studies.
Life as a BSc International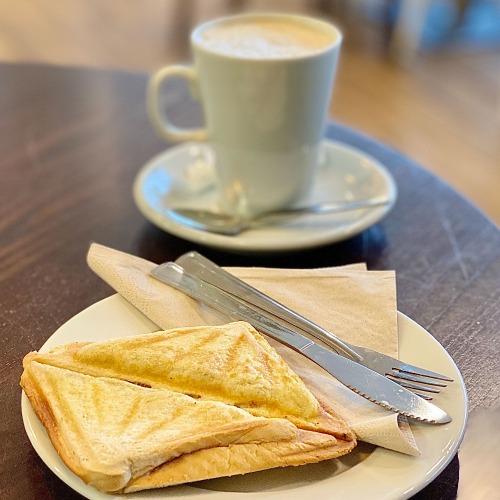 Management student is hectic but fruitful. I start my day with a morning lecture. I get ready, have a quick breakfast and head out to catch my bus to the Warwick campus. Face-to-face lectures have finally resumed this term after the COVID-19 pandemic, so I am quite excited to meet my coursemates in person and experience a lecture with over 100 people. I head to the WBS building for my Enterprise Information Systems lecture. This module introduces the implementation of large-scale corporate information systems based on real-world business cases. Participating in online simulation to SAP ERP software system and conducting data analysis are both enriching experiences for me. Since all lectures will be recorded and are uploaded to Moodle – our online learning platform afterwards, I can always catch up and revise the module content at any time.
In between lessons, I love to relax at the NAIC café where I can grab a cup of coffee or the Green Room in the SU building. I prefer working in a social dwell space or relaxing environment to prepare for my marketing project, which requires me to deliver a small presentation during a seminar later this week. However, if you prefer a quiet study space where you can focus better on your work, the library or the WBS undergraduate learning grid are popular spots for a quieter study space.
Fusion is the perfect place to catch up with friends during lunchtime. I meet my friends at the restaurant and catch up about our plans for the weekend. After lunch, I attend my Business Law seminar which takes place in the Humanities building. I enjoy this seminar a lot as we have interactive discussions about different case scenarios every week. For instance, this week, we discuss the topic of contract law and determine whether a legally binding contract has been created in each case. Our seminar tutor also explains some techniques for structuring the answers of our summer written exam, which is very helpful for my revision.
After the seminar, I go to Canno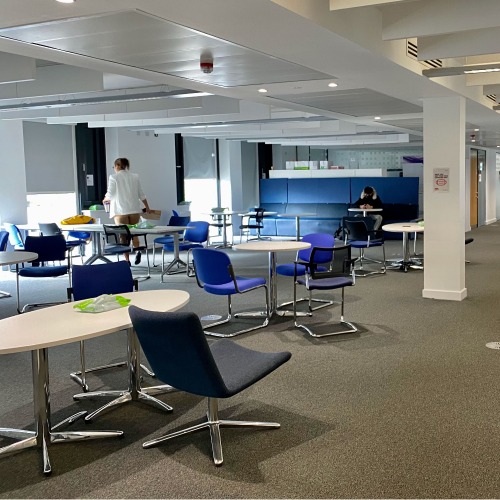 n Park for grocery shopping. The Seoul Plaza is my must-visit stop where I can grab all kinds of Asian food and snacks, ranging from Korean ramen noodles, fried dumplings to sauce and seasonings. There are other supermarkets such as Tesco, Wilkinson's, and Boots in the shopping centre where you can purchase other daily necessities conveniently. To strike a work-life balance, I then attend my aerial yoga session at the SU Atrium. I sign up for a beginner skills class where I can learn basic skills such as footlock moves and spinning. It is not easy to control but a great chance for me to train my flexibility and muscles cooperation. After my yoga session, it is already late in the afternoon, and I am exhausted for the day. I head back home and make a simple dinner with my housemates in the evening.
Multi-tasking skills are undoubtedly essential for a business student, especially when it comes to applying for internships. During the busiest weeks of the term, I do not only focus on my course work, but I also dedicate time to researching companies, practising online tests, and conducting interviews. Time management skills are equally crucial. There are many society events and social gatherings happening throughout the term and you definitely do not want to miss them. Hence, it is vital to plan and prioritise tasks of the week so that you can enjoy a work-life balance. There are multiple opportunities waiting for you to explore, so be ready to design your own unique university experience.
Thank you for reading my blog I hope you found it insightful and you enjoyed a sneak peek into my life as a BSc International Management student!