Discover the Sports & Wellness Hub
Our undergraduate ambassador Efi shares her review of the facilities available at the Sports & Wellness Hub located on campus.
For me, the Sports & Wellness Hub is the most unique building on campus for an array of reasons. The minute you step into the huge building you are in complete awe. The modern architecture and the massive size of the Hub are really breath-taking. The variety and quality of the classes and workouts offered are outstanding, to say the least. Any fitness enthusiast can satisfy his or her exercising needs and, to be honest, I am pretty confident that the Sports Hub available at Warwick can make anyone a fitness enthusiast. Whilst you're in the Sports & Wellness Hub exercising is neither bland nor boring, and I'll explain why.
State of the art facilities
Starting from the basics, the gym area is equipped with state-of-the-art machines and weights. Most of the machines have digital screens where you can see your reps for each exercise according to your targets. The screens also provide you with guidance on how to perform the exercise, something which I found especially helpful as a beginner. Of course, all cardio machines are equipped with monitors from which you can access YouTube and Netflix to make the cardio sessions as enjoyable as they can be. The gym experience is even better if you download the wellness app on your smartphone. This allows you to log each machine you have worked on and track your workout every time you visit the gym. Through the app, you can record a number of fitness goals, such as kilometres on the treadmill or your weight if you use the sophisticated professional scales that can also calculate your muscle and body fat percentages. I personally find tracking my progress very motivating.
You can take a virtual tour of the Sports and Wellness Hub below...
Energetic classes provide a motivation boost
As much as I love the gym, my favourite activity in the Hub by far is the group classes. These take place in large parquet rooms and range from yoga and stretching classes to high-intensity weight training, for example, body attack, and legs, bums and tums. All the instructors are full of energy, the music is loud, and the ambience is always vibrant. If you attend the same classes each week, you start to see familiar faces and it provides a great way to build your social circle. Making friends becomes easier, and work-out buddies always give you that motivation boost even when you are not feeling like exercising. A useful tip is to book the group classes well in advance because they tend to be very popular and get booked up quite quickly.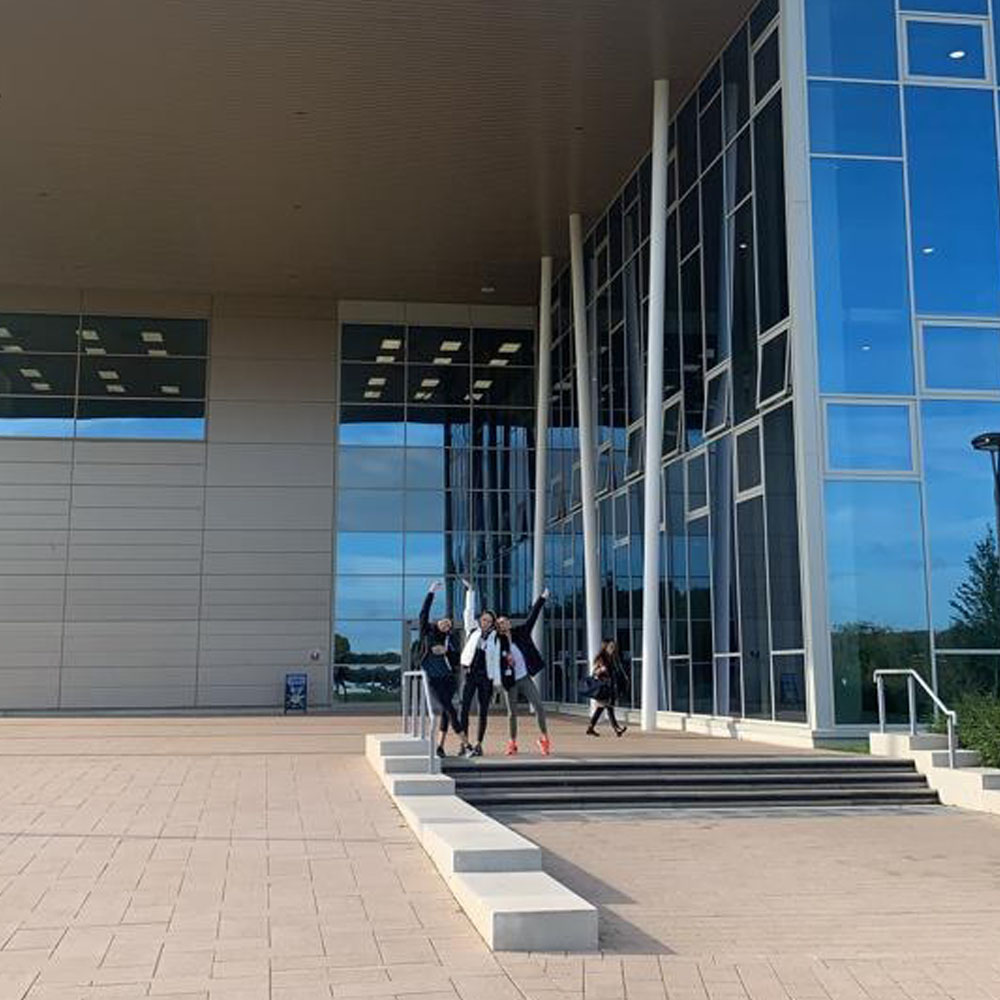 Purpose built pool - not just for the swim team!
The pool is another undeniable highlight of the Hub and is definitely not just for the swimming team (although you can of course join the team if you are a fan!). It is remarkably big, with shallow and deep areas, and it is always well maintained, which is a very important factor for a pool facility. For me, going for a swimming session helps to release any stress and enables me to relax. As it is quite a time-consuming activity, when you consider you have to get changed and showered, I usually devote this time to clear my mind and I generally believe that swimming in such a clean and modern environment has a very positive effect on one's mood.
Climbing wall to suit all abilities
The unique selling point of the Hub is its huge climbing wall, which I, unfortunately, haven't had the chance to try out yet. The different difficulty levels can accommodate both beginners and true professionals in indoor climbing. The available safety equipment and the experienced instructors make climbing seem easy and safe, even for people who fear heights like me. The climbing wall has multiple paths and difficulty levels which allow many people to climb at the same time, so it is especially motivational.
Exercising in COVID times
On another note, throughout the COVID-19 pandemic, when indoor gyms were allowed to be open I always felt extremely safe and protected. There were a number of measures that the staff enforced such as limiting the number of people inside the Sports & Wellness Hub, moving group classes to the basketball courts to ensure we had more space and to allow for social distancing, mandatory cleaning of any machine before and after use, and a one-way system around the whole building to maintain social distancing. I really enjoy working out at the Sports & Wellness Hub, and I am very much looking forward to going back when it reopens so I can make the most of this brilliant facility on campus!
P.S. After your workout, don't forget to grab a quick coffee, smoothie or a nutritional salad at Caffè Nero on the ground floor of the Hub.
Find out more about the Sports & Wellness Hub at the University of Warwick.