Academics win award at 2016 ANZAM conference
09 December 2016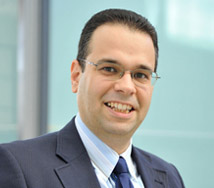 WBS academics win best paper award for work on visual strategy
Sotirios Paroutis and Loizos Heracleous win at 2016 ANZAM conference
Paper was focused on use of PowerPoint in strategy
Dr Paroutis delighted to win in division known for 'cutting-edge' research
Two WBS academics have won the best paper award for the strategy division at the Australian & New Zealand Academy of Management ANZAM conference.
Sotirios Paroutis, Associate Professor of Strategic Management, and Loizos Heracleous, Professor of Strategy, won the award for their paper with Dr Eric Knight of the University of Sydney Business School.
The paper A Visual View on Strategy Process: Visual-Talk Dynamics using PowerPoint in Strategy is a longitudinal investigation into how strategists use PowerPoint slides in the context of strategy projects and the conversations they hold around those slides.
Dr Paroutis said: "We are delighted to receive the 2016 ANZAM best paper award in a division known for hosting cutting-edge research.
"Unpacking how strategy is visually made and executed is an exciting new frontier in strategic management research. Visuality is an important dimension of how managers interact with strategic tools: with the growing use of data visualisations, big data analytics and PowerPoint presentations embedded in strategy analysis and communications.
"Providing insights in this dimension can assist managers to become more effective in dealing with complex strategic issues".
Recently, Dr Paroutis co-authored the British Journal of Management paper on visual interactions with strategy tools which was recognised as a top 10 article. His Journal of Management Studies paper on the usefulness of strategic tools won the 2013 JMS best paper award and the 2016 Emerald citations of Excellence award.
The ANZAM 2016 conference is being held between Tuesday 6 and Friday 9 December at the Queensland University of Technology in Brisbane, Australia and marks ANZAM's 30th anniversary with an overall theme focused on Under new management: Innovating for sustainable and just futures.
Like Dr Paroutis, Professor Heracleous agrees understanding the visual and material aspects of strategy making in practice will be an important element of future strategy research.
"Our research makes an important step forward in this direction in that we show, in a fairly nuanced way, that visuals and how strategists interact with them, matter to the strategy process, to agents' interpretations, and in terms of on-going actions taken by strategists.
"Visuals are not just a supplement or an aid to strategy-making; rather, they are integral to the social construction process of strategising and to how initiatives unfold."
Sotirios Paroutis teaches Business in Practice on the MSc Business suite of Postgraduate courses, he also teaches Foundations of Corporate Performance on the MSc Management and Strategy in Practice on the MSc Marketing & Strategy.
Loizos Heracleous teaches Strategy and Practice on the Executive MBA and MSc Marketing & Strategy and also Research in International Business on the MSc International Business.