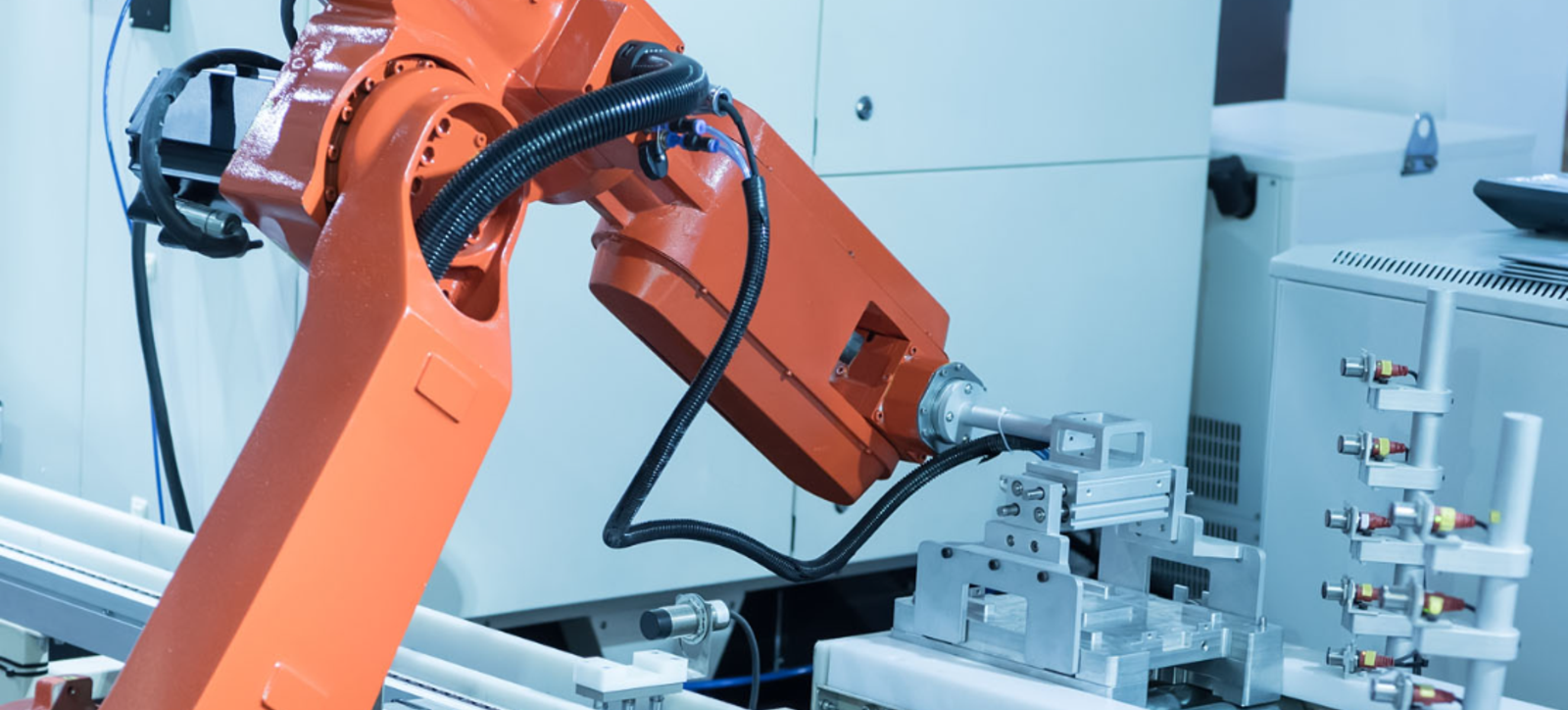 Arm in arm: Robots, AI and automation are helping to upskill employees in many areas
Nearly 80 per cent of UK firms are now using AI, robotics or automation technology, a new study has found.
James Hayton, Professor of Innovation and Entrepreneurship, led the research for the Institute for the Future of Work (IFOW) by surveying 1,000 firms and found that in the right circumstances jobs were being created and not destroyed by the adoption AI.
With the proliferation of AI and the UK Government holding an AI Safety Summit at Bletchley Park, the iconic home of the Second World War codebreakers, there are huge concerns about the potential impact of AI on the labour market.
The new report from Professor Hayton with the Pissarides Review into the Future of Work and Wellbeing - a £1.8 million collaboration between the IFOW and a leading interdisciplinary team from Imperial College London and Warwick Business School and funded by the Nuffield Foundation - goes beyond raw ideas of 'robots coming for jobs' to highlight not just the extent of AI adoption, but the factors that lead to it having positive impacts on job numbers, and job quality.
Professor Hayton told The Guardian: "At least from a research perspective, the story is already changing. The challenge is that it's not quite so interesting to say 'well, robots are taking our jobs sometimes, but it depends', as it is to say 'in 30 years there will be no jobs at all'.
"The evidence we really have about this is that technology tends to create new jobs and upskill jobs. Yes, it does downskill and disrupt other jobs, but in the long run, there tends to be a positive impact on the economy."
The study, co-authored with Nobel Laureate Professor Sir Christopher Pissarides, uncovers how two factors in particular - 'regional innovation readiness' and levels of worker involvement in deployment - can lead to AI adoption improving job quality and creating jobs. But these gains are not inevitable; where readiness levels are low, and HR practices unengaged, work impacts are negative.
Survey respondents comprised senior executives responsible for new technology adoption and HR practices, from firms employing more than 20 individuals across diverse sectors.

Key findings include:
Widespread technology adoption: 79 per cent of surveyed firms reported adopting new AI, robotic or automation technology to perform physical tasks, while the same proportion adopted the technology for non-physical or cognitive tasks.
Positive net impact on jobs: for those firms that reported technology adoption, they revealed a positive net impact on jobs, numbers of positions, and skills.
Further examination of factors influencing AI adoption and its impact on jobs and job quality yielded significant insights:
Regional Disparities: regional variations in innovation readiness were found to significantly affect the relationship between technology adoption and work outcomes.
Regional innovation readiness: When regional innovation readiness is high, the adoption of automation technologies is associated with a positive impact on job quality. But when regional innovation readiness is low, the adoption of automation technologies is associated with decreases in job quality.
This report suggests clear implications for policy ahead of the AI Safety Summit:
Need for Investment: without investment in education and connectivity infrastructure, the report suggests that AI adoption in low-readiness regions may adversely affect job quality. To increase job numbers and lift workforce skill levels, investment to deliver readiness levels well above current averages will be necessary.
Investment in people matters: human resource management practices that emphasise high-involvement strategies and engage workers contribute to the positive impact of technology adoption.
Anna Thomas, Director of the Institute for the Future of Work, said: "This report not only highlights that the adoption of AI is well underway across UK firms, but that it is possible for this tech transformation to lead to both net job creation, and more 'good work' - great news as we look to solve the UK's productivity puzzle.
"We now have clear evidence that securing more jobs, and better quality ones, can be achieved with regional investment in education and infrastructure to make every area of the UK 'innovation ready' and by firms committing to engaging workers when investing in automation and AI.
"With the AI Summit fast approaching, Government must act urgently to regulate, legislate and invest so that UK firms and workers can benefit from this fast-moving technology."
Professor Pissarides, Co-Chair of the Institute for the Future of Work, said: "The labour market is changing rapidly as a result of automation.
"As AI systems are adopted, good work and the creation of good jobs must be at the heart of an economic and industrial strategy, and this report for the review into the Future of Work and Wellbeing that I am leading, with funding from the Nuffield Foundation, points the way to how this could be achieved."
Matt Robinson, Head of Nations and Regions at techUK, said: "Realising the benefits of technologies like AI for all will mean getting the right foundations in place across areas like digital infrastructure and skills provision in every part of the UK to enable and create high quality digital jobs.
"Access to good digital infrastructure, as well as skills and talent, is a priority for techUK members, and the Institute's work provides welcome insights into their importance for creating good work throughout the country."
James Hayton is Professor of Innovation and Entrepreneurship and Pro Dean, External Affairs. He teaches Innovation and Strategic Entrepreneurship on the Executive MBA (London), Executive MBA, Global Online MBA (London) and Global Online MBA.
Learn more about AI with the four-day Postgraduate Award in Business Impacts of Artificial Intelligence.
For more articles on the Future of Work sign up to the Core Insights newsletter here.