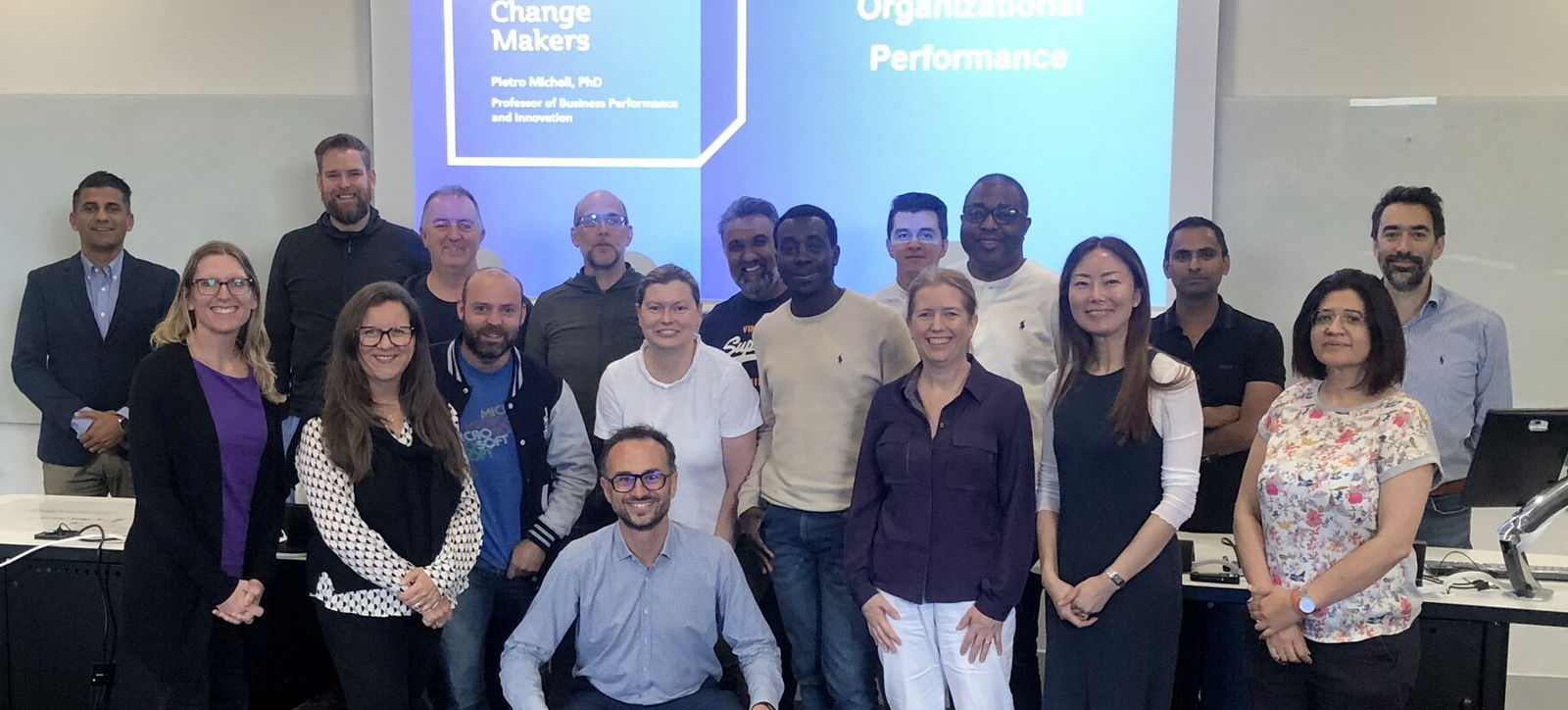 A learning community: Professor Micheli and his students on the Managing Organisational Performance module
MBA graduates have returned to Warwick Business School for a special module organised for alumni only.
Taking advantage of the offer of two free modules to all students who have successfully completed the School's MBA courses in the past, the alumni spent four days at the Warwick campus studying Managing Organisational Performance. This is one of the elective modules available on the Executive MBA and Global Online MBA programmes.
"These are all busy business executives, but they all opted to take time out to take part in the course," said Pietro Micheli, Professor of Business Performance and Innovation, who was teaching the Managing Organisational Performance module.
"It shows that, when you take an MBA at Warwick, you are joining a learning community for life."
The 20 participants, who had previously studied on the Full-time or Global Online MBAs, came from near and far, with two flying in from the Americas – one from Colombia, the other from the US – while another arrived from Nigeria.
The expertise of these professionals ranged from engineering and the environment to data solutions and the law. Both private and public sectors were represented, as well as the financial and consulting sectors.
Managing Organisational Performance digs into connections between strategy, performance measurement and decision making, while also looking into practical aspects of management such as KPIs and targets.
Salma Siddique, who graduated with an MBA from WBS in 2019, said: "It was great to return to Warwick for the module and connect up with fellow alumni.
"For me, WBS will always be home from home."
Master mariner Ramit Gangopadhyay, who graduated in 2021, said of the module: "It was great to see the continuous learning mindset in action."
Fellow alumni Denis Oakley, an engineer who mentors entrepreneurs and intrapreneurs to bring their products to market, said: "It was a superb amount of fun and Pietro held out well against my constant questioning!"
Professor Micheli said: "This was a pure learning experience for us all, me included.
"Everyone felt comfortable sharing their views. There was lots of discussion, and there was lots of laughter. In short, it was a joyful experience."
Professor Pietro Micheli is Professor of Business Performance and Innovation. He teaches Managing Organisational Performance on the Executive MBA (London), Executive MBA, Global Online MBA (London) and Global Online MBA.
Learn more about innovation with the four-day Postgraduate Award in Entrepreneurship and Innovation.