Amrit Mahbubani's Warwick experience
26 February 2014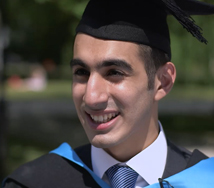 On the day of his graduation, BSc Accounting & Finance student Amrit Mahbubani explains what studying at Warwick Business School has meant to him and why his graduation is such an important day for his family.
Amrit also reveals how completing a placement year at Ernst & Young as part of the Undergraduate Partnership Programme has helped him to secure a future job and what he will miss the most about WBS.

"Warwick Business School is fantastic and I've absolutely loved every minute of it so I'm a bit sad to leave this place!" says Amrit.
Watch this film to find out more about undergraduate study and Amrit's experience at WBS.