Sentance warns Treasury Select Committee
16 May 2013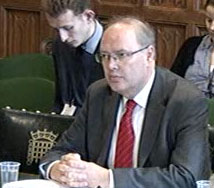 Warwick Business School Professor Andrew Sentance has told the Treasury Select Committee there is a serious risk of a shock to the UK economy of a sudden transition to higher interest rates.
The Professor of Sustainable Business sat on the Bank of England's interest rate-setting Monetary Policy Committee (MPC) from October 2006 to May 2011.
The current base interest rate set by the MPC is at a record low of 0.5 per cent and Professor Sentance believes the Bank of England should start preparing the country for the economic jolt that will come from returning to a more normal rate.
Professor Sentance believes two per cent is a more realistic "neutral" level and said: "The MPC has not really tried to alert the public and the business community that there is a point we will need to move away from this period of very low interest rates so that it does not come as a very big shock and that people put it into their planning for the future.
"There is not going to be an ideal time to move away from low interest rates. Growth is going to be slow for some time. I would like to see central banks beginning to prepare the way for a gradual rise in interest rates – to try to get the economy functioning a bit better."
Interest rates have been at 0.5 per cent since March 2009 when the Bank of England first launched quantitative easing (QE). That has now seen the bank pour £375bn into the economy by buying gilts.
(Click on the video below to watch Professor Sentance in front of the Treasury Select Committee) Please note you must have Microsoft Silverlight installed to watch this video

"There are potentially serious consequences of ultra-loose policy," said Professor Sentance, citing the recent "unsustainable" rise in stock markets as one example.
"The longer we go on with low interest and large QE the more people adjust to that situation and so the beginnings of the exit could be quite a shock. It needs to be planned over a length of time.
"The QE we did in 2009 and early 2010, which I supported, was a necessary response to a very difficult situation following the collapse of Lehmans and the financial crisis. It provided the basis for modest recovery.
"It was part of a package of polices to stabilise the economy, but carrying on with QE in 2011 and 2012 was not justified. It did not look to have a noticeable impact on growth and it has made it more difficult to unwind QE. In 2011 and 2012 the MPC were trying to use it too much as a routine tool of monetary policy."
Professor Sentance, who is part of Warwick Business School's Global Energy Group, told the committee of MPs that the MPC appears to now "tolerate higher inflation" even though it has been above the Bank of England's two per cent target since December 2009.
"The perception of how keen the central bank is to keep inflation at target has changed as a result of the experience we have had," he said. "At some point, the bank may have to flex its muscles and re-establish credibility."
See Professor Sentance's appearance featured in the Daily Telegraph and in City A.M.
Professor Andrew Sentance teaches Sustainability and the Low Carbon Economy on the Warwick Global Energy MBA.