Apple and IBM alliance spells trouble for rivals
23 July 2014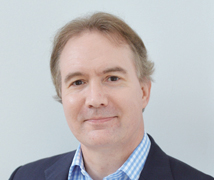 It may be an incongruous alliance for Apple fans, but Professor of Practice Mark Skilton believes the San Francisco tech giant has made a smart move in teaming up with IBM.
The two firms announced plans to develop business-centric apps for iPhones and iPads and as mobile continues to takeover the way we use the internet Professor Skilton can see this being a worrying move for their rivals.
Apple's smartphones have taken the consumer market by storm, with Gartner putting its market share at 15 per cent and share of tablets at 36 per cent, while IBM has moved out of PCs to become a strong player in the business world where its cloud services and big data analytics have proved fruitful.
A recent Cisco study found global mobile data traffic grew 81 per cent in 2013, representing 13 per cent of the total internet traffic, while the connection of mobile use and apps will see 25 billion connected devices by 2020 and one in three people on the planet will be using social media.
"With statistics like these the technology and business service vendors who are playing in this space have much to gain and loose if they are not well positioned to maximise investment," said Professor Skilton, who consulted in the IT industry before moving into academia.
"The growth of mobile devices and mobile apps in particular is the greatest area of consumer technology growth seen in the last three years by any industry measure.
"These range from 77 per cent in mobile device growth to more than 115 per cent in mobile apps growth in 2013. More than two billion mobile devices globally where shipped in 2013.
"The challenge for IBM and Apple will be in the marriage of two masters, one in consumer mobile and one in enterprise systems, being able to coexist to seamlessly work for customers."
Back to the future
The deal will see IBM provide cloud services, including device management and security, for Apple's handsets and tablets to target industry, business and Government organisations.
"IBM has strengths in their SoftLayer acquisition for enterprise data, service orchestration and integration to their cloud services, having divested in areas such as the PC and selected hardware as they recognise the shift towards a data and services centric universe," said Professor Skilton, who is part of Warwick Business School's Information Systems & Management Group.
"What they don't have is their own mobile platform and device market, so the alliance with Apple is a return to the strategic co-competitors we have seen in the past with these two companies with the Mac and PC.
"Apple has their mobile device and app market, but lacks the industrial enterprise business model for large scale enterprise solutions. Apple will benefit from faster enterprise level services through their devices and IBM will benefit from the superlative user experience that Apple excels in. While IBM have gained enterprise successes in the social business market of business analytics and what they describe as cognitive computing. "
In recent quarters Apple's iPhone has lost market share to Google's Android, with Samsung's Galaxy phones now in the ascendancy, so this partnership will be a timely boost into a new enterprise sector.
Rivals circle connected market
And Professor Skilton believes the partnership spells trouble for rivals Microsoft, which was looking to win business users with its Windows 7 software, while Blackberry, who recently quit the smartphone market, now face increased competition in the enterprise sector. With the internet of things set to connect everything to our mobile phone, more companies like Amazon and Tesco are also circling the market.
Professor Skilton added: "The alliance makes good sense as the Google Android platform, with its ubiquity in the consumer and enterprise market, would be an alternative partner for IBM, but would also represent a more strategically difficult alliance as Google has cloud and enterprise apps services that could be supplanted and take traffic away from IBM's cloud data centres.
"This partnership could mean trouble for Microsoft with its Azure and Nokia strategy. While attempting to play in both mobile and cloud camps, Microsoft may not be able to be master of both in consumer and enterprise markets. Amazon has recently attempted to launch their own mobile device as well as reader devices but like the failed Facebook mobile the issue for these companies is in being able to create quality services and content for the enterprise and consumer markets.
"A similar set of technology and economic realities also meet the telecoms providers, who likewise have the network and cloud infrastructure but are seeking ways to create compelling services.
"The big game is in what some describe as SMAC - social, mobile, analytics and cloud - plus the internet of things. The big opportunity and challenge is in connectivity between mobile devices, cloud computing and the data drivers of social media and analytics through this mobile infrastructure over the internet.
"Both IBM and Apple recognise the overall trend is that people and business are doing more online and not at PC terminals but on the move. Whether it is eBooks, infotainment in the car or tracking warehouse logistics to influencing retail store purchases, the mobile device is king in tomorrow's world of enterprise."
See this article featured at Computer World, Publico (Portugal) and Tech Times.
Professor of Practic Mark Skilton teaches Information Systems Consultancy on Warwick Business School's MSc Information Systems Management & Innovation.