Atlantic Ocean rowing challenge for WBS Alumnus
03 February 2016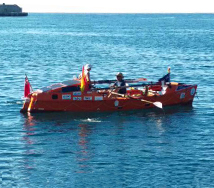 WBS alumnus Martin Bramwell is now almost two-thirds of the way through his quest to row the Atlantic.
He is braving the challenge of a lifetime and has so far rowed around 1842 nautical miles (2119 miles) and has around 1029 nautical miles (1184 miles) left to row to complete his journey in order to raise money for a good cause.
Martin, an Executive MBA student in 2011, is set to row almost 3000 miles from the Canary Islands to Antigua & Barbuda in what is billed as the world's toughest row.
He started his journey on Sunday (Dec 20), leaving from San Sebastian in La Gomera in the Canary Islands to Nelson's Dockyard English Harbour in Antigua & Barbuda
To put the magnitude of the challenge into perspective, Martin explains on his challenge website: "More people have been into space or climbed Mount Everest than have rowed the Atlantic."
He adds "I have two ambitions on this adventure; one of personal achievement where I am aiming to show that leading an active life doesn't have to stop when you reach 50, as well as raising the profile and awareness of our chosen charity."
As part of the team Coventry Five O, Martin and his team-mate, Adrian Lindon, will use their ocean rowing boat, called Dream It Do It (DIDI for short), to embark on their 2980 mile journey across the world's second biggest ocean with no help or physical assistance from anyone else.
They will be competing alongside 16 other crews in The Talisker Whisky Atlantic Challenge 2015 and are doing it to raise money and awareness for Lupus UK.
Donna Curtis, Mentoring Programme Officer at WBS, added: "This is an amazing feat Martin is undertaking, and as an Executive MBA alumnus it is fantastic to see him continue to challenge himself at the highest level.
"We wish Martin all the best in his quest to row the Atlantic."
As of the latest update, the pair have travelled 728 nautical miles.