Avoiding the pitfalls of performance measurement
19 December 2014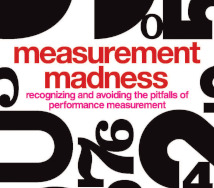 A new book co-authored by Pietro Micheli, Associate Professor of Organizational Performance at Warwick Business School, helps readers recognise and avoid the pitfalls of performance measurement.
Examples of poor management via measurement are increasingly showing up in the press, from GPs' dementia diagnosis, to police under-recording crimes, to the MPs' expense scandal, to the demise of the banking sector.
Although targets and rewards have long resulted in bizarre behaviours, these recent examples have moved measurement, reward and behaviour to the forefront of business management once again.
Measurement Madness presents a level-headed approach to performance management, helping leaders avoid the often-bizarre, unintended consequences of KPIs.
Using real life examples of measurement gone wrong, the book details how each particular behaviour could have been foretold and demonstrates what managers need to consider when creating measures and performance measurement systems.
Dr Micheli said: "It's an all-too familiar tale: a well-meaning manager introduces a performance measurement system to motivate employees, increase accountability and improve results. At first, everything seems to be going fine but before long things start to look a little strange.
"Employees start to act as if only what they are measured on matters. The number and length of reports increase but they appear to make little sense. And madness ensues as these pointless reports paint a picture of improvement, while overall results drop."
Measurement Madness uses management and organisational theories to analyse a unique mix of examples from the UK, the US and around the world. Each chapter concludes with guiding principles that will help readers avoid the many pitfalls of well-intended performance management.
Written by a world-leading Business Performance team, this book will help managers:
•Measure what's useful, not just what's easy to measure
•Learn how over-emphasising targets can hinder progress and performance
•Set the right targets and reward the right behaviour
For the manager longing for useful metrics and more accurate reports, Measurement Madness contains theoretical and practical help to address issues surrounding performance management and clear guidance towards a new strategy.
"This book is about what happens when we start believing that organisations can be engineered according to our desires and that metrics and targets can give us the ultimate control over what happens tomorrow," added Dr Andrey Pavlov, Lecturer in Business Performance Management from Cranfield School of Management.
Dr Micheli teaches Design in Business on the MSc Management, MSc Marketing & Strategy and the Warwick Executive MBA.
Measurement Madness: Recognizing and avoiding the pitfalls of performance measurement is available where books and e-books are sold.