BBC's Any Questions sees Brexit debated at WBS
20 September 2016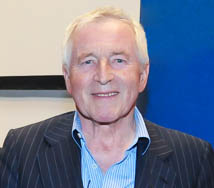 BBC Radio 4's Any Questions broadcast live from Warwick Business School
"Investment will leave this country and jobs will follow" after Brexit
Banks: "UK should be a free-tariff area like Singapore and Hong Kong"
Eagle says Chinese should not be allowed to build Bradwell nuclear station
Nigel Driffield, Professor of International Business, told BBC Radio 4's Any Questions that it is "inevitable" the UK will miss out on foreign investment after Brexit.
While the UK Government has yet to invoke Article 50 that will trigger Brexit after the nation voted to leave the European Union on June 23, supporters of the Leave campaign have been quick to point out that nothing serious has happened to the economy.
Prime Minister Theresa May has assured the nation that "Brexit means Brexit", but just what terms the Government will be negotiating for, such as staying in the single market or not, is not clear.
But when Professor Driffield raised the subject with his question to the popular panel show hosted at Warwick Business School, Conservative peer Patience Wheatcroft admitted she was nervous about the impact of Brexit on foreign investment and jobs.
"If you talk to anybody in business big decisions are being put on hold and of course they are because nobody is going to commit a large sum of money into the unknown," said Baroness Wheatcroft. "Mrs May might say 'Brexit means Brexit' but that doesn't mean anything more than saying 'lunch means lunch'.
"We have no idea what lies ahead and the likelihood is that investment will leave this country and jobs will follow that investment."
When host Jonathan Dimbleby asked for Professor Driffield's opinion the academic, who has researched the very question, said Brexit will deter foreign investment.
"If you make it harder for business to co-ordinate their activities they will look for places where it is easier to do, it is as simple as that," said Professor Driffield.
"Over time business from other European countries and outside, if their focus is on the European market - and a lot of foreign investors have come to the UK because we were part of the single market - they will re-orientate towards other parts of Europe, I think that is inevitable."
Journalist and broadcaster Paul Mason, author of Postcapitalism: A Guide to Our Future, told the audience that the UK needs to be part of the European Economic Area (EEA) and be part of the single market or the economy will be doomed.
"The Conservative right - David Davies, Liam Fox etc - have this fantasy that we can just walk away from Europe, do a deal under the WTO and we, trailing our imperial glory, will be listened to, " said Mr Mason.
"Other Europeans have already switched off the loud speaker marked Britain, because they have got the biggest economy in the world. It is saveable through an EEA application - May should get on with it and do it quick."
But Arron Banks, businessman and UKIP donor, argued against staying in the single market and instead to follow the example of Singapore, ranked as the most open in the world by the World Economic Forum.
"The EU is a protected customs union, it is not a free trade block," said Mr Banks. "Effectively, after the Second World War it was created to enable European industry to recover from the woes of the war and the tariffs cost you money in your household budgets.
"I would declare us a free-tariff area and I would just get on with it, like Singapore and Hong Kong and have a dynamic market economy that did brilliantly."
The vexed issue of Hinkley Point C was also raised, with Labour MP Angela Eagle in favour of the Government going ahead with nuclear power plant, which will be built by French state-backed EDF with funding from China's General Nuclear Power Group.
"The strike price is ludicrously high," said Ms Eagle. "We shouldn't be thinking about allowing the Chinese to build the Bradwell station as well, which is totally new and untried technology. We do need a base load energy and we do have to meet our climate change requirements.
"But I am dubious about the nature of the deal. The first should go ahead, but more work needs to be done before we go on to other projects."
But Baroness Wheatcroft labelled Hinkley Point C, which will cost £18 billion to build while the National Audit Office estimates the additional cost to consumers under the strike price is £29.7 billion, as a "crazy project".
"I think nuclear is very important in the mix going forward," said Baroness Wheatcroft. "But the whole idea of this deal, which is ludicrously expensive, is apparently to put all the risk outside Government and onto EDF and the Chinese funders.
"The problem with that is the biggest risk is that if EDF goes bust and fails to deliver, we are left with the risk of this major project, in which we are putting so much of our future needs on, not materialising.
"Instead, we need more gas-fired stations quickly. It is easy to do and the technology is there, and then invest in going much deeper into small new nuclear projects, smaller reactors, new generation that would lessen the risk. Even if the thing is built you are locking in the most expensive energy in the Western world."