Behavioural science to tackle UK's litter epidemic
03 July 2015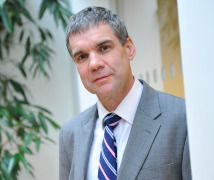 Nudge theory is to be used in an attempt to rid Britain of its huge litter problem.
In 2010 it cost councils across Britain almost £1 billion to clean up litter, with 48 per cent of Britons - that's 29 million people - admitting to dropping litter.
The Clean Up Britain (CLUB) campaign, headed by broadcaster Jeremy Paxman, has joined forces with Warwick Business School, which has the biggest Behavioural Science Group in Europe, to use nudge theory to try to stop people dropping litter.
Made famous by the Government's Behavioural Insights Team – popularly known as the Nudge Unit – nudges, based on theories from behavioural science, have been used to solve a range of issues from persuading more people to pay their taxes on time to helping households have their lofts insulated.
Commenting on the partnership, Mr Paxman, Patron of CLUB, said: "The only sustainable solution to Britain's chronic and costly litter problem is to get people to stop dropping it.
"Like drink-driving, we have to make dropping litter socially unacceptable, and change the attitudes and behaviour of litterers.
"CLUB is delighted to be collaborating closely with Warwick Business School, and harnessing their renowned expertise in behavioural change to reduce litter."
CLUB estimates that 122 tonnes of cigarette butts alone are dropped a day, with around 2.3 million pieces of litter discarded daily.
Behavioural science is being used in all sorts of areas of public life and Professor Daniel Read, of the Behavioural Science Group at WBS, believes it can be used to help the country's litter problem.
Professor Read said: "Littering is a socially undesirable behaviour that is highly amenable to being managed using methods from behavioural science.
"Most people don't actively want to litter, but do so because it is convenient, because they see other people doing it, and often because they don't think about what they are doing.
"In partnership with Clean Up Britain we hope to use behavioural insights to change how people think about littering and, more importantly, how they behave."
The research is being undertaken by Julia Kolodko and Umar Taj, both doctoral students in the Behavioural Science Group at WBS. They will be advising the campaign on behavioural insights that will help to reduce littering.
Professor Daniel Read teaches Behavioural Sciences for the Manager on the Executive MBA and on the part-time Executive MBA taught at WBS London. He also teaches Business, Politics, Society and Behaviour on the full-time MBA and Strategic Games on Warwick Business School's Undergraduate programme.