Big data, consultancy and networking in London
13 January 2014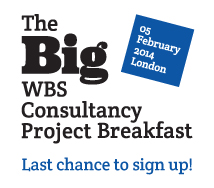 WBS is offering companies the opportunity to discover how they can exploit big data at the Big WBS Consultancy Project Breakfast, a free event being held in London on 5 February.
The event will feature talks by leading behavioural science academics Dr Tobias Preis and Dr Suzy Moat who will be lifting the lid on big data using research insights gained during studies of Flickr, Google and Wikipedia.
Companies will also be able to find out about becoming a consultancy project sponsor to gain focused work from Warwick MBA and MSc students on a business issue or need at a fraction of the cost of a consultancy firm. Previous project sponsors will be sharing their stories of working with WBS students and the benefits gained by their organisations including:
targeted work on a project that has limited time or resources
high quality analysis and solutions for business concerns
the opportunity to road test candidates for longer term positions
the introduction of cutting edge management thinking.
Following the presentations attendees will be able to network and meet the WBS CareersPlus team, and our academics, who will be on hand to answer any questions.
To register visit the Big WBS Consultancy Project Breakfast event page.