Big Red Hub triumphs at the Big Deal 2016
21 April 2016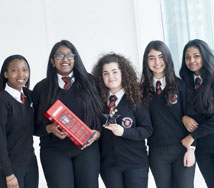 Big Red Hub idea wows judges at Big Deal 2016
All-girl team from Barking Abbey thought of the idea to help confused tourists
Idea turns iconic part of British culture into a free multilingual information hub
Judges thought the team's in-depth research really stood out
A novel approach to utilising an iconic part of Britain's culture and bringing it racing into the modern 'always connected' age has won this year's Big Deal.
The Big Red Hub idea from the all-girl team from Barking Abbey School involved using red telephone booths and transforming them into an all-encompassing communication hub for tourists.
The team Sowmiya Gunabalasingam, Ipek Mehmet, Misha Iradukumdia, Inara Aliyeva and Midhuna Venukumar located in the London Borough of Barking and Dagenham wowed the judges with their impressive presentation and business strategy.
This year's event was hosted at The Shard for the first time, providing a jaw-dropping venue to go alongside the eye-catching pitches from the students.
Sowmiya Gunabalasingam said: "Throughout the process we had lots of ups and downs, but we all learnt a lot of skills. At the end we were all very nervous as there were such high levels of competition: we weren't sure if we would make the cut!
"We were finishing school quite late throughout this project so we feel really happy our hard work has paid off.
"The presentation was a steep learning curve as we've not done anything like it before, but now we feel more knowledgeable.
"Our business and student mentors opened our eyes into the world of business. Personally for me it has made me consider future options. It will hopefully have a big impact on everything we do moving forward.
"Also, none of us have really been to The Shard before, so it was a really good experience to be here. Our presentation was nerve-racking so we weren't distracted by the skyline though, as we were too busy concentrating on the judges faces!"
The prize was presented by Andy Lockett, Professor of Strategy & Entrepreneurship and Gareth Bennett, Chief Operating Officer at WBS.
This year's finalists included four schools from across the country: Barking Abbey from London, Lady Manners School, from Bakewell, Derbyshire – whose Team Aspire won the competition last year with their portable housing idea – Sandwell Academy from West Bromwich and Testwood Sports College from Southampton.
Fantastic idea
Julia, Global Talent Manager at Edwards and the business mentor for the Barking Abbey girls added: "They've been fantastic. Over the ten weeks they've been really good. They brought a fantastic idea to the table. They developed it with a great end to end process. They worked really well and were really conscientious. I'm really pleased to have been involved, working with smart youngsters like these has been a real benefit."
The Big Deal is a core part of the University of Warwick's outreach intervention, UniTracks , a four-year programme targeting the most able 14-18 year olds from across the UK promoting the values of higher education and to encourage young people from non-traditional backgrounds to aspire to study at research intensive universities.
Before the winner was announced, WBS Professor of Strategy & Entrepreneurship Andy Lockett offered some advice to the students on entrepreneurship after they returned from lunch. He told the students about a number of ideas including the lemonade principle affordable loss principle and crazy quilt principle.
In-depth market research
The judges at this year's big deal event were led by Craig Bentley as Head Judge who then took the stage to announce this year's winner. Craig has previously been a business mentor for the competition as well as a judge and completed his MBA at WBS.
"Congratulations have to go out to everyone who made the final," added Mr Bentley. "I know also how difficult it is to talk to an audience. To show the level of the presentations, our judges have commented on the fact some of their own student or business presentations were not as clearly thought out and delivered.
"Ultimately we decided on Barking Abbey as the winner as they went to extra lengths to talk to businesses and suppliers and do proper in-depth market research. Everything from talking about the marketing down to product launch combined to one thing – clarity. This business could work in real life and the team gave us the conviction they could really win."
Other judges on the panel included Amanda Hodgkins and Lipi Sarkar who have both been business mentors in the competition previously and, like Craig, completed their MBAs at WBS.
The final judge for the day was Kevin Mole, a WBS academic whose research interest lies in business advice to small firms and entrepreneurship.
Feasibility, viability and desirability
At the event Henry Jinman, founder of Crowdfund Campus, also delivered a short presentation on entrepreneurship.
The BA Politics with International Studies graduate from Warwick University told the students and fellow audience members his own tips on how to be a successful entrepreneur
Henry said: "Three things to look at in a product or idea are feasibility, viability and desirability.
"Can you sell the product for more than it is going to cost to make – is it viable?
"Can you realistically do everything you need to get the idea off the ground, is it feasible? My idea to take leftover food from restaurants for example. I was not allowed to have a food stand near bars and pubs so it was a nonstarter.
"Finally, is it desirable? I tried to sell French crepes on a market in Wolverhampton and the customer just wasn't interested – you need to have product desirability."
Battle it out
Before the teams got to the final at the Shard, they had to battle it out in semi-finals run on Monday 21 and Tuesday 22 March.
In total 14 teams of between two and five Year 10 students took part in the 10-week competition, working alongside both a business and a student mentor to create a business or social enterprise plan. As with the final, the teams have to present to the panel of judges and the top two teams were picked from each day.
On the second day a commendable prize was given to Ulverston Victoria High School because of their fantastic presentation.