Birmingham needs a Management Academy to attract the best
17 January 2013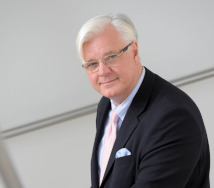 Birmingham needs to build a Management Academy if it is to attract young professionals and be able to compete with cities across the world.
That is one of the key recommendations from a report commissioned by Birmingham Future and written by the Future Commission.
Under the chairmanship of former Director-General of the IOD Sir George Cox the Future Commission saw Warwick Business School working with eight independent Commissioners in the six-month long study.
The Future Commission was set up to produce an in depth analysis and exploration of the key conditions and environment required to enable Birmingham's Business and Professional Services Sector (BPS) to attract and retain the brightest talent.
Evidence for the support has come from a wide range of business figures from within and outside the city, while Warwick Business School has undertaken research into the trends and outcomes that lead to career choices for graduates in the professional sector and looked at a series of worldwide initiatives and best practice.
The Future Commission was set up to answer two key questions:
What are the key conditions that will make Birmingham the number one choice for young professionals?
How does the young professional influence the shape of the city?
The report, with Warwick Business School's Dr Michael Synott as the academic lead, has come back with a list of key recommendations in a 60-page report that was presented to Birmingham's leading business and civic figures at a breakfast briefing being held at Bruntwood's Mclaren Building in Birmingham City Centre on 17 January.
The report's recommendations are:
A Birmingham management academy should be established, providing an environment to nurture and develop talented young professionals.
The three self?actualising themes or values of connection, achievement and individual responsibility be adopted by Birmingham's business and knowledge sector employers and are reflected in local civic policy-making.
Establish a welcome and information platform for all new young professionals arriving in the City, covering key topics such as the geography of Birmingham from the perspective of young professionals.
Key stakeholders should be proactive in thinking about and improving measures to accommodate the changing needs of young professionals, notably in child care provision and flexible working.
A refocus on Corporate Social Responsibility and Individual Social Responsibility activity is required with a wider recognition of how both CSR and ISR initiatives are sources for leadership experiences, alternative networking and social conscience.
A summer placement scheme, building on Birmingham Future's Graduate Apprentice Scheme, in which Birmingham based sixth form and FE students are offered summer work experience places in BPS firms.
More effective engagement and connections are created between teachers and the BPS sector to encourage greater awareness of the opportunities and requirements of the BPS sector and the Commission acknowledges this must be led by employers.
Strengthen the links between the city's universities and FE colleges and the business community to promote the City as number one choice for the graduate and fledgling young professional.
Warwick Business School Dean Professor Mark Taylor said: "This is a report to help shape the agenda for the growth and success of Birmingham's Business and Professional Services sector through the lens of the young professional community.
"WBS was delighted to work with Birmingham Future and such an energetic group of commissioners on this important piece of work. Not everything in the report will be popular and not everything may be implemented. But the report provides plenty of food for thought for Birmingham Future and others in the business community and beyond about the agenda that must be collectively faced and addressed if we are to ensure the City's growth and success."
Sir George Cox said: "It has been a long road from inception to completion. The project was nothing if not ambitious. Our deliberations covered a number of themes that might have constituted an area of enquiry in their own right.
"The Commission's sessions and meetings have always been stimulating, provocative and lively. We did not always agree, but we argued our points out carefully, with reference to the evidence, which was being carefully constructed by the academic team.
"Not every idea or perspective has made into the report. We limited ourselves in the first instance to things that were achievable within a five-year timeframe. But the issues we grappled with were large issues and there are recommendations in the final report that also speak to the longer run.
"Everything in the report reflects the ideas and insights of the Commission as it worked together as a team over the last six months. I was pleased to have been asked to Chair the Commission and I am proud of what we have achieved together."
Birmingham Future Chair Nicola Fleet- Milne said: "The economic prosperity of the city has been and will always be at the very heart of what Birmingham Future stands for. As a collective of young professionals who have made their careers and lives in Birmingham, our members take a passionate and energetic interest in all aspects of the city's development.
"At Birmingham Future we thought long and hard about how we could make a significant contribution to the key challenge of attracting and retaining the brightest talent in our sector. We felt that we needed to have an in depth exploration of the issues surrounding this complex question. So the Future Commission was born. We felt an independent Commission with a remit to explore these issues freely and without influence from interested parties was the best way forward.
"We were delighted that Warwick Business School came on board as an academic partner, that Colmore Business District saw the potential and quickly signed up to be our project delivery partner- along with a whole host of other sponsors, Pertemps, Birmingham Metropolitan College and Birmingham Met Academy and AECOM.
"To commission an independent report resulting in a series of recommendations was in some ways a bold move on Birmingham Future's part. The conclusions of the report will challenge a whole range of stakeholders. The recommendations of the Commission may not be easily achieved.
"However, we believe this Commission Report and its recommendations will provide ample scope for further discussion and action to take place to facilitate tackling these key challenges. Birmingham Future understands and appreciates that progress has to be a collective effort. No one partner can deliver solutions alone. We do believe however, that the Future Commission has set the agenda for that work."