Blurring the virtual and real classrooms
19 March 2014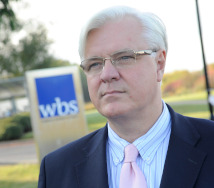 As the 'Facebook generation' demand more from education the distinction between campus-based and online learning will become "increasingly blurred".
That is the view of Warwick Business School Dean Mark Taylor when asked about the future of online learning.
Professor Taylor, who was part of a Financial Times online panel alongside Douglas Shackleford, Dean of Kenan Flagler School at the University of North Carolina and Simon Nelson, Chief Executive of UK MOOC platform FutureLearn, believes the 'Facebook generation' will expect more of their education to be done digitally.
"I think we will see 'blended learning' – involving both face-to-face and online teaching and learning - become the norm," said Professor Taylor. "It will just be a matter of the balance between the two."
The increasing use of online learning is not seen as a threat to the classroom by Professor Taylor. Instead he sees them co-existing in the future.
"At WBS, we're already developing online modules or sections of modules for our resident students, and we have opportunities for our online students to meet faculty and other students face-to-face either at Warwick or at centres around the world as an important part of the Warwick MBA by distance learning programme," said Professor Taylor.
Distinctive MBAs
The growth of online learning could, Professor Taylor believes, see a concentration of the number of top business schools operating globally, especially if schools follow the WBS route of not distinguishing between the Warwick MBA by distance learning and the Warwick MBA by full-time study on its certification.
"Even among a small number of top schools, there will be a distinct culture, values, approach and course offering that will be more or less attractive to some students," said Professor Taylor.
"At WBS, apart from offering a world-class, all-round business education, our MBA has distinct characteristics that will attract certain students. For example, the Warwick MBA programmes have behavioural science at their core. We have the strongest Behavioural Science Group in Europe, headed by Professor Nick Chater, who is an advisor to the UK Government's Behavioural Insights Team or Nudge Unit as it is more commonly known.
"We are also injecting more creativity into our MBA, both in how we teach it and in learning how to be creative. For example, our Leadership and Art of Judgement module gets students to think about management and leadership problems through the lens of Shakespeare's plays – that's a course unique to us."
The new soft skills
Increasingly in the business world global organisations are using the internet and internal social media to hold virtual meetings and run projects.
Those sort of online soft skills are what a Warwick MBA by distance learning, ranked number two in the world by the Financial Times, can build.
"Our bespoke online learning platform, my.wbs, which has helped us achieve our high placement in the FT ranking, lets our students interact with each other during and after classes," said Professor Taylor. "We have a lively community working together within its secure walls.
"An online MBA can develop other important soft skills. Apart from direct interaction, an important part of the Warwick MBA by distance learning involves working on projects remotely with team members all over the world: leading, managing and shaping virtual teams is a key skill that's becoming increasingly important.
"The digital workplace is something companies and organisations are evolving and investing in behind their firewall, having experience of these digital tools will be a real advantage in the future."
Staying marketable
In an increasingly competitive jobs market the days are over of ending your studies after a degree. It is essential employees continue to learn and add more skills to keep themselves relevant and marketable, something for which online learning can help cater.
"The inability for individuals to take time away from their jobs has meant that the age profile of online MBAs is in fact quite diverse," said Professor Taylor. "By the nature of actually undertaking an MBA, students are embarking on a professional development journey. However, whether they undertake additional learning in the future very much depends on their individual circumstances.
"At WBS, we have bespoke career advisers that service our online MBA cohorts and refer our online MBA students to external sources of support when they become alumni. Often, that may involve ongoing mentoring and we have a distinct programme to support alumni and students in this endeavour.
"Our career sessions focus on self-awareness to give insights into influencing and negotiation styles, and students undertake leadership development activities to enable them to put these skills into action.
"We keep in touch with students to make sure they can top up their education to progress their career whenever they need."
Watch Professor Taylor interviewed by the Financial Times here.