Find out if Google can predict the stock market?
18 October 2013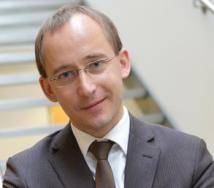 Tobias Preis will be asking whether Google can predict the rise and fall of shares at a TEDxWarwickSalon on Saturday October 19.
The Warwick Business School Associate Professor of Behavioural Science & Finance recently received worldwide coverage of his research with Dr Suzy Moat, a fellow academic in the WBS Behavioural Science Group, on how using changes in volume for search terms on Google could be used as an early warning sign of stock market moves.
Dr Moat and Dr Preis also hit the headlines by demonstrating that increases in the number of views of financial pages on Wikipedia tended to precede stock market falls, and by showing that internet users from countries with a higher per capita GDP tend to Google for more information about the future. At the TEDxWarwickSalon, a free event hosted at Warwick Business School, Dr Preis will be revealing more on how Google predicts stock market movement.
"I am looking forward to the event," said Dr Preis,who has talked at TEDxZurich before. "I want to show how our research has opened up interesting possibilities for the use of the huge amount of digital traces that we leave behind. We are interacting constantly with digital devices, the internet search engine Google being one of them, and we leave traces of our behaviour behind. Through our research we have been able to discover patterns in these digital traces through the likes of Google search volumes that can in fact reveal human decision making."
Dr Preis' talk 'Can Google predict the stock market?' is one of four at the TEDxWarwickSalon, whose theme is technology, along with artist and designer Tobias Revell, David Chatting, of Newcastle University's Culture Lab, who will be revealing his work on the impact of emerging technologies in everyday lives, and Professor Nicholas Dale, CEO of Sarissa Biomedical, whose work looks at how neurons communicate with each other.
TEDxWarwick, which is sponsored by Warwick Business School, is held annually at the University of Warwick and throughout the year the organisers hold Salons, where smaller gatherings can more casually discuss, brainstorm and listen to some speakers.
TED is a non-profit organisation devoted to 'ideas worth spreading' and its annual conference in the US has seen the likes of Bill Gates, Al Gore, Sir Richard Branson and Gordon Brown speak. TEDx events are independently organised local conferences held to bring together top thinkers for a TED-like experience. Dr Preis' collaborator Dr Moat spoke at a sister event, TEDxZurich, hosted in the Swiss SRF TV studios in early October, with a video of her talk to be released online in the next few weeks.
Dr Preis added: "The TEDx events are a wonderful chance to inspire and be inspired by people who are doing amazing work all over the world. The talks might be no longer than 18 minutes, but the ideas they reveal are exhilarating and will hopefully spark the audience to find out more."
TEDxWarwickSalon starts at 3pm on Saturday October 19 and will be at the M1 lecture theatre in the Warwick Teaching Centre.
Dr Tobias Preis teaches Behavioural Sciences for the Manager on the Warwick Executive MBA plus Big Data Analytics on MSc Finance and MSc Business.