Careers advice: The benefits of working overseas
29 November 2016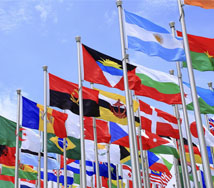 WBS Alumni Career Manager Lisa Carr spoke with a number of WBS alumni to find out how they achieved a successful career move overseas. Here she shares some of their top tips.
The search for increased professional opportunities leads many WBS alumni to move overseas at some point in their career.
Senior managers are increasingly expected to possess international experience and, whilst it is possible to get exposure by managing global projects, there is no substitute for on the ground experience.
An internal move within your company can be one of the easiest ways to transition. Visas are less of an issue and there may be a package of relocation and partner support. Managing overseas projects or clients can be one of the best ways to get relevant internal experience.
Studying overseas first can be another effective strategy. Alok Yadav took an MBA as a way of transitioning from India to the UK "I needed to do the MBA to have a realistic chance of getting a visa and I benefited from WBS's employer networks," says Alok, who now works at Admiral. "It was also a good way of adjusting to the British culture before entering the job market."
To move directly from one country to another it can help to target companies with subsidiaries in your home country. George Gotsinas, a PR and Communications consultant, believes his cultural understanding, languages and industry networks back home were crucial to getting hired in the UK to advise firms on the Greek financial crisis.
Seeking a job in your existing industry can be a swifter route in, according to Varun Chitnavis who moved from ship's captain to a commercial role in the maritime industry.
A targeted approach to firms is preferable to making a lot of online applications. Country profiles with details of job market trends, employer directories by sector, networking groups, job sites and local job-hunting etiquette are accessible free to WBS alumni via Going Global.
Effective job seeking means being on the ground locally as you will have a much better chance of building networks and being available for interviews.
"Forget everything you've ever learnt about how to job seek in your home country," adds Adrian Defta who moved to the UK from Romania "You need to adapt to how things are done in the new country."
Networking is key, both before you go and during the transition. George suggests starting with your existing networks, for example with alumni from your course. "Don't be afraid to pick up the phone. Never underestimate how helpful people can be. You're not alone".
Find people you'd like to speak to at your target firms and industries by using the WBS alumni directory or joining Warwick's Professional and Country Networks. Check out contacts' LinkedIn profiles to find common ground to kick-start that first conversation.
"It's important people do their research by speaking to others who have successfully made the move," says Atul Agarwal, who relocated to Sweden from his native India via the UK and who has now moved to Germany.
Atul found the culture shock of moving to Sweden tough and says "If I had spoken to other Indian nationals who had moved to Scandinavia first I might have avoided some of the culture shocks."
Expect the move to be disorienting and that it may place a temporary strain on relationships with family and friends. George suggests finding a mentor who can guide you through the transition process and help you build local networks.
Having a safety net in place is important to ensure a smooth transition. George moved to the UK alone before bringing his family over. Atul advises finding a job in a large secure organisation or a growing sector to protect your employability should you need to move again. Alok advises having a backup plan, such as a job offer from your previous employer.
"Be realistic about timescales," says Kyle Jacobs who moved between the US and UK. "Give yourselves an extra three months to the time you think you'll need, for example, to account for any visa issues."
Mike Grech, who successfully transitioned to the UK from Malta, adds: "Having a budget is essential to ensuring you do not run out of money during the job search phase."
Don't forget you can draw on free advice to help with your move from our team of professional WBS career coaches.
Sign up for our free webinar on Making International Careers Work on 7 December.