Careers support starts before you even arrive
08 May 2013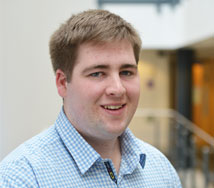 "Apply early" is the message from Warwick Business School's CareersPlus team to any Masters students joining in September.
Careers support for Masters students starts before they even arrive at Warwick with a series of webinars and advice over Skype and email.
That has helped a raft of students gain employment at top firms months before they have even finished their Masters Course.
Students like Sebastian Janish, who is joining Morgan Stanley, Charise Yee, who has been accepted by KPMG, Joe Taylor, joining British Airways, and Jan-Philip Wesenberg at UBS all took on board the advice of the WBS CareersPlus team to find employment with half their Masters still to do.
WBS careers consultant Alison Collins said: "Students need to apply early and should start thinking about their career options before they start, especially international students. Investment banking and consulting are especially competitive areas and some banks close their recruitment as early as October."
Students are given webinars during the summer to help them prepare and then once at Warwick Business School advice and workshops are always available.
"We are constantly working with the students to help them to find jobs," said Ms Collins. "We put together webinars over the summer. Last year students were able to talk to a panel selected from different sectors, like banking, finance, HR and marketing to ask them about their job and career path. We offer advice over email and Skype and once at the school they have a day-long workshop in the first four weeks.
Students get to meet blue chip companies at organised events. We also do workshops on CVs, networking, interviewing technique, how to make the most of careers fairs and actually talk to people and how to find a job in different countries.
Throughout the year students have unlimited career one-to-ones, mock assessment centres, mock interviews and application checks. Firms like to see students show initiative and maturity, stand on their own two feet, so we can't do everything, but we will be there supporting them every step of the way."
MSc Finance and Economics student Sam Bland has secured a place at UBS and says Warwick's reputation helped.
"With WBS's strong and growing reputation with employers, particularly in the city, Warwick was an obvious choice for me and part of the benefit of studying here is that many employers target WBS graduates when recruiting," said Mr Bland.
"I am soon to complete an internship at UBS in London within their equity research department and I am absolutely delighted with this outcome. I definitely think that gaining a Masters from WBS helped me in securing this job."