Carney's biggest challenge will be weaning UK off QE
01 July 2013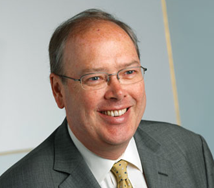 Former Monetary Policy Committee member Andrew Sentance believes new Bank of England Governor Mark Carney's biggest challenge will be to wean the UK off quantitative easing and low interest rates without causing panic in the markets.
The Bank of England has so far committed £375 billion to quantitative easing (QE) since March 2009, while the base interest rate has been at a record low of 0.5 per cent.
Professor Sentance, of Warwick Business School, doesn't believe the Canadian, who started his term as Governor on Monday, will usher in more loose monetary policy, feeling that has reached its "limit" and says Mr Carney will take a watching brief as he beds himself in at the Bank of England.
"The big challenge he will face over his five years as Governor is managing the exit from these very stimulatory monetary policies," said Professor Sentance.
"I don't think that will come on his agenda straight away. If he is sensible he will want to listen and observe and analyse the situation of the economy with his colleagues at the Bank first. But the notion that he was going to come in and provide lots of stimulus was unrealistic. He is going to have a period of watching and waiting first.
"Monetary policy has been on a very expansionary setting for some time, with very low interest rates for four years and a lot of QE injected. We have reached the limits of what monetary policy can do."
The US has already seen how sensitive the markets are to the idea of withdrawing QE as they slumped badly when Federal Reserve chairman Ben Bernanke indicated that they would be scaling it back. And Professor Sentance feels communication will be a vital part of Mr Carney's job as Governor.
"Communication and guidance could be very important when the Bank starts moving us away from the very low interest rates and when it wants to start unwinding QE," said Professor Sentance, who is Professor of Sustainable Business at Warwick Business School. "Because there is a danger the markets will overreact and think that interest rates are going to go up very sharply. The right approach is for the Bank to communicate to the markets that this is a gradual process and will need to go on over a number of years."
And Professor Sentance says Mr Carney will have to get used to the culture at the Bank of England as well as ushering in some structural changes.
"He will not be able to jump in straight away and say exactly what he is going to do for two reasons," said Professor Sentance. "First, he is coming from Canada which is a very different situation so he needs to observe and take stock for a while. Secondly decisions are not taken by him personally, which is the case in Canada, but taken by the Monetary Policy Committee (MPC). Any decision will be something that the MPC as a group signs up to; that is going to be quite difficult, as we know from the minutes there are disagreements in the MPC about what the stance should be at the moment."
Professor Sentance also argues that Mark Carney will face a big management challenge in his new role. "The Bank's responsibility has greatly increased," he said. "It now has to deal with monetary policy, financial stability and financial regulation. I think he has to delegate more responsibility to the deputy governors, and act more like a chairman of the Bank."
In relation to the regulation of the financial system, instead of radical change, Professor Sentance believes Mr Carney's policy should be based on stability and continuity.
"We need a period of stability for the banking system," Professor Sentance told the Daily Telegraph. "There have been quite a few interventions recently into the banking sector, and we need stability so the financial system can adjust to the 'new normal' and over time become more supportive of growth. The UK, like all major western economies, is in what I call a 'new normal' of relatively slow growth.
"Growth is not something politicians or the Governor can force banks to do. There needs to be a natural process of repair of balance sheets and adjustment to a new lending climate."
See Andrew Sentance being interviewed by the Daily Telegraph here.
Professor Andrew Sentance teaches Sustainability and the Low Carbon Economy on the Warwick Global Eenergy MBA.