CatCave inventors thrilled after trip to Venice
27 October 2014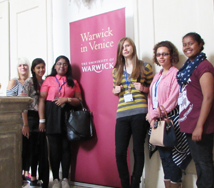 Five Essex school pupils have just returned from a three-day all-expenses-paid trip to Venice after winning a University of Warwick Dragon's Den-style competition.
Amber Baycroft-Willmott, Gurdeep Bhamra, Anisha Chowdhury, Aïcha Jamil and Johana Miah from Barking Abbey School battled against five other schools countrywide to win The Big Deal 2014 competition, a joint initiative between Warwick Business School and the University of Warwick's Outreach team.
'Team Enigma' won the competition with theirCatCave invention, inspired by team member Amber's pet cat finding shade under a broken garden pot. CatCave was designed to ensure that cats have a warm, stable home for winter but an equally cool and relaxing home for summer.
As part of their prize trip, the girls were treated to a tour of both the Warwick in Venice facility and Ca' Foscari University, an exchange partner of Warwick Business School's undergraduate programme.
They also visited a Murano glass-making workshop and met with Lady Frances Clarke, Co-President of Venice in Peril, at her home in Venice. They were also taken on a memorable journey through the streets of Renaissance Venice, following in the footsteps of The Doge, the merchants, the craftsmen … and the spies! Each of them also received a £100 Amazon voucher to spend.
Team Enigma member Aicha said: "Visiting Venice was a once in a lifetime opportunity and an incredible experience. Venice is rich in culture and historical art and we felt so privileged to be able to take advantage of its beauty for an amazing couple of days."
The team, who were helped by mentor and Warwick Global Energy MBA student Ross Board, took the concept to Pets at Home, who are now interested in stocking the CatCave, which has been designed using as much recycled and organic material as possible.
Warwick Business School Professor Peter Corvi said: "In taking part in The Big Deal, the pupils have gained new experiences, encountered fresh challenges and developed skills that will stand them in good stead for the rest of their lives. Their trip to Venice will have broadened their minds and given them an appreciation of the history, culture and intrigue of this unique and fascinating city."
Find out more information about The Big Deal.