CatCave wins The Big Deal as WBS spreads the word
30 April 2014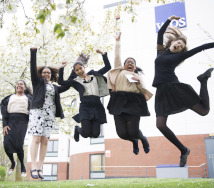 A broken garden pot proved to be the inspiration for the winners of The Big Deal competition, a joint initiative between Warwick Business School and the University of Warwick's Outreach and UniTracks teams.
Six schools from across the country entered the annual event with Team Enigma, of Barking Abbey School in Essex, coming out on top in the Dragon's Den-style competition with their CatCave business idea.
The Big Deal is part of the University of Warwick's outreach programme designed to promote the values of higher education and to encourage students from non-traditional backgrounds to aspire to research intensive universities. The 10-week competition sees teams work with a mentor to create a business idea, formulate a business plan and pitch to a panel of judges.
It produced some truly innovative ideas this year and left head judge Craig Bentley checking the age of the Year 10 pupils involved.
Mr Bentley, a Warwick Executive MBA graduate who has worked in management positions for Caterpillar and Haulotte Group, said: "You see people in business giving presentations that aren't as well thought through as the ones we saw. The amount of work the pupils put in was phenomenal; you forget that they were just 14 or 15 years-old.
"It was very close, but what probably clinched it for Team Enigma was the quality of the business plan. It was very well thought through, their market research was very well presented and they showed how they used that research to influence what they were offering. They worked out their numbers and who would buy the product. They had a slight edge in the comprehensiveness of their business plan."
Barking Abbey School pupils Amber Baycroft-Willmott, Gurdeep Bhamra, Anisha Chowdhury, Aïcha Jamil and Johana Miah won a three-day all-expenses paid trip to Venice and a £100 Amazon voucher each.
The inspiration for the CatCave – where cats can 'relocave' – came when Amber saw her cat James curled up asleep under a broken flower pot in her garden.
Having seen cat kennels in pet shops, Amber got to work on designing her own version and came up with the CatCave
"As it was summer, I realised that James went there a lot because it offered him shade," said Amber. "I talked to my Dad about it and that's when the original idea of the CatCave came about. The CatCave was designed to ensure that cats have a warm, stable home for winter but an equally cool and relaxing home for summer."
The team, who were helped by mentor and Warwick Global Energy MBA student Ross Board, took the concept to Pets at Home, who are now interested in stocking the CatCave, which has been designed using as much recycled and organic material as possible.
Aïcha, 15, said: "It has been a great competition. It has really helped me understand more about how to develop a business from scratch. It is a great opportunity
and the experience I gained has been invaluable. My teamwork skills have improved a lot, I have learned how to write a business plan and about the financial side of the business.
"Pets at Home really liked our idea and our product, so hopefully we will try to take it further."
Angela Griggs, Deputy Head of Year 10 at Barking Abbey School, added: "I am so proud of them. This competition has been fantastic and has built up their confidence. It has enabled them to be good team players and learn to support each other. It is the seventh year we have entered this competition. For children who want to get into a business career, it gives them a fantastic grounding and teaches them a whole host of things they need for a business."
Runners-up were Bordesley Green Girls' School, of Birmingham, with Annissa Warsame, Zahra Zahidi, Shahrbano Yaqub, Sham Hamed and Maryium Islam, of Team Good Greens, who came up with a social enterprise scheme to rid Birmingham of its litter problem.
The girls each won a £50 Amazon voucher after pitching their plan to go round their local schools recruiting pupils to do litter picking on Saturday mornings to put pride back into the community.
"Birmingham City Council spends £26 million a year on rubbish," said Anissa, 14. "We put together a plan to target 11 to 15 year-olds to do litter picking. In return they would gain a good reference for their CV and gather important communication and life skills. We informed our local MP and he said he might take the idea to Parliament."
A special prize went to Michella Ahmed, Sabra Sultana and Jerin Mathew, dubbed Team Ignite, of Jack Hunt School, Peterborough, who proposed a counselling website called teentalk for teenagers run by teenagers.
"Our idea was to create a website designed by teenagers for teenagers to give advice," said Michella, 14. "It has three areas for relationship problems, bullying and exam stress.
"In our school we have an organisation called 'talk in confidence' and it is teenagers talking to each other and giving advice.
"This website would do the same and help teenagers who don't want to talk to adults, because it is completely anonymous and more private.
"The competition was really fun. We learned a lot; hopefully we will get the website up and running."
Warwick Business School Associate Dean (Widening Participation), Professor Peter Corvi, was full of praise for the youngsters who took part and believes there
were future business leaders among them.
Professor Corvi said: "In taking part in The Big Deal the pupils are gaining new experiences, encountering fresh challenges and developing skills that will stand them in good stead for the rest of their lives.
"The presentations have been very impressive and Team Enigma put together a truly comprehensive business plan. This competition aims to raise schoolchildren's awareness, aspiration and attainment levels in terms of gaining a place at a university like Warwick, and I hope we have done that."
Click here to find about Warwick Business School's undergraduate courses.