Chance for military veterans to win full MBA bursary
25 April 2019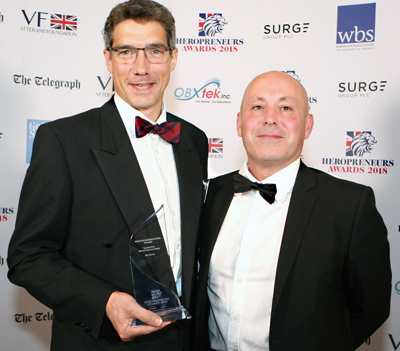 Competition to win a 100 per cent bursary to do an MBA
Applications open only to ex-Armed Forces personnel
WBS has joined forces with charity Heropreneurs
MBA will help support veterans looking to start their own business
Military veterans have the chance to launch their own business with the help of a full bursary to do a Warwick Business School MBA – worth up to £45,230.
Warwick Business School has joined forces with Heropreneurs, a charity which supports ex-Armed Forces personnel create their own businesses, for the second year running to offer the prize.
The deadline for entries is May 24 with the winner able to choose from the school's highly-ranked one-year Full-time MBA, part-time two-year Executive MBA, held at Warwick of The Shard in London, or Distance Learning MBA, which is taught online.
The winner of the bursary will be announced at the Heropreneurs Awards held in association with The Telegraph in London.
Last year's winner Iain Church is using the knowledge and skills he is learning on the Executive MBA to help build his social enterprise in Malawi.
Iain, pictured with Warwick Business School Dean Andy Lockett, said: "I am humbled to have won the inaugural Heropreneurs Warwick Business School Bursary Award. The size of this opportunity is huge and I look forward to repaying the faith that Warwick Business School and the award judges have shown in me.
"Completing an Executive MBA will be a significant milestone in my entrepreneurial journey and it will have a lasting positive impact on the fortunes of Moringa Miracles Limited."
Iain joined the army aged 21 after university and served for 21 years in the Royal Engineers, including operational tours in Northern Ireland, the Balkans, and the Middle East, rising to the rank of Lieutenant Colonel.
He left the army to run Moringa Miracles Limited (MML), a social enterprise founded by his late father-in-law in Malawi, South East Africa.
Moringa Miracles provides free moringa trees for farmers to grow alongside their existing crops, then buys back the seed to produce moringa oil for use in the cosmetics industry.
Smallholders are trained how to grow and maintain their trees and are shown how to turn the leaves into a powder that can help to ease the widespread Vitamin A deficiency in the country.
Iain said: "The aim was to take best practice from the NGO world and meld it with the best of the commercial world to create a self-sustaining social enterprise that could give rural Malawians a permanent way out of extreme poverty.
"The aim is that by year five of operations we will have lifted 325,000 Malawians out of extreme poverty.
"We can do so much more than provide these smallholders with a sustainable source of income. In the regions where we work 45 per cent of children suffer from stunted growth because they have a Vitamin A deficiency.
"Eradicating that could be a game-changer and our approach offers the very real possibility of a Malawian grown solution to a Malawian problem."
To have a chance of winning a 100 per cent bursary to do an MBA, click here to fill in an application form.