Chances of UK inflation hitting three per cent rise
27 February 2018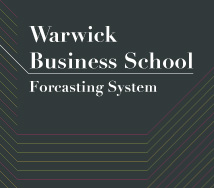 Risks for creeping inflation have risen since the last quarter
WBSFS finds a danger that inflation will exceed three per cent in 2018
It argues the Bank of England is being too optimistic in its forecasts
The forecaster suggests GDP will be between one and two per cent in 2018
After the Office for National Statistics (ONS) revised down their estimate of UK GDP growth for the fourth quarter of from 1.5 to 1.4 per cent, the WBS Forecasting System (WBSFS) calculates economic growth will most likely be between one and two per cent in both 2018 and 2019.
But, indicating some upside potential, there is a higher probability of stronger growth in 2019, with a 47 per cent chance of GDP growth greater than two per cent in 2019 relative to a 33 per cent chance in 2018.
Relative to the forecasts made by WBSFS one quarter ago, inflation risks have risen for 2018. There is now a 40 per cent chance that inflation will exceed three per cent in 2018 relative to a 27 per cent chance forecast one quarter ago. There also remains a 33 per cent chance that inflation persists and exceeds three per cent in 2019.
James Mitchell, Professor of Economic Modelling and Forecasting, said: "While the Bank of England is more optimistic than the WBSFS about GDP growth in 2018, the IMF and OECD are more pessimistic.
"But looking further ahead to 2019 we see that all three forecasters, especially the OECD, are more pessimistic about GDP growth prospects than the WBSFS."
Anthony Garratt, Professor of Economic Modelling and Forecasting, said "The WBSFS also suggests that the Bank of England, IMF and OECD think inflation will come down more quickly.
"In both 2018 and 2019 the WBSFS suggests that there is a greater than 50 per cent chance that inflation exceeds their forecasts."
Instead of using a single forecasting model or relying on the judgement of the Bank of England's Monetary Policy Committee the WBSFS combines five state-of-the-art econometric models to produce judgement-free macroeconomic forecasts for UK GDP growth and CPI inflation. These forecasts are updated each quarter to reflect the latest data.
By using model averaging and following well-established methods in statistics, meteorology and economics, the WBSFS takes a weighted combination of each models' forecasts, where higher weights are awarded to models that show the better recent forecasting performance. The WBSFS quantifies and communicates the forecast uncertainties by producing probabilistic forecasts.
For more on the WBSFS visit its website.
Professor James Mitchell teaches Managing in a New World on the Full-time MBA and Economics of the Business Environment? on the Executive MBA and Executive MBA (London).
Professor Anthony Garratt teaches Economics in the Global Environment on the MSc Management course and on the Executive MBA and Empirical Applications in Macro, Financial and Energy Economics? on the MSc Finance.
Professor Ana Galvao teaches Economics for Management and Business and Forecasting for Decision Makers on the MSc Management course.