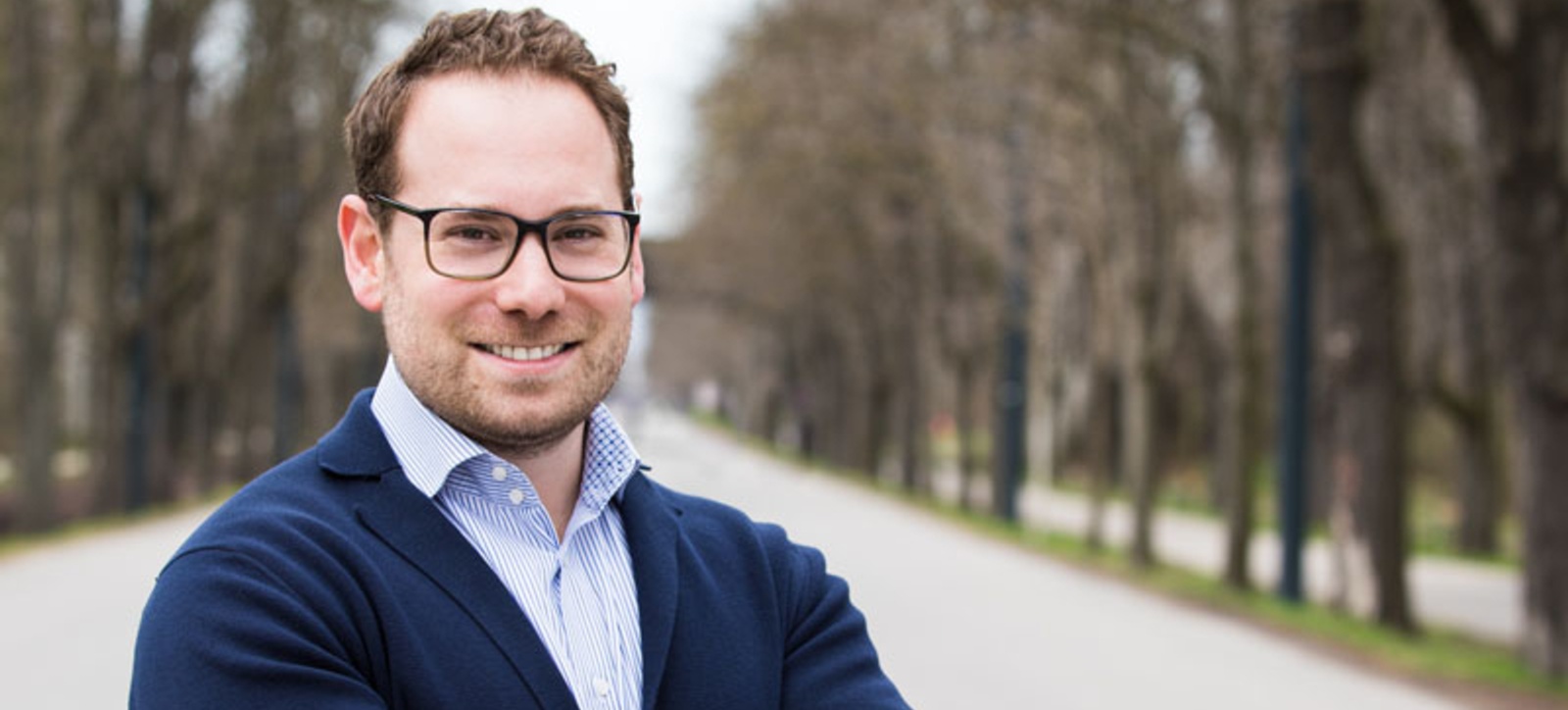 Tech recruitment platform WeAreDevelopers' conferences attract thousands
Ben Ruschin has grown a multi-million pound business in three years
His events bring in the big names of tech to meet developers
More than 50,000 developers registered on Ruschin's platform
When Apple legend Steve Wozniak came off stage in Vienna and said it was the best crowd he had ever delivered a speech to, Ben Ruschin knew he had cracked it.
Ben had paid the co-founder of Apple a good sum to appear at his second WeAreDevelopers World Congress conference, but the reaction from the crowd and Wozniak had more than covered the cost.
"It was unbelievable, grown men with beards were crying when they met him," says Ben. "People were lining up with their tablets and iPhones to get Wozniak to sign them, he was a God for them, a true rock star and they were so glad to meet him."
A year later and Ben moved the annual World Congress to Berlin where 10,000 developers packed into the CityCube to listen to big names including chess grandmaster, political activist and author of Deep Thinking: Where Machine Intelligence Ends and Human Creativity Begins, Gary Kasparov.
Having started out as a digital marketing agency Ben's business has now morphed into a hiring platform with the biggest developers' conference in Europe – and it is the secret to his company's success.
WeAreDevelopers is a two-sided hiring platform, but the key is the sense of community Ben and his co-founders have created in four short years – something unique in the recruitment world and what differentiates them.
"We are completely developer-focused," says Ben, who completed his MSc Marketing & Strategy at Warwick Business School in 2008. "We are in touch with the developers on a daily basis and we constantly research their needs and opinions. I am even doing a coding course as I need to speak their language. We are focused on developers because if we understand and make them happy we can scale our business."
A serial entrepreneur, Ben caught the start-up bug while working at Yasssu, a YouTube for serious news content. It may have failed but Ben learnt plenty and met his co-founder Sead Ahmetovic there - the pair deciding to head out on their own with Vienna Digital.
"We offered the whole e-commerce strategy," says Ben. "We built webshops and websites, converted traffic into customers and revenue. We grew really fast to 10 people in a year.
"Then we started looking into the whole developer topic, because a lot of customers would rather manage the process and have the developers working with them. We started sending them developers on hourly rates and we realised there was a market for recruiting in the developer world – plus there were much higher margins."
From there the idea to hold a conference joining developers with potential recruiters grew. And despite his digital marketing skills, which have won Ben awards and seen him become one of Forbes' 30-under-30 in Austria, it is building a community – traditionally a public relations objective – that has underpinned WeAreDevelopers' rapid growth, with turnover spiralling from €900,000 in 2017 to a projected €6 million in 2019.
How to build a community for developers
Starting with an event in Vienna for 300 developers, this doubled to 600 in 2016. But it was when they held an event for 4,000 developers in 2017 that they decided to pivot and concentrate solely on recruitment, rebranding as WeAreDevelopers.
"We did not want to be yet another recruiting agency," says Ben. "Our events allow companies to meet developers but also to market to them as well – and they are very lucrative. The most important thing is to make sure it is cool for developers – that is why we brought in Wozniak as the keynote speaker in 2018. We had 5,000 people in front of the main stage and it was livestreamed to the other stages, to another 3,100 developers.
"We have also had John Romero, who created the legendary games Doom and Quake, speak as well and he was treated like a rock star – for these girls and guys he is a genius and a big part of their lives.
"This is the reaction we want, our goal is to be a community providing amazing experiences that developers will associate with our brand. When they get any automated emails from us, they won't ignore them, they will think about us as the cool guys and open it."
The events and the sense of community creates an emotional connection with their key audience. And creating a sense of brotherhood among developers does not stop with an annual conference. Ben and his team of 70 staff are using the WeAreDevelopers platform to help developers create their own local events, just as TED - the ideas conference - has done with TEDx.
"Developers go to meet-ups in their city and listen to talks about tech and programming language, it can be 10 to 100 people," says Ben. "We will support them and pass on our knowledge to help them set it up. They are happening all across Europe, we will support them and provide expertise. We have partnered with 300 organisations to promote their events, it helps us stay in touch with the community.
Becoming a trusted source for developers
"The better we understand developers, the better we can match them to their perfect job. Money is not the priority for developers, they are travel savvy, they want to move locations and work in cool cities for cool companies and be challenged by their work.
"Our research shows that even where the office is located in the city is in developers' top five wishes along with flexible working hours, the meaning of their work and the culture. We need to understand this and find companies that fulfil their ambitions."
To remain a trusted source for developers potential employers are carefully vetted and need to meet certain criteria such as already having at least 10 developers; hiring 10 developers in the next 12 months; and have English as their main language.
"We also screen salary levels, developers will demand a 20 per cent premium on GDP per capita," says Ben. "We have over 200 companies on board from all over the world, but we focus on specific cities - Amsterdam, Berlin, Munich, Frankfurt, Vienna, Barcelona and London. Those are the cities where there are attractive employers and are attractive to move to.
"We really like Unicorns or very well-funded start-ups - they are very fast in the hiring process. We know from our own research that developers should never be left waiting on a job for more than a day. We have more than 50,000 developers registered, but we have a reach of several million through our digital channels and events."
Another difference to traditional recruiters is WeAreDevelopers' business model. As well as the usual 20 per cent of the developers' first annual salary, WeAreDevelopers also has a subscription model for fast growing companies where they will send them screened candidates every month for them to choose from.
"We discovered that to fill one position, N26 - a German fintech - contacted 500 developers on LinkedIn; 40 responded positively, of these 35 CVs were accepted, then 30 got through to a phone interview, five passed the coding test and three passed the interview, before one accepted the job. One of the coolest companies with a highly scalable business model, spends hundreds of hours recruiting for one position – and they are doing this all the time.
"The subscription model allows companies to skip all that and get straight to the employer's coding test because we screen for them. Plus, we are not fishing in the same LinkedIn pool as everybody else. Our developers are from an untapped source."
It is more than a source, it is a community being nurtured and building WeAreDevelopers into one of the most trusted brands in the rapidly growing tech industry – something Wozniak can relate to.