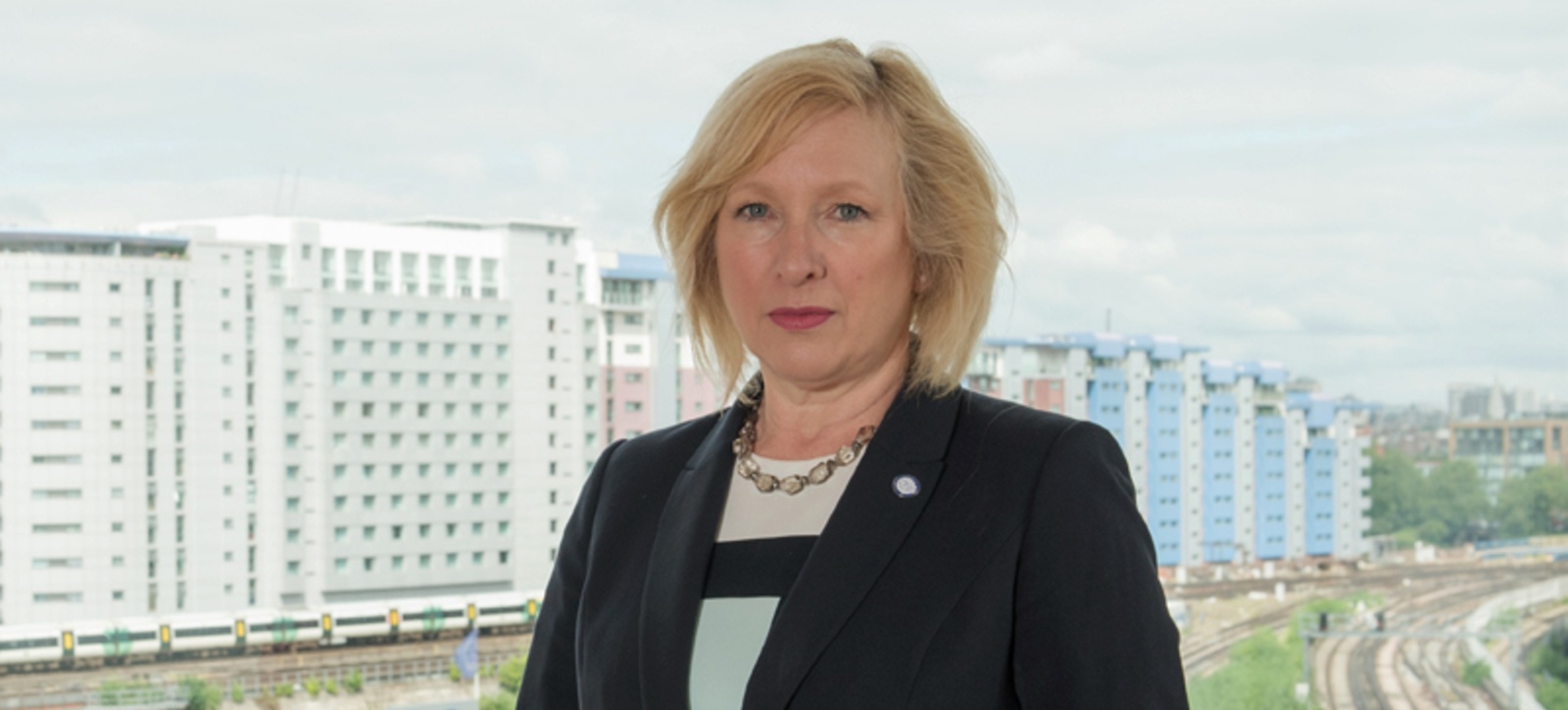 Claire Horton: My Warwick MBA helped make me the leader I am.
Claire Horton is a heart-on-sleeve sort of woman. During a recent appearance on Desert Island Discs, she revealed that as a teen she spent a dark and stormy night dancing barefoot to Kate Bush on a hillside in her best twirly skirt.
Three decades later, she is no longer running up that hill, having reached the peak of her profession.
The WBS alumnus was responsible for a spectacular revamp of Battersea Dogs and Cats Home before taking the helm of another internationally renowned institution - the Commonwealth War Graves Commission - where she aims to bring about a similar transformation.
Her achievements at multiple charities have won her numerous awards and a CBE for services to animal welfare. Not bad for someone who left school at 16.
Claire has two secret weapons she credits for her sustained success - honesty and a fine pair of listening ears.
When she joins an organisation, one of the first things she does is speak to her staff individually.
"I go in with a very open mind. I try to meet absolutely everybody I can," she says.
"In order to trust me, people need a sense that I am genuinely open to hearing what they say, though I have to manage the expectation that I am going to change everything first up."
Joining Battersea as chief executive in 2010, three years after her MBA, she dragged the iconic but then struggling charity into years of growth. Against a backdrop of sector-wide decline in charitable donations, turnover at Battersea grew from £12million to £57million a year during her decade in charge.
By then she was a charity veteran, but her first paid charity role in 1990 at the NSPCC came as a happy surprise. "Until then I had no idea that charities paid their staff," she admits.
Claire's rise up the managerial ladder saw her named as UK director of the year by the Institute of Directors. And though she has since left Battersea, she continues to work on wider animal welfare issues.
In both her paid and voluntary roles, there is a common thread of gently rattling cages.
"The more you allow people to talk and share, the more confident they get, and the more they open up. That has to come from authentic leadership.
"Over time – weeks rather than months or years – people get a sure sense that you are invested in them and committed to excellence, finding out and fixing whatever is wrong."
She's keen to talk about her MBA at Warwick, where she graduated in 2007. But it was in her early career that she learned her toughest lesson after encountering shockingly bad management.
"It was a masterclass in what not to do. A number of us were bullied by a new manager lacking any kind of empathy, who came in like a bull in a china shop and caused a great deal of hurt and pain to a lot of people. But I learned a lot."
She credits her parents with her work ethic and empathy – her mother Mildred was a trailblazer who worked as one of Lancashire's first women police officers to support sex workers and victims of abuse, and went on to work in occupational therapy, and her civil engineer father was her mentor.
"My mother always said 'do as you would be done by', and I believe and live by that. Don't be mean to people when you're managing them – lead by example, with clarity, strength and decency.
"Support and empower people and teams, as if organisations are to thrive, you need supportive and inspirational leaders at every level – and I've had some of those too."
"I wondered what I missed by never going to university"
As a 16-year-old, she was desperate to join West Midlands police as a cadet but failed the eye test. "I didn't even know then I needed glasses."
Two years later, after some volunteering and time studying business and management at technical college, she became a 'Special' – a volunteer police constable, working alongside regular officers on the streets of Dudley for eight years. On the night Margaret Thatcher was elected, she met her future husband while on duty.
After her son was born, her husband was injured at work and forced to retire from a job he loved – that's when she left the police for paid work in the charity sector, jumping at a chance to fundraise for the NSPCC.
"Recently I wondered, should I have joined the Met, maybe I'd be taking a shot at the Commissioner role by now! But I don't think I was that brave then, but I'm not really one for looking back."
It was only much later in her 30s, as chief executive of University of Warwick Students' Union, that she began to wonder what she may have missed by never going to university.
"I loved working with the students, seeing their ambitions and values and being part of helping to shape their lives. At that point, I thought I might have lost out. But there I was running an organisation with a multi million pound turnover and a sizeable staff – I was doing alright without having done a degree."
Keen to formally learn the theory behind the practice, she began to see the appeal of a business education and in particular an Executive MBA – although she never dreamed WBS might accept her.
"I thought I wouldn't be credible without A levels or a degree. But I asked their advice and they said, it's about your experience and commitment, so why not apply here?'"
As one of the older students, she worked flat out to fit study, and formal classes two nights a week around her job. "You have to be bonkers to do an MBA like this but many of us were in the same boat and we all wanted to learn."
What kind of a student was she? "A last minute one – that's why I don't have an MBA with honours! I didn't have as much time to study as much as I would have liked. I ran a large organisation operating 18 hours a day, seven days a week, lived 60 miles from Warwick and I spent most of the rest of my time driving there and back."
Modular work during the second year suited her much better. "Being able to leave work to one side for a whole week's residential, and all the focussed working on problems together was brilliant."
She honed her management style at Warwick, and today makes it look easy.
"I'm afraid it isn't – it's harder than it sounds. I have to work at it like everybody else. But learning to be a better manager is something we all should do. You are never going to be all things to all people but if you can show you have integrity, and promote a positive culture where people can develop, then they start to realise their potential, and they do that with their own teams – and a whole organisation lifts."
My WBS graduation still brings tears to my eyes
She has big plans for the Commonwealth War Graves Commission, which she joined in January 2021.
"The challenge is getting the profile of the Commission to a much wider audience, so that people realise what we do. It's very much what I've done in the past – taking a brand and elevating it to a level that it deserves."
As a non-profit organisation funded by six Commonwealth Governments, the Commission commemorates 1.7 million men and women who died in the first and second world wars, operating in 23,000 sites across 153 countries.
"We look after some of the world's most iconic memorials – and manage those big military cemeteries with the gorgeous white headstones, that everyone recognises. But most people don't know who owns or cares for them.
"It's a challenge to get that out more widely, especially to future generations to ensure the sacrifices of nations are never forgotten."
Claire looked up the history – the Commission has a vast database – of the tiny Lancashire village that she comes from, to discover two of her own family members who died in the world wars were marked by war graves in the local cemetery.
"If we look back in our own families and communities, you'll probably find someone who lost their life – these are ordinary people, mostly conscripted or volunteering to defend their nation, and their stories need to be told."
As well as raising brand profile, she aims to secure funding to maintain graves long into the future.
"My challenge is how to ensure that people continue to support us, that these graves and memorials are maintained to levels that they are today." While promoting peace isn't part of the charity's remit, it can play a role in revealing the human cost of war. "How can we play our part in trying to educate wider audiences on the perils and consequences of war? It's timely to think about that."
Her greatest professional achievement is her turnaround of Battersea, now one of the top ten best-known UK charities where volunteer numbers have soared, and the charity has achieved international clout. Transformational growth and "waking sleeping giants" is her 'thing'.
But on a personal level, it's her graduation from WBS that still brings her to tears - her late father and family were able to attend.
"And they were as proud of me, as I was of myself, as I was the first person in my family to go to university and I never thought I would.
"It probably sounds as if I'm sucking up to Warwick by saying this, but my MBA means an awful lot to me. Ultimately, it helped make me the leader that I am."
Learn more about studying for an Executive, Full-time, or Distance Learning MBA at Warwick Business School here.