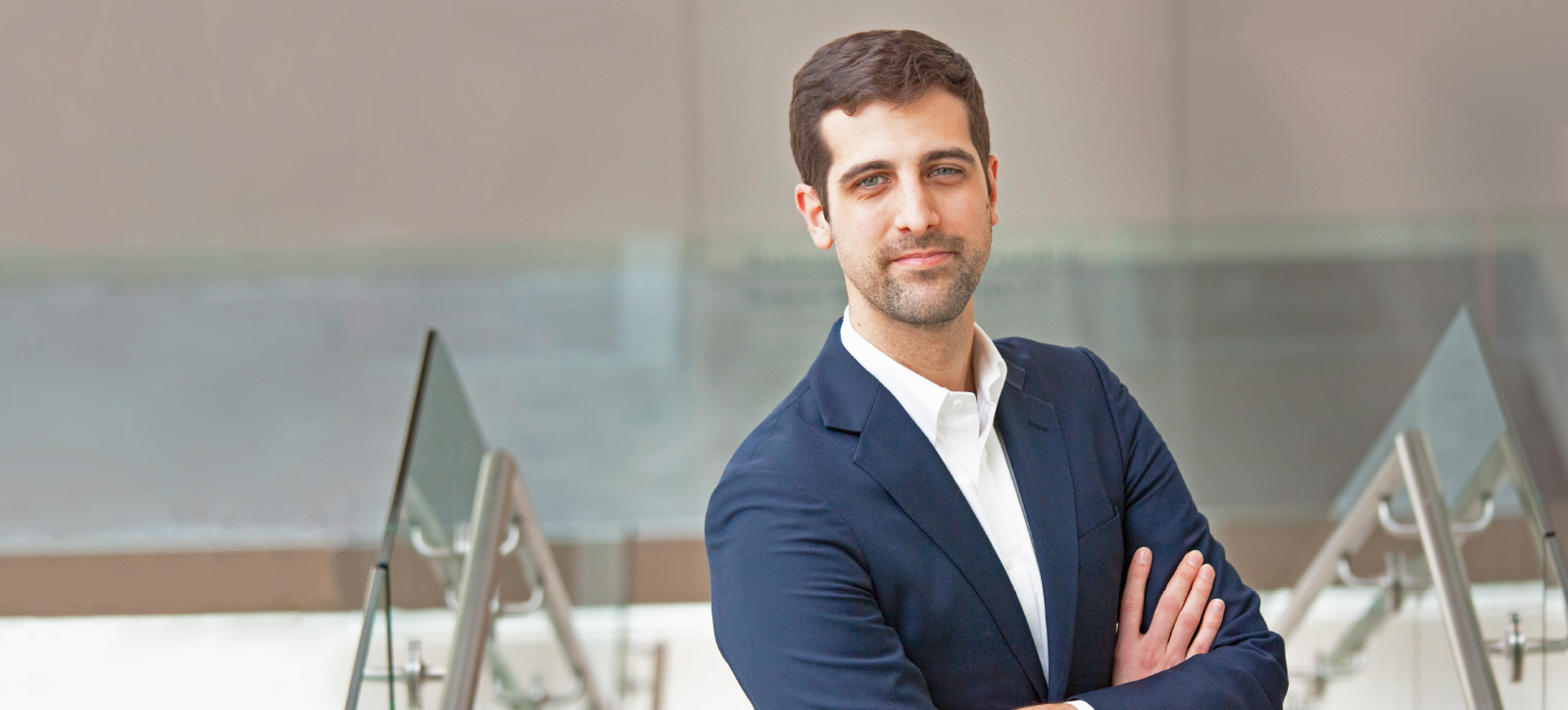 Rafael Batista is using behavioural science to bring fairness to banking
His work has made choosing a credit card fairer and easier for millions
The Warwick graduate is restoring the reputation of banking
Rafael's team have saved customers money and boosted the bank's profits
After the financial crash of 2007-08 it was fair to say the reputation of banks and financial services firms had plummeted to a new low, sitting alongside politicians and journalists even.
Not long after came the mis-selling of Payment Protection Insurance that has led to more than £50 billion in compensation in the UK and the Libor scandal, where banks fixed the interest rate that underpins mortgages, student loans, derivatives and a host of financial products.
It seemed pretty far-fetched back then to believe that banks would one day be on the side of the customer, helping them choose the right credit card or sending alerts when they were about to go into their overdraft.
But with the advent of fintech over the last decade, the good bank seems to be spreading and it is thanks to people like Rafael Batista.
Born in San Diego, but spending most of his childhood in Miami with weekends at Disney World, Rafael has been part of a new wave of bank employee – the behavioural scientist.
"We are able to apply the emerging research in behavioural science to help customers make better financial decisions," says Rafael. "Working in a bank, I wanted to make sure we were doing good and helping people, rather than just adding to the bottom line. But what we have found is that as well as helping customers, we can improve the bank's reputation, build trust and still drive profit."
After gaining two degrees in Psychology and International Relations at Florida State University, which involved a year in Turkey, Rafael was drawn to the burgeoning field of behavioural economics and, with Warwick Business School building the biggest behavioural science group in Europe, he chose the UK as his next destination.
"I loved the MSc Behavioural Economics programme," says Rafael. "It was very inter-disciplinary, with lectures at Statistics, Mathematics, WMG and the business school. Each one gave you a different perspective on the theories and research, sometimes they clashed, but it gave us a great perception. To this day, graduates from the programme tend to do extremely well in blind recruitment tasks conducted by companies looking to hire specialist behavioural scientists."
After graduating Rafael studied the psychology of poverty with The Busara Center for Behavioral Economics in Kenya, which works with the likes of the World Bank and the Bill & Melinda Gates Foundation to develop behavioural science products to enhance the life of those in poverty.
"We had a lab and could study decision-making of people in poverty," says Rafael. "Poverty really governs your thinking. Imagine losing your wallet and trying to make it through the day; now imagine every day being like this - that is what it is like every day for people in abject poverty - you might get quite clever with how to stretch a pound, but mentally, it's draining."
Meanwhile, colleague Will Mailer had been setting up Commonwealth Bank Australia's (CBA) new Behavioural Economics Team, and asked if Rafael wanted to join.
"For the first year we spent together we thought through the ethics," says Rafael. "We wanted to set up a team doing good in a financial institution – after being in Kenya that was important to me.
"We also wanted to shift the mentality to be more experimental, rather than following our intuitions, which was the culture of the bank, like most banks. Our team was really evangelising that it was important to test any idea alongside a control group. We wanted to have the same rigour and quality as an academic institution."
They also had the radical idea of the bank being more transparent with its customers. Rafael and the team could see that, although profitable for CBA, its customers were often picking the wrong type of credit card, which could lead to financial distress.
So rather than simply presenting the strengths of the credit cards to customers Rafael wanted to use behavioural science to nudge them to the one that suited their needs. This involved being transparent and showing the trade-offs between the various cards.
"There was some initial resistance, but we had a bit of luck in the leadership," says Rafael. "CEO Matt Comyn was very supportive and saw behavioural science being a tool which could be used to do better by customers, but he had no way to show it and we were able to help generate the empirical evidence."
The evidence was a large-scale field trial with 389,611 CBA customers considering opening a credit card. Rafael and his team found that, although customers who were shown each offering's trade-offs selected different products than those who were not, the number of people signing up was unaffected. So being transparent about the pros and cons didn't put customers off, they just chose the most suitable credit card for them.
In fact, this led to monthly spending by those customers being 9.9 per cent higher and cancellation rates 20.5 per cent lower, while the probability of making late payments was also reduced.
"It is common practice for banks and almost all businesses to highlight the benefits of their products and downplay the bad aspects," says Rafael. "But there is a good deal of research in psychology showing that self-disclosure fosters intimacy, builds a more trusting relationship and increases customer satisfaction. And our trial proved just that."
It meant the new way of marketing the credit cards was rolled out across more than 1,000 branches and saw CBA hailed across media as pioneering a new style of bank, one that is on the side of the customer.
"Our knack was finding problems and solutions that benefited the bank's bottom line and the customer," says Rafael. "Having worked in Kenya I had seen that returns on investment are important for sustaining a business, but the mission is always to help people. At the bank, Will and I ensured the team we built had the same social enterprise mindset."
The CBA team also brought in other innovations like an app that alerted customers to what state and federal government benefits they were entitled to and when their account was about to be overdrawn. There was a test to introduce "pseudo-set framing", which applied a psychological quirk to motivate users to pay down their debt, whereby their credit card bill was chunked up into items, such as Uber travel or groceries.
Rafael is now doing a PhD at Chicago Booth School of Business looking at how behavioural science can combine with AI to improve the justice system and public policy decisions.
"Behavioural science has really taken off in the last few years," says Rafael. "But I think we are only really scratching the surface, there is so much that can be applied to improve people's lives and technology will enable us to do that on a much bigger scale."
For more articles like this download Core magazine here.