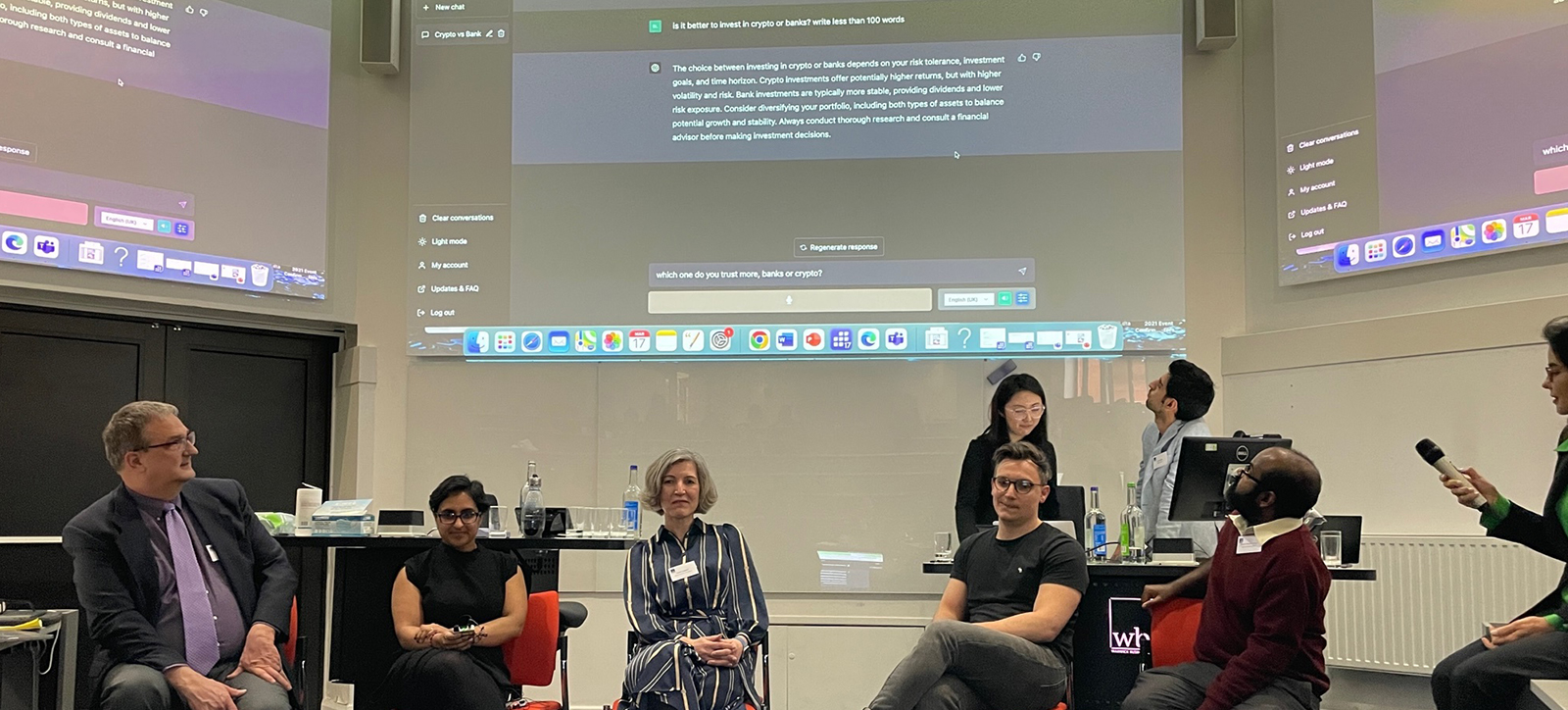 Nice chat: (l-r) Ray Patterson, of the University of Calgary, Amila Dissanayake, of Chainalysis, Cynthia Campbell, of Alberta Securities Commission, Nick Merritt, of Vault Hill, and Ganesh Viswanath Natraj, of WBS, on a panel with ChatGPT
Panellist ChatGPT told the Gillmore Centre of Financial Technology conference that humans should not become over-reliant on AI or our critical thinking and judgement will be eroded.
The generative AI chatbot developed by OpenAI joined a panel at the Gillmore Centre of Financial Technology's conference on Digital Currencies, The Frontiers of AI and Fintech to discuss cryptocurrencies and the role of AI in society.
Joining ChatGPT on the panel was Nick Merritt, of metaverse platform Vault Hill, Cynthia Campbell, of Canada's Alberta Securities Commission, Amila Dissanayake, of crypto analysis firm Chainalysis, Ganesh Viswanath Natraj, of the Gillmore Centre of Financial Technology, and Ray Patterson, of the University of Calgary.
When asked if people trust technological advancement too much, ChatGPT told the conference: "AI is only as good as the data and algorithms it's built on, which can be biased, flawed, or manipulated. Meanwhile, blockchain networks, although inherently secure, are not immune to vulnerabilities.
What does ChatGPT think of AI?
"Our reliance on these technologies may inadvertently erode human judgement, critical thinking, and the ability to question or challenge the status quo.
"By placing too much trust in AI and blockchain we risk creating a society that's overly dependent on technology, susceptible to manipulation, and disengaged from ethical considerations."
The panel talked about how society now trusts technology more than they do fellow humans, though Professor Paterson argued there will always be a role for the state.
ChatGPT, meanwhile, argued for both humans and AI technology to work together.
It said: "The challenge lies in striking a balance between human judgement and technological efficiency, recognising that neither is infallible, and that collaboration between the two can yield the most robust outcomes."
Mr Merritt was adamant that society should not rely on governments to protect cryptocurrencies, and ChatGPT agreed it would be paradoxical as "cryptocurrencies were born to challenge centralised control".
It added: "However, with the growing adoption of digital assets some regulation is inevitable. Striking a balance between maintaining the decentralised spirit of cryptocurrencies and ensuring investor protection is the real provocation. Navigating this delicate balance is crucial for the future of both crypto and traditional finance."
The conference saw talks on DeFi and centralised finance from Anastasia Melanchrinos, of cryptocurrency market data firm Kaiko, on crypto derivatives by founder of analytics platform Block Scholes Eammon Gashier, and the growing metaverse industry by Mr Merritt.
While Amit Chaudhary, of DeFi app builder Polygon, detailed research on DeFi liquidations, and Tarleton Watkins, of Circle, the USDC stablecoin-maker, spoke about the prudential environment for digital currencies in light of the company managing to transfer its $3.3 billion cash holding out of the collapsing Silicon Valley Bank.
Ram Gopal, Academic Director of the Gillmore Centre of Financial Technology, which aims to become a global centre for excellence for fintech research and was established by Warwick Business School using a £3 million donation from Clive Gillmore, founder and Group CEO of Mondrian Investment Partners, said: "The panel discussion with ChatGPT was a great success and provided a new dimension to the conference.
"Generative AI is in its infancy but has the potential to change the way we work, research, study and live in so many ways – we are only scratching the surface of its capabilities.
"The conference showed the innovation and ingenuity at the heart of fintech and digital currencies, and how academic research centres like ours can play a vital role in this exciting sector.
"The Gillmore Centre will be at the heart of this new world, creating a place for researchers, policymakers, industry leaders and tech entrepreneurs to come together and explore new opportunities and ideas."