Chinese visit WBS to learn about European market
13 November 2014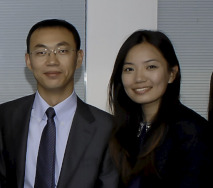 Chinese MBA students found out about the business environment in the UK and Europe during a week-long visit to Warwick Business School.
As part of their immersion programme 37 MBA students from Beijing's Guanghua School of Management were given a series of lectures and taken to companies in the area as well as visiting William Shakespeare's home, Stratford-upon-Avon.
In its second year the week-long visit is designed to give the students an insight into the culture and business practices of the UK and Europe.
"The global immersion programme at Warwick Business School was excellent," said student Xu Haifeng. "We received a very warm and enthusiastic reception. It was my first visit to the United Kingdom, the scenery is so beautiful and people are so kind. If I have the opportunity I hope to embark on a PhD at WBS."
Fellow student Jason Huang added: "Warwick University is one of the most fascinating campuses in my opinion. I really enjoyed the culture and fantastic courses during the week there. I am looking forward to going back one day."
The Chinese students were given lectures on the macro-economic picture in Europe, organisational behaviour, global business and the public realm plus marketing luxury goods in Europe, while they were given an 'active learning' workshop by WBS Create to experience how students act out case studies and do role-play at Warwick Business School.
They also visited Birmingham International Airport and Bicester Village to see how these businesses operate in the UK, plus they sampled some of the UK's culture with a tour of Stratford-upon-Avon and watched the opening night of Two Gentlemen of Verona at the Royal Shakespeare Theatre after dinner at its Rooftop restaurant.
Ashley Roberts, Assistant Dean of WBS Create and Principal Teaching Fellow in the Organization and Human Resource Management group, said: "It was fantastic to host the students from Guanghua School of Management and I hope they enjoyed the experience as much as we did.
"We hope they not only learned some valuable insights about the business environment and culture in the UK and Europe, but also how Warwick Business School tries to unlock the creativity and critical thinking in its students.
"The relationship we have with Guanghua School of Management is vitally important for students at both institutions as they widen their understanding of the cultural differences and diversity involved in the global business world, something that is becoming increasingly important as organisations extend their reach into different countries and markets."
Warwick Business School will be sending a cohort of MBA students to Guanghua School of Management for a week-long module entitled Doing Business in China in May next year.