Commission hears 'arts funding model is broken'
06 February 2014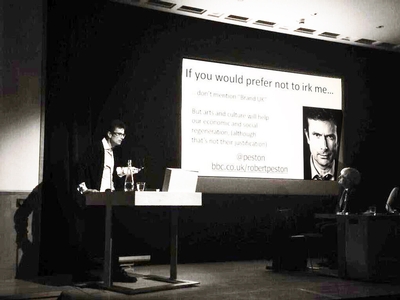 BBC business editor Robert Peston kicked off the Warwick Commission's year-long investigation into the future of cultural value by provocatively declaring the current funding model for arts is 'broken'.
At the first 'provocation' held at the British Library Peston provided the ideal explosive opening to what promises to be an exhaustive look at the The Future of Cultural Value by the Warwick Commission.
Peston opened with a forthright talk asking 'are cuts in funding the biggest threat to culture?'
And it didn't just spark debate in a packed auditorium but across Twitter as well, with the event's hashtag #futureofculture inspiring a mass debate on the global micro-blogging site. (see just a few comments below)
Peston spelt out the economic realities for arts funding in the UK, with huge rising Government debt and austerity-hit local authorities with nothing else left to cut but 'arts'.
"I remember when David Sainsbury was made Science minister and there was a definite shift, he bullied the Government into getting more public money for science – the arts needs somebody like that inside Government," said Peston.
But with no such figure around Peston argued the arts should get used to less money and the 'paternalistic' funding of the arts in the UK should be stopped. He also felt it was a misnomer for the arts and culture to measure itself in economic terms as other industries do.
Yet though funding has been cut during these times of austerity Peston produced a graph showing more people are engaging and participating in arts and culture.
"The argument is how we distribute funding, not how do we get more - that isn't going to happen," said Peston. "Hospitals will always win the public vote so perhaps we should just have a set amount and work out how to distribute that better."
.@Peston concerned: the Global widening of gap between rich & poor. There's a role for arts & culture in bridging that gap #futureofculture

— Kenneth Muyiwa Tharp (@KennethTharp) February 4, 2014
On the panel that continued the discussion Sir Richard Lambert, University of Warwick chancellor and lead non-executive on the Foreign & Commonwealth Office's supervisory board agreed. "The Department of Culture, Media and Sport is such a small department it will always get rolled over by the Treasury," he said, even suggesting it could be closed.
Many at the provocation complained that too much arts funding goes to London with panellist Alan Davey, chief executive of Arts Council England, agreeing that national institutions should have wider roles into the regions and no longer necessarily sit in London.
While Professor Bev Skeggs, of Goldsmiths, feared funding cuts and rising tuition fees was seeing a marginalisation of the working class in arts. Skeggs asked: "What has happened to working class art?"
She argued the Government needs to invest in arts and education to make sure we create the society we want; otherwise we will be left with art from the privileged few who can afford to do it, eradicating much 'authentic' culture.
The theme of a class bias towards white middle class was also discussed vigorously, giving more food for thought for the Warwick Commissioners.
Headed by former executive director of the Royal Shakespeare Company and RSA chair Vikki Heywood, and academically led by Professor Jonothan Neelands and Dr Eleonora Belfiore of Warwick's Centre for Cultural Policy Studies, the Warwick Commission has enlisted 17 commissioners, including Sir Peter Bazalgette, Chair, Arts Council England, Sir Nicholas Serota, Director, Tate, Roly Keating, Chief Executive, British Library, and David Lan, Artistic Director, Young Vic.
Professor Neelands said: "The first provocation was a great success and a great way to start our research into the future of cultural value in this country. We had a full auditorium at the wonderful British Library and the discussion was full of lively, passionate debate that raised important issues for the commissioners to sift through.
"The interest it stirred on Twitter shows how important this subject is not only to those involved in arts and culture but our society as a whole. It has certainly whetted the appetite for more debate and research into what our culture and arts means to us and how we should nurture it – if we should at all."
Led by Warwick Business School and the University of Warwick's Faculty of Arts, the Warwick Commission will be looking at four themes:
· What sort of investment, if any, is required to help UK culture flourish?
· What sort of value can be put on a thriving culture, should it measure, and if so how?
· What sort of education and nurturing, if any, is required to develop the UK's talent?
· What are the threats and opportunities offered by changing international trends?
Another two provocations will take place throughout the year plus many interviews and research before a report with evidence-based recommendations for policy-makers is produced.
Anybody who wants to enter the debate should get in touch with the Warwick Commission via email at warwickcommission@warwick.ac.uk or tweet @UoWCommission or #futureofculture with comments or suggestions.
See the provovation covered via Storify here.