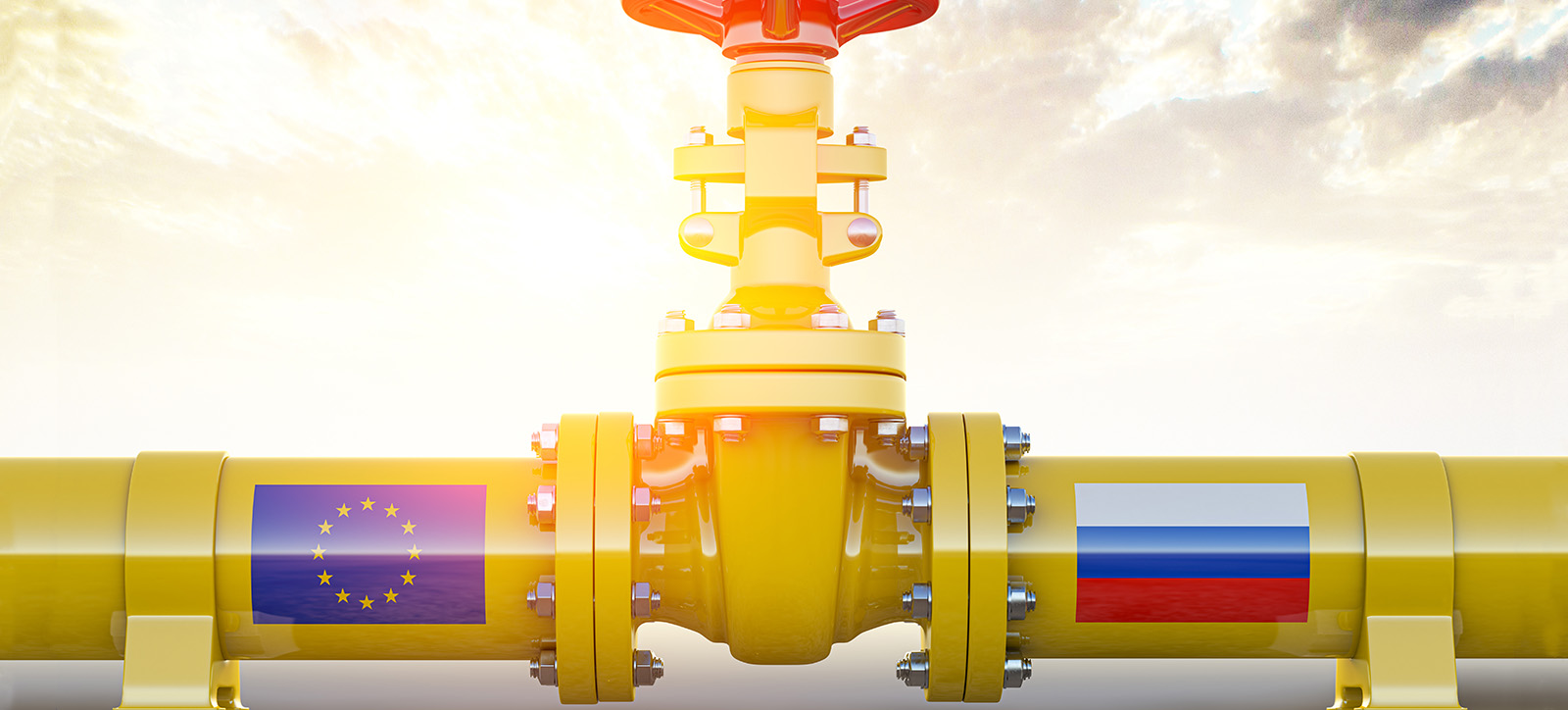 Europe's reliance on Russia oil and gas has caused many countries to reconsider energy security in the wake of the invasion of Ukraine
The Russian invasion of Ukraine has changed the world forever. It is not unique in this respect. There have been two similar 'inflection points' in the last 15 years alone.
The first was the global financial crisis of 2008, the second being the start of the Covid-19 pandemic in 2020.
Though the pandemic is not over, the global economy was on the road to recovery during 2021. This was welcome news, but also created new challenges. Demand for fossil fuels surged as the world emerged from lockdown, triggering an energy price crisis as supply struggled to keep up.
Then, in the autumn of 2021, as gas prices escalated, Russia started to cut back on pipeline supplies to Europe, making a difficult situation worse. Millions of Euros filled the Kremlin's coffers, but the gas continued to flow albeit at lower levels.
Moscow's motives became clear on February 24th, 2022, when Russia invaded Ukraine. Since then, Russia has weaponised Europe's dependence on its gas exports. Most recently, in the face of missile attacks on its energy infrastructure, Ukraine's President Zelensky has accused Russia of 'energy terrorism.'
Through the summer, a series of events reduced Russian gas flows to Europe, culminating in subsea explosions damaging the Nordstream 1 and 2 pipelines in the Baltic Sea that are now out of operation indefinitely. According to the International Energy Agency (IEA), by the end of 2022 Russian pipeline gas exports to Europe are likely to be down 55 percent. At the same time, the average EU gas price in 2022 will be almost eight times the 5-year average between 2016 and 2020. While the outcome of the war in Ukraine remains uncertain, the West's response will have a lasting impact on the World's ability to take timely action on climate change.
The implications for Europe's climate change ambitions?
The need to accelerate climate action is greater than ever. As the IPPC's recent reports make clear, the window of opportunity to limit global warming to 1.5 degrees is closing fast.
To meet the goals of the Paris Agreement greenhouse gas (GHG) emissions need to fall by 45 per cent by 2030. In November 2021, COP-26 offered hope of a concerted push. For the first time, a COP closing statement included the need to 'phase down' fossil fuels.
There have already been missed opportunities to do exactly that. The 2008 crisis put a short-lived crimp in the growth of carbon emissions. But as the global economy recovered, so did emissions growth. All the indicators suggest the pandemic resulted in a similar dip in emissions. Again, that rebounded as economies recovered and emissions hit a record level in 2021.
Both events were associated with extreme oil price volatility. Oil prices peaked at $147 per barrel in 2008, only to fall to $35 by the end of the year. At one point in early 2020, the American benchmark oil price for West Texas Intermediate (WTI) grade oil was -$40 per barrel, it recovered to $74 by the end of 2021. When US President Joe Biden announced a ban on Russian oil and gas imports on 8th March, the price hit $124 and at the time of writing, it is in the mid $90 a barrel and OPEC+ have been cutting back on production to sustain high prices.
The world of COP-26 is gone, and COP-27 is likely to highlight divisions between the global north and south, rather than the solidarity needed to fund and deliver climate action with an increased emphasis on adaptation as temperatures continue to rise.
Europe is now determined to move away from any reliance on Russian fossil fuels. It is a challenge that should not be underestimated.
Russia is the world's second largest exporter of oil, after Saudi Arabia. It is also the largest exporter of natural gas and the third largest exporter of coal. In 2021, the EU imported 40 per cent of its natural gas and 27 per cent of its oil from Russia.
According to data from the US Energy Information Administration, OECD Europe accounted for 49 per cent of Russia's crude oil and condensate exports in 2021. It was also the destination for 74 per cent of Russia's natural gas exports. Thus, Russia stands to lose its most important market for its oil and gas and it is already have to accept a significant discount in its exports to the likes of India and China.
At present, the EU is not blocking Russian energy imports. But a ban on crude oil will begin in December 2022, with a ban on oil products to follow in early 2023. The G7 is also exploring placing a price cap on Russian oil. Russia has responded by saying that it would not export oil to any country that imposes a cap. Thus, oil prices volatility is likely to return.
Within the EU there is division over how best to constrain gas prices, with many member states, along with UK, spending huge sums on subsidising the cost for consumers. Oil and gas companies, and potentially some power companies, are being targeted with windfall taxes on their profits generated by high prices.
Europe has done well to secure additional supplies of liquefied natural gas (LNG) to fill gas storage ahead of the winter heating season. Storage is now 95% full, but absent significant Russian pipeline flows, Europe will still need additional LNG in the coming months. The current situation has been aided by the fact that China's LNG demand this year is down over 20%, but when the Chinese economy starts to recover from its Zero-Covid policy demand is likely to return, increasing competition for LNG with limited new production becoming available in the next few years.
More generally, there has been a return to coal, even though prices are also high, as it is perceived as more secure, and many countries have their own reserves. In their latest World Energy Outlook, the IEA declared the 'golden age of gas' is over. Its claim to be available, affordable and acceptable has been trashed by current events.
How do we avoid long-term regrets on climate change?
The current plethora of plans to reduce Europe's reliance on Russia and oil and gas imports is likely to promote a short-term surge in emissions as production from existing non-Russian oil and gas fields accelerates. The UK gas announced a new licensing round for oil and gas exploration in the North Sea, but the Sunak Government has rolled-back a short-lived decision to lift the moratorium on fracking for shale gas onshore.
Even in Europe, those that can still burn more coal will. It may be costly, but far less so than gas (Russia also provides 32% of OECD Europe's coal imports).
At the same time, the search for more Liquefied Natural Gas (LNG) imports increases the carbon intensity of Europe's gas supply as they are likely more carbon intensive than Russia pipeline gas, although is an area that requires further investigation.
As the gas price crisis last autumn demonstrated, markets were tight before the war in Ukraine and there is little spare LNG. Consequently, Europe must outbid other consumers, effectively offshoring its energy insecurity.
It is also important to recall the conclusions of the IEA's 2021 Net-Zero study, that investing in new oil and gas exploration and production is not compatible with the Paris Agreement. However, recently, President Biden threatened oil and gas companies with a windfall tax if they failed to invest more in production, something they have been reluctant to do due to financial and environmental pressures.
It is one thing to make the most of existing fields and even invest in short-cycle production, like US tight oil and shale gas, but it is quite another to invest large amounts in new large-scale, long-term projects and infrastructure developments.
Not only are they not a solution to the current crisis, but they could also result in 'carbon lock-in' or end up as 'stranded assets.' For the long-term, the 'no regrets' solution is not more fossil fuel production, although continued investment is needed to sustain production in the medium-term. This is a delicate balancing act that is putting the oil and gas industry in a difficult situation.
Ideally, the solution is a reduction in fossil fuel consumption through efficiency, demand reduction, and an increase in production from clean energy sources. However, it is unclear how fast this can be achieved, simply increasing targets in a 'paper transition' is unlikely to deliver results, but security concerns should help to accelerate the pace of change.
In the short-term, emissions are going to be higher than they would have been had Russia not invaded Ukraine. The caveat here is that the triple crisis of energy prices, food prices and a cost-of-living crisis may trigger a global recession that will reduce energy demand.
Longer-term there is a chance that emissions may be lower if Europe succeeds in delivering its RePowerEu plan to reduce its reliance on fossil fuels in absolute terms, not just Russian oil and gas. However, we should avoid slogans such as 'energy independence'.
The transformation to a clean energy future comes with its own security challenges, witness the growing concerns about critical materials and clean technology supply chains.
Equally, electricity grid interconnection, like pipelines, is dependent on large scale, immovable infrastructures and is vulnerable to political manipulation. Witness the French Government threatening to cut off electricity supply to the Channel Islands in a conflict over access to the fishing rights with the UK.
Achieving net-zero in a zero-sum world
The recent IPCC reports on climate change have made clear the need for urgent climate action, yet discussions at COP-26 revealed the diversity of views on both the urgency of the climate crisis and the pathways to a low carbon future. These differences and divisions are likely to be even more apparent at COP-27, particularly given the actions of Europe in the face of the current crisis—bringing back coal and subsidising fossil fuel consumption. The sad reality is that war in Ukraine may serve to fracture the world further.
Europe may be embarking on a quest for greater energy security, but climate change action is a global challenge. All the scenarios, and there are many, that deliver significant climate progress require a high level of international cooperation. The current energy crisis may stiffen the resolve of many emerging economies to stick with coal, believing it to be more secure.
Equally, as noted by the IEA, the current very high cost and precarity of LNG, which has become a zero-sum market, may lead to a rethink on the role of natural gas. Many developing economies may now avoid it, aiming to leapfrog from coal to clean at some future date. But that will require the developed world to provide significant levels of climate finance to the global south.
Finally, even before Russia's invasion, the pandemic had already set back the progress of universal achieving energy access by 2030 (SDG 7). The UNDP's Human Development Index went backwards in 2020 and 2021 and will likely do so again in 2022 and millions are falling out of energy access in Sub-Saharan Africa. All this reflects the fact that Russia's war on Ukraine truly has planetary consequences and there will be no winners.
Further reading:
Blondeel, M. and Bradshaw, M. (2022) "Energy Security, Transition Risks and No Regrets: The Long-Term Strategies of the Oil Majors", The World Financial Review, 10 October.
Blondeel, M., Bradshaw, M. J., Bridge, G. and Kuzemko, C. (2021) "The geopolitics of energy system transformation: a review", Geography Compass, 15, 7, e12580.
Michael Bradshaw is Professor of Global Energy, a Fellow of the Royal Geographical Society and a Fellow of the Academy of Social Sciences. He teaches Managing in a New World and Managing Sustainable Energy Transitions on the Full-time MBA and Forecasting for Decision Makers on the suite of MSc Business courses.
For more articles on Sustainability sign up to Core Insights here.