WBS magazine, Core, publishes second issue
23 May 2014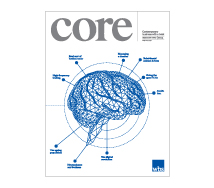 What do bees and behavioural science have in common? What can Jesuits teach us about running a global business? What is the real cost of bottled water? How dangerous is high-frequency trading for our financial markets?
All this and much, much more are answered in the second edition of Warwick Business School's annual magazine Core.
We meet Spectator columnist, Ogilvy & Mather UK vice-chairman and the marketing industry's biggest and most influential voice, Rory Sutherland, to find out why he thinks behavioural science will be the next revolution and why bees can teach us a thing or two about efficiency. Download the article for free here.
"Economics is basically suggesting the ideal state of humanity is a weird, individualistic autism, but we are a much more interesting species than that," says Sutherland.
There is also much more to the Jesuits than the fact that Pope Francis is the first Jesuit to head the Catholic Church as Jose Bento da Silva's decade-long research into the organisation has discovered. He believes it is the first and longest surviving truly global organisation with many lessons for multi-national companies.
As da Silva says: "How many organisations with around 200,000 employees spread across more than 100 countries and surviving for almost 500 years do you know?"
While Mark Johnson finds bottled water has had a long and expensive trip to your shop, high-frequency trading has dramatically cut the speed at which shares and currencies are traded. Vikas Raman, Roman Kozhan and Chen Yao examine the perils of computerised trading.
We talk to Graeme Currie to examine just why business schools are becoming more and more involved in healthcare, where the new frontier for a better NHS is in organisational science.
The tsunami of apps and internet platforms that have changed our social lives are about to hit our office and our cars. John Baptista walks us through how our workplace is going to look in the future, while Ola Henfridsson explains how it is going to revolutionise the car industry, where a kid in a bedroom could be the next car giant.
The financial crash has left question marks hanging over the pillars of our capitalist system, how could it have gone so wrong? More regulation has been the answer from Governments across the globe, but perhaps we should look back to the first true democracy for lessons on governance. Hossam Zeitoun researches how the Ancient Greeks could help us.
It is not only organisational structures that have been questioned since the crash, but some big names in management have been toppled as well. Neuroscience has been held up as the answer to finding those right to run big businesses, but Gerard Hodgkinson finds it is not all it is cracked up to be.
WBS Dean Mark Taylor started his career trading in the foreign exchange markets before moving on to the Bank of England, the International Monetary Fund and BlackRock and has come up with a simple but effective solution to the FX fixing scandal that is slowly engulfing the world.
Mark Skilton warns us about the cloud, Alicia Melis explains why studying chimpanzees can help businesses, while Christian Stadler hails 'intelligent conservatism and John Lyon reveals what makes a good non-executive director. In Core there is something for every business.