Core magazine: City Guide - Rio de Janeiro
11 August 2016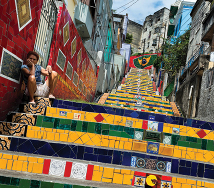 Exclusive article from WBS magazine Core

A city guide to Rio: home to this year's Olympics
We reveal places to shop and eat as well as sights to see
Our guide also offers suggestions of nearby places to visit
Renata Morris, MBA (Warwick), Engineer at BNDES (The Brazilian Development Bank) shares the delights of her hometown of Rio de Janeiro, known in Brazil as the "cidade maravilhosa" (marvelous city).
Rio de Janeiro is a vibrant metropolis best known for its love of football, stunning beaches and its annual carnival. The second largest city in Brazil, and founded in 1565 by the Portuguese, it has a rich and vibrant culture which welcomes tourists from all over the world.
As host of the 2016 Summer Olympics and Paralympics, the global spotlight will once again fall on this vast and spectacular city.
Where to eat
One of my favourite places to eat in Rio is the eponymously named Roberta Sudbrack restaurant located near the botanical gardens in Rio's upscale Zona Sul area. Sudbrack used to be chef to a former Brazilian president in Brasilia, Fernando Henrique Cardoso and the fresh and tasty dishes she produces in her restaurant bring together a combination of Brazilian ingredients resulting in the creation of multidimensional flavours.
Opened in 1894, Confeitaria Colombo is Rio's most famous tearoom and its Art Nouveau decoration and fine pastries make it a lovely haven to visit right in the centre of Rio. There is also a branch at Copacabana which offers great breakfasts and excellent views of Copacabana beach.
http://robertasudbrack.com.br/
Where to shop
Whether it is a record or book shop, or a vintage clothes stall or a market, there are lots of great places to go shopping in Rio. The Feira de São Cristovão is an outdoor market where locals and tourists go to hang out, dance, shop and eat typical Brazilian food from the north and northeastern regions.
http://www.feiradesaocristovao.org
Sights not to miss
The summit of Sugar Loaf Mountain offers a spectacular view of the city and its beaches. One of Rio's top tourist attractions, the mountain offers a peak that towers at the entrance to Guanabara Bay, within the city limits of Rio de Janeiro (in the district of Urca). Its summit can be reached via cable car but there are more than 270 climbing routes of varying lengths and difficulties on Sugar Loaf and neighboring peaks Morro da Babilônia (Babylon Mountain) and Morro da Urca (Urca's Mountain) for those who are feeling energetic. Together, these peaks comprise one of the largest urban climbing areas in the world.
The Christ the Redeemer statue is a must-do attraction while in Rio. The famous statue, situated on the top of the Corcovado mountain, offers splendid views of the "Marvelous City". The best way to visit it is by taking the train ride up to the top of Corcovado mountain.
Santa Teresa is a bohemian neighborhood of Rio de Janeiro, famous for its narrow streets and a favorite spot for artists and tourists. A former upper-class neighborhood, Santa Teresa has been revived as an artistic hotspot, nowadays home to several artists, art studios and galleries, and offering plenty of good restaurants.
The place to go to chill out
To experience great live Brazilian music and a truly amazing ambiance visit the Rio Scenarium. Located in Lapa - a region full of restaurants, nightclubs and venues - Rio Scenarium combines high quality entertainment and excellent traditional Brazilian food.
Special events
The Cariocas (the locals of Rio) certainly know how to throw a good party and there's no bigger celebration in the year than the Rio Carnival which officially lasts five days, from the Friday to the Tuesday preceding Ash Wednesday. Street parties, samba music and dancing take over the city with the Rio Samba Parade taking centre stage on the last day. Carnival is a once in a lifetime experience and attracts visitors from around the world.
Nearby cities worth visiting
If time allows there are other hidden gems not far from Rio de Janeiro that are worth a visit.
Búzios - Originally a tiny fishing village, Búzios is located about two hours north of Rio de Janeiro and offers visitors sandy white beaches and lively nightlife.
Petrópolis - The city of Petropolis is located 60 km away from Rio and has been called the Imperial City since the times of the Emperor Pedro II. Settled in by the Germans, Petropolis keeps the memory of Brazilian history alive with its buildings, gothic Cathedral and charming streets.
WBS alumni who want to receive the next edition of Core due for publication in the autumn please check your details are up-to-date here and a copy should be sent out to your address on publication.
If you are currently not a student or an alumni at Warwick Business School but would like a copy of Core, please click here to download Core edition one for free or purchase Core two and three.