Coventry in "right place" to expand digital creative sector
18 December 2017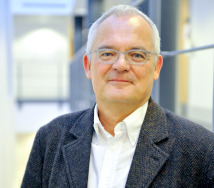 Report into the city's digital creative sector finds there is "much to play for"
60 per cent of its firms agree that Coventry is a 'creative and innovative' city
City's digital creative have annual turnover of more than £0.5 billion
Coventry hosts 1,138 digital creative enterprises, employing more than 3,600
Coventry is in the "right place for new and expanding digital creative businesses", a new report into the potential of the city's digital creative sectors has found.
Produced as the city was working on the winning bid to be the UK's City of Culture in 2021 the report, Digital Creative Sectors in Coventry: Trends and Potential, was written by researchers from Warwick Business School, Coventry University and Morley Associates.
"Coventry is the right place for new and expanding digital creative businesses," said the report's lead author Stephen Roper, Professor of Enterprise and Director of the Enterprise Research Centre. "It offers a rich, vibrant and diverse cultural experience and a rapidly developing digital infrastructure, both of which are essential to strengthening creative clusters in the City that could significantly impact on the local and regional economy."
The research found that in 2016 3,669 people were employed in Coventry's digital creative sector across 1,138 firms, an increase from 663 a decade before, and that almost 60 per cent of Coventry firms agreed that the city is a 'creative and innovative' city.
Identifying trends and development in the growth of digital creative businesses in Coventry and some of the opportunities and challenges for the future growth of the sector, the report calls for stronger connections between local and regional cultural, digital and investment initiatives to boost the growth of Coventry as a vibrant creative cluster interacting with digital clusters in Birmingham and Warwickshire.
How will being City of Culture help Coventry?
"Coventry is not yet a hot spot for the digital creative sector," said the authors, but argue that "the growth of the supply chain of digital engineering to support major advanced manufacturing organisations like Jaguar Land Rover (JLR) and London EV Company provides an opportunity to develop synergies with new digital creative, design and other creative industries.
"External perceptions of the city are changing. Coventry is becoming a significant city with a transformed cultural offer. Two award-winning universities and a new Cultural Place Partnership supported by Coventry City Council and local businesses have ambitious plans to drive local and regional economic growth through harnessing our industrial strengths, heritage, human and diverse cultural resources."
Evidence in the report from interviews with estate agents and businesses found that Coventry will need to develop additional digital creative work spaces in places such as Far Gosford Street in order to satisfy a demand but cites ambitious plans currently under consideration to expand spaces in this area of the city.
"Bold plans like this could provide the ideal mix of work spaces and digital infrastructure in projects that combine digital creative growth with local heritage and cultural assets" said Jonothan Neelands, Professor of Creative Education and Research Lead on the Executive Bid Committee of Coventry 2021, who argues that their research demonstrates that there is "much to play for".
Digital Creative Sectors in Coventry: Trends and Potential, part of the Coventry Great Place project, was written by Stephen Roper (Warwick Business School), Areti Gkypali (Warwick Business School), Jane Sanderson (Coventry University) and Lorraine Morley (Morley Associates Ltd).
Stephen Roper lectures on Business Planning on the Undergraduate Programme. Jonothan Neelands teaches Leadership and the Art of Judgement on the Full-time MBA and Current Issues in Leadership on the suite of MSc Business courses.