David Elmes defends comparison sites on Sky News
18 March 2015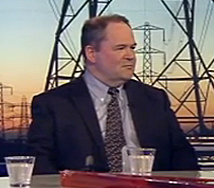 David Elmes, Professor of Practice and Head of the Global Energy MBA, told Sky News comparison sites offer consumers a useful service in helping find good gas and electricity deals, despite a group of MPs warning they don't always offer the best deal available.
The House of Commons Energy and Climate Change Committee has claimed price comparison sites push customers to the deals they make money from.
MPs have argued customers are not being told when the deals offered to them earn website a commission, and the lowest tariffs are not always shown by default.
The committee called on energy regulator Ofgem to consider whether price comparison sites should show all available deals from the start, not just those they earn commission on, and should they pay compensation to customers who have paid more from current practices.
Professor Elmes said: "The issue here is if you go to a comparison website, you are using a service. Someone has done the work to gather different tariff information.
"So when you go to a comparison website, what tariffs should you see? Just the ones the website can organise for you to switch to, which is where they earn a commission? Or should they show you all the tariffs, including some that might be cheaper, but the comparison site can't help you switch to and those companies wouldn't pay the site any commission?"
Professor Elmes told Sky News the typical commission comparison sites earn per customer is around £20-£30 per fuel.
"The trouble is we want people to switch energy providers and think more about the way they use energy," added Professor Elmes, "but with a lot of information and tariffs as it is, putting in rules on transparency and clarity may just confuse and disengage people more."
The energy companies have already faced rule changes to help simplify the process by reducing the number of tariffs they offer.
Professor Elmes said: "There is a limit of four tariffs now. The problem then is does this stop the ability to bring in new and different tariffs which are not just about providing the cheapest energy, but may include maintenance for a boiler, or help with more efficient energy use.
"There is a worry that by limiting everything to a single tariff you are stopping people bringing in good ideas for using less energy."
The question remains, though, should people sitting on the fence about switching energy provider take the plunge? The answer is yes, according to Professor Elmes.
He said: "Switching to a different provider does bring down prices. The most recent market review shows if you've not switched in the last two or three years you can save anywhere between £200 and £300.
"That is the recommendation: get engaged, try it out and hopefully you will save money."
Professor David Elmes teaches in number of modules on the Global Energy MBA. He also teaches in the Business, Politics, Society and Behaviour module on the Full Time MBA.