David Elmes tells the Financial Times about Sandy's impact
09 January 2013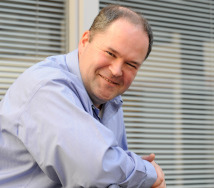 Professor David Elmes has told the Financial Times how the devastation caused by superstorm Sandy that hit New York is an example of how businesses have to consider the supply and consumption of energy more and more carefully.
Sandy swept through 24 states along the east coast of the US in November last year with Mohammad Khan, insurance partner at PricewaterhouseCoopers, estimating the total economic losses from Sandy amounted to $45bn.
It raises big questions for business schools as to how they equip future leaders to manage such challenges as well as the pressing issues of rising energy costs and climate change.
How business managers build the security and sustainability of energy supplies into strategic decision-making is something future business leaders need to understand, with some arguing that companies need to take greater responsibility for producing energy as well as consuming it.
"In the past 50 to 70 years, the supply of energy has been about big, distant solutions," said Professor Elmes, academic director of the Warwick Global Energy MBA.
"But in terms of adaptation and how businesses look after themselves, the question is to what extent you have a more varied and distributed path to energy supply so you aren't quite so vulnerable."
Warwick Business School's Global Energy MBA is designed primarily for executives working in companies where the supply or use of energy is a main part of their business activities.
"We wanted to help the energy industry develop future leaders with the breadth of skills to make good decisions in a more uncertain world," said Professor Elmes.
As well as the oil, gas and power companies on the energy supply side, the course attracts executives in energy-focused areas of other industries, such as financial services, regulators, engineering, manufacturing and industries that are major users of energy such as transport and construction.
The course explores contemporary issues such as how the complex mix of energy sources needed in the future is evolving to include both renewable sources and new sources of fossil fuels such as gas from shale rocks. This involves thinking how regulation and politics affect investment and growth, especially where countries seek to develop a low-carbon economy.
"There's still a strong need to understand the management disciplines of the traditional MBA so you can run a company in a more effective manner," said Professor Elmes.
"But if you take the foundations you get from the typical MBA, you're ready to answer some challenging questions – and having a group from across different parts of the energy sector means we have a group who want to try and unpick those tough challenges."
Click here to read the article in the Financial Times in full.