David Miliband on his efforts to help world's refugees
03 February 2015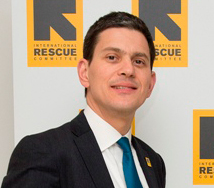 David Miliband, the former Labour foreign secretary and current President and CEO of the International Rescue Committee, was at Warwick Business School's London base in The Shard to describe the impact of the global humanitarian relief agency.
Miliband was speaking at a 'Decade of Disorder: Humanitarian Crisis and the International Response', an event to celebrate the Financial Times' Seasonal Appeal in aid of the IRC, which has over 15,000 staff operating in more than 30 countries.
There are 51.2 million refugees, asylum-seekers and internally displaced people in the world – the highest figure since the second world war, and with more than 80 per cent living in towns and cities, rather than traditional 'camps', there has never been more need for the work of organisations like the IRC.
Miliband revealed how the IRC has an annual budget of $600 million and is committed to making sure the money is well spent and invested in programmes that will deliver the much-needed help in some of the harshest and most dangerous places in the world.
The organisation is currently providing support to Syrian refugees in Jordan, Lebanon, Iraq, Turkey and Syria; providing hundreds of thousands of people with clean water, sanitation, education and winter emergency kits to survive the harsh winter.
In Jordan it also helps to re-unite children who have crossed the border alone with their families.
But Syria is just one war zone. For the first time since the second world war, the IRC and other humanitarian organisations are stretched across four major crisis in Syria, Iraq, Central African Republic - where sectarian violence has displaced at a least a million people - and South Sudan, where it is giving aid to more than 800,000 people subsumed by civil war.
The Ebola outbreak has provided the IRC with another challenge and with the disease now receding in east Africa, Miliband, who was quizzed by Financial Times editor Lionel Barber, believes it provides some lessons for the international community.
The money raised by the Financial Times appeal will be doubled by the UK Government. To donate click here.